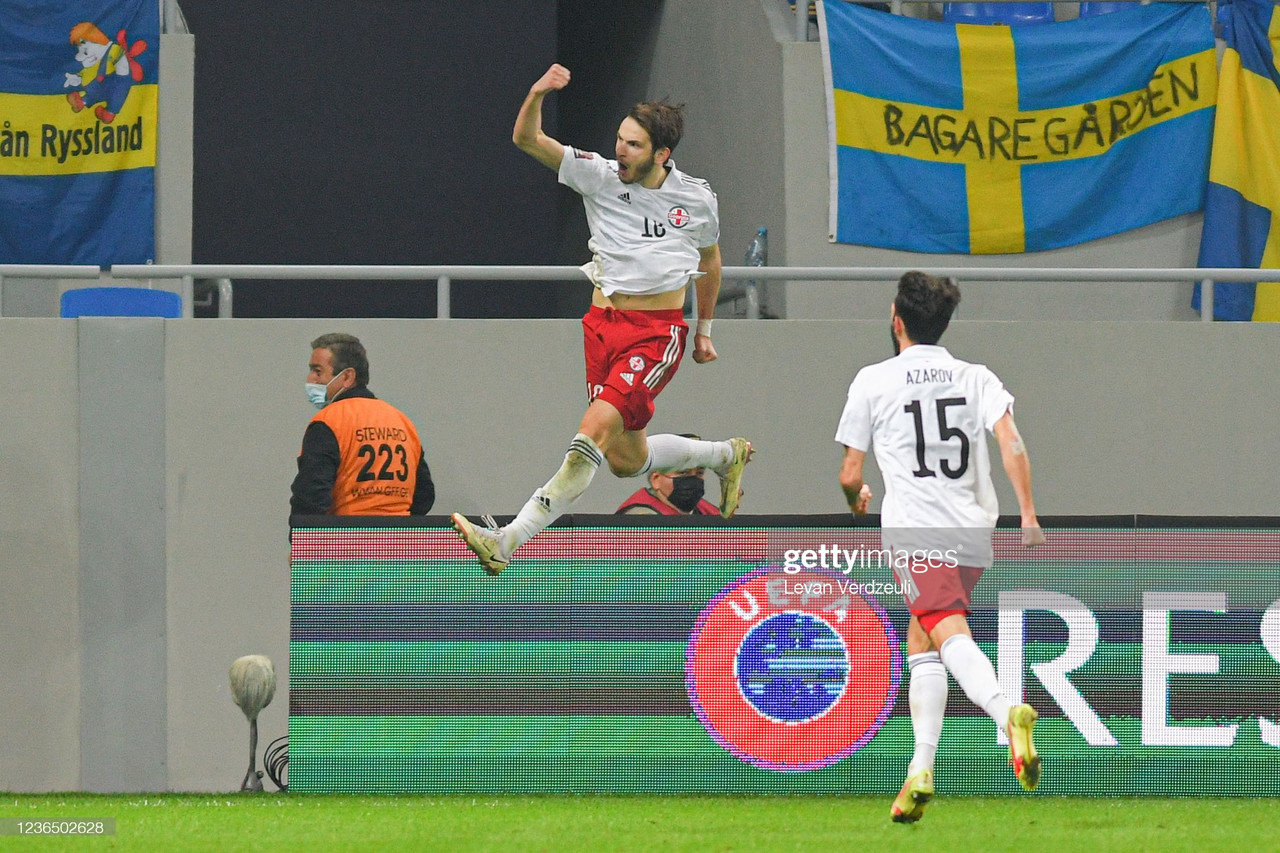 Georgia inflicted Sweden's only second defeat of 2022 World Cup Qualifying as the hosts put in a performance for the ages in Batumi, defeating Group B rivals 2-0 in the end and denting the away side's qualification hopes.
The away side enjoyed the majority of possession, particularly in the first half when their monopoly on the ball for the first 45 minutes appeared to suggest that them getting the opening goal of the game was somewhat inevitable.
They created various chances for their strikers - Zlatan Ibrahimovic and Alexander Isak - including one excellent opportunity for the later who could only fire straight at Giorgi Loria in the Georgia net.
⏸️ HALF-TIME ⏸️

Best moment so far? 🤔#WCQ

— European Qualifiers (@EURO2024) November 11, 2021
Nearly moments were not uncommon, with just one final pass being needed by the visitors to potentially unlock the enigma that was the opposition defence, but by a combination of poor attacking play and scrambling defending, they couldn't manage it.
If anything, it was Georgia who had the best chance of the half, when Khvicha Kvaratskhelia fired a ball into the box that Vasil Lobzhanidze, from a very tight angle it must be said, just shot wide of Robin Olsen's post, much to the goalkeeper's relief.
The second half began in much the same way, with various acts of heroic defending and goalkeeping from the hosts, but still the Swedes couldn't get past what was a well-organised and well-drilled defensive set-up.
⚽️: 🇬🇪 საქართველო 1⃣-0⃣ შვედეთი 🇸🇪
⚽️: 🇬🇪 #GFF 1⃣-0⃣ Sweden 🇸🇪

Khvicha Kvaratskhelia celebrates giving us the lead!

(61) #GFF #GEOSWE pic.twitter.com/zdTL8zLAVe

— Georgia • GFF (@GeorgiaGff) November 11, 2021
However, it wasn't just at the back where they were strong - going forwards on the counter attack was also a major threat, which Kvaratskhelia showed on two occasions, the first of which was when he poked home following pinball in the penalty area to give his side an unexpected lead.
Then, just over 15 minutes later, the 20-year-old picked up a loose ball in the middle of the park and raced in past Victor Lindelof to be one-on-one with Olsen who could do nothing to prevent the forward's shot nestling in the back of the net.
Sweden made a dispirited attempt to come back in the final ten minutes, but to no avail as they suffered defeat in what is a crucial week in terms of World Cup Qualification for the Scandinavian nation.
Kvaratskhelia is the real deal
For a player who is still so young, you would be forgiven for thinking Khvicha Kvaratskhelia had already played hundreds of matches for his national team, given the confidence with which he created chances, and indeed goals, for his side.
But in fact, the Rubin Kazan winger has only played 11 games for Georgia, the first of which came in June 2019, but during those few appearances he has scored an impressive five goals for his country, coming again some decent opposition too.
His first goal came just over a year ago, against North Macedonia but perhaps more impressive is the fact the next time he got on the scoresheet was when playing a Spain side that had the likes of Sergio Busquets and Jordi Alba in the starting eleven.
⚽️: 🇬🇪 საქართველო 2⃣-0⃣ შვედეთი 🇸🇪
⚽️: 🇬🇪 #GFF 2⃣-0⃣ Sweden 🇸🇪

1⃣... 2⃣... 3⃣... 4⃣....
📷 The anatomy of a goal, Kvara-style! 😍 #GFF #GEOSWE pic.twitter.com/7M5uJ4TXns

— Georgia • GFF (@GeorgiaGff) November 12, 2021
A third goal came against Greece three days after that one, and now he has added number four and five to his tally, which will no doubt mean he starts to catch the eye of various club managers around Europe, recognising the precocious talent of the forward.
It was primarily his eagerness and determination that led to both of his goals, with the first coming after a true scramble in the six yard box as Sweden attempted to clear in vain while various Georgia players - attackers and defenders alike - desperately tried to hammer the ball home.
Kvaratskhelia remained calm throughout the situation, and simply swivelled on the spot before poking home the opening goal for his side, sending the supporters in the stadium wild at what was a totally unexpected lead.
Not content with only the one goal, and with there being the obvious danger of the visitors pegging them back to 1-1 with a devastating late equaliser, and perhaps then winner, the Georgia number 18 continued to look for potential opportunities.
His prime chance came in the 77th minute, when he pounced a mislaid pass, charging into the penalty area past an absolutely hopeless Lindelof, before finishing ruthlessly past Olsen and going off to celebrate once again in front of his nation's supporters.
Sweden need to fix up fast
As for Sweden, this was a performance which will require a deep dissection and critical analysis prior to them travelling to Seville on Sunday in what is now a must-win game if they want automatic qualification.
As far as the first half goes, it was by no means a poor showing from Janne Andersson's side, though it's fair to say it was definitely not them at their best, given the performances we have been getting used to seeing from them recently.
Various chances were wasted by the away team, though at the time it didn't feel as significant as most simply expected them to score later on, putting down the lack of clinicality to sluggishness that would eventually wear off.
Inte resultatet vi hoppades på i kväll. Nu tar vi nya tag mot Spanien på söndag – Tillsammans 💛💙 pic.twitter.com/TjL4F0x2Z2

— Svensk Fotboll (@svenskfotboll) November 11, 2021
However, that sluggishness never did fall away, particularly from those up front, such as Isak and Ibrahimovic, who both seemed unattached from the rest of their teammates, only occasionally finding themselves in genuinely promising goalscoring situations.
Even then, the finishing left much to be desired, with various great chances - in particular one from Viktor Claesson early in the second half - being wasted and now being looked back upon as key moments when the game might have just swung in their favour had they taken them.
Not only were there issues up front, but the defensive showing was not all that pretty either, especially given the Swedish back line didn't really have a whole lot to do for most of the game in the end.
The first Georgia goal was a total mess in the penalty area, with not a single defender able to clear the ball before Kvaratskehlia poked home in what will be seen as a failure in organisation when defending a set piece.
And then, for the second goal, blame must be pinned on Lindelof in part for failing to prevent the aforementioned winger from breaking through in on goal, with that drop in concentration being fatal in the end.
Overall, this was a mess - and if they are to stand any chance of automatically qualifying for next year's tournament, Sweden will need to urgently remedy the mistakes which ultimately cost them against a spirited, but otherwise weak Georgia side.