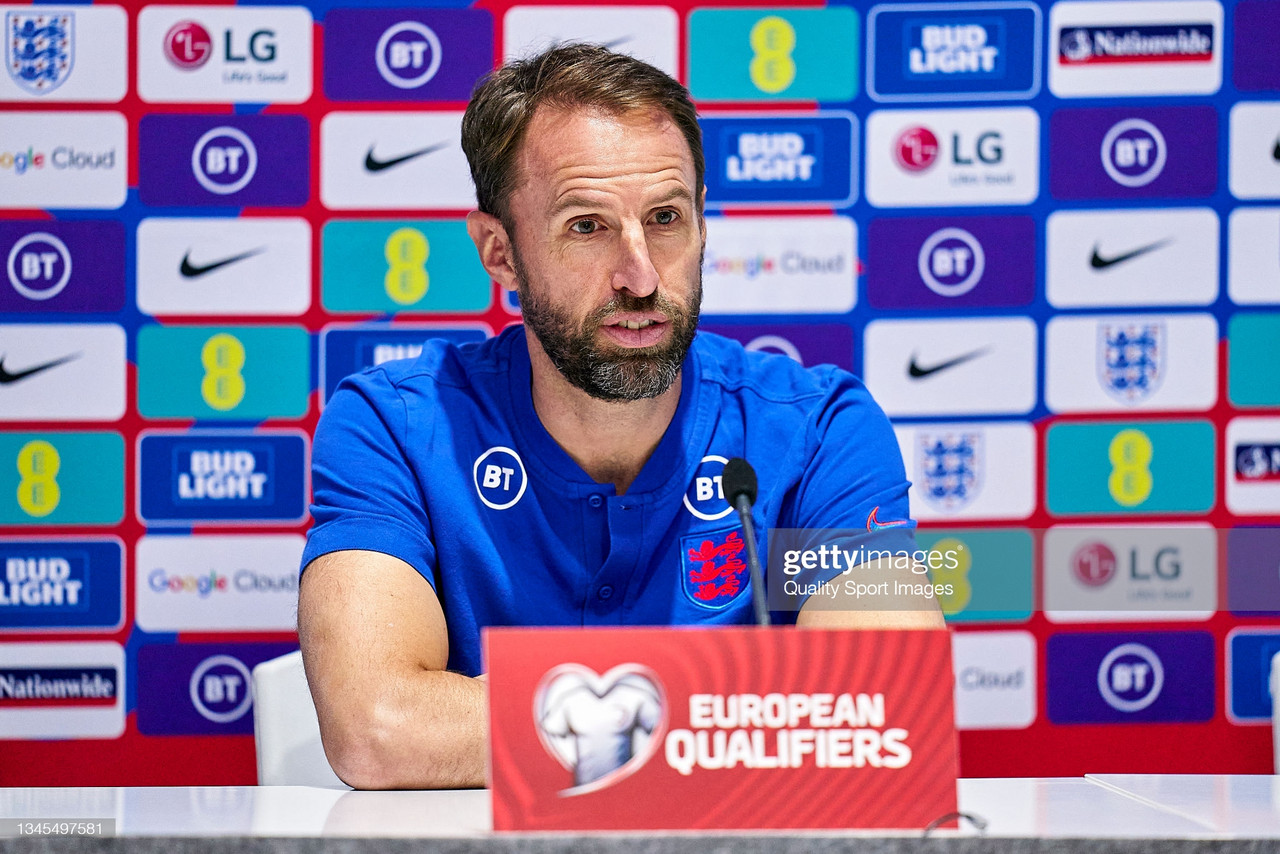 Gareth Southgate spoke to the media following England's 5-0 win against Andorra in World Cup Qualifying, which included multiple notable performances from lesser-seen players.
The Three Lions' manager talked about his team's performance, the stand-out players that he noticed, as well as what he wants to see more of going forwards.
Here are the five key quotes from the England boss's post-match press conference when speaking to journalists on Saturday night...
Strong Performance
'What I like about this group is that whatever the challenge, whatever the environment that they're put into they don't make any excuses, we find a way to win the games and I thought we used the ball really well.'
'We showed good discipline, because again one of the way the opponent has a chance is if they get you down to ten men and there were plenty of flashpoints where we could've reacted in the wrong way, so in the main we did that well.'
7️⃣ games down. 3️⃣ to go.

A look at how Group I is shaping up after tonight's win for the #ThreeLions in Andorra. pic.twitter.com/V0zA4PIGdV

— England (@England) October 9, 2021
Southgate spoke of his satisfaction that, despite the opponent being one of the lowest-ranked side in the world, the team he put out didn't underestimate them and played to a high standard regardless.
Furthermore, it's no secret that there were some nasty challenges on show at times, primarily on England players, so he will have been pleased to see that nobody reacted angrily in a way that may have put their side at a disadvantage.
Mainly, though, it was a performance which showed how England can dispatch of such teams, with all due respect to Andorra, with relative ease - something very important at times like these in qualifying.
Foden's Versatility
'For us it's really interesting the possibilities with him in terms of his positioning moving forward, today was a perfect game because the whole team [had] no defending needed.'
'So you're only analysing one part of the game against a certain level of opponent but nevertheless to see the passes and to have the quality to hit the passes that he did is apparent for everybody.'
Big performance, @PhilFoden 👊#ThreeLions | @weetabix pic.twitter.com/EPa1WYqptz

— England (@England) October 9, 2021
Arguably the best player on the (plastic, slightly singed) pitch during the game was Phil Foden, who continued to show his class after what has been an excellent start to the season for the 21-year-old.
The Manchester City attacker played a slightly deeper role against Andorra, as Southgate mentioned, and it allowed him to dictate the play remarkably comfortably and with astonishing ability.
So in control did Foden look that even the infamously miserable Roy Keane commented that he seemed like a quarterback in American Football - even going as far to compare him to the legendary Tom Brady, which is not bad praise indeed.
Team Selection
'I think pretty much all of those players [who featured] have played in important matches for us and it wasn't a friendly tonight it was a World Cup Qualifier and although the level of the opponent was at a certain level, the type of players we needed was also in our thinking.'
'I think it's important with the squad that everybody feels involved [...] tonight everybody on the field had high motivation for numerous different reasons but also the right mentality and good quality to win the game.'
When playing against minnows of international football, there will always be questions over whether those on the pitch are therefore considered 'reserve' or 'backup' players due to the opposition.
Southgate dispelled these myths however, stating that regardless of the team being played, the matches themselves still have the same level of importance, so ought to be considered in similar regard.
The 51-year-old also made clear that he wants every single member of his squad to be involved in the matches as much as possible, shown by the players he gave chances to on Saturday evening.
Sancho's Recent Struggles
'We shouldn't be surprised that for a young player to have such a big change in his life - new league, new club, different style of play, different training regime, back living in Manchester, moving house - everything that's involved in that, that's a lot to take in.'
'So it's going to need time but he showed a lot of the qualities that he [Jadon Sancho] has tonight and I know that will come with the club [Manchester United] as well.'
After what seemed like a never-ending transfer saga ended this summer when Jadon Sancho signed for Manchester United, many might have expected him to kick into gear virtually immediately.
As of yet though that hasn't quite materialised, at least at club level, perhaps due to the overwhelmingly more significant signing of Cristiano Ronaldo during the same window.
That said, as the England boss points out, the 21-year-old has had a lot of major changes in quick succession so patience will always be needed, and he gave a reminder of just why Man United signed him with his performance, getting a much-needed assist.
New Goalscorers
'There were some nice moments there, really. For Chilly [Ben Chilwell] to get a goal after having such a tough time in the summer with us, I'm really pleased for him.'
'Of course Jack's [Grealish] first goal as well, Tammy [Abraham], Prowsey [James Ward-Prowse], Bukayo [Saka], they are all players who haven't scored that often for England, so it's a special moment for all of them.'
"Chilly on the scoresheet!" 🤩

A word with @tammyabraham after he netted his second goal for the #ThreeLions... pic.twitter.com/RPT9zSmvj9

— England (@England) October 9, 2021
Perhaps the main positive, apart from the obvious three points towards World Cup qualification, was the range of goalscorers on show, including some who haven't been necessarily mainstays in the squad recently.
Ben Chilwell had a difficult time at Euro 2020, not playing a minute despite England reaching the final, and Bukayo Saka also endured a painful experience at the tournament, so it will have been beneficial for them to get a goal each.
Finally, having Tammy Abraham back on the scoresheet for his country is something Southgate will have been delighted to see, especially with the 24-year-old having struggled for any game time at all over the past 10 months or so, prior to his move to Roma.