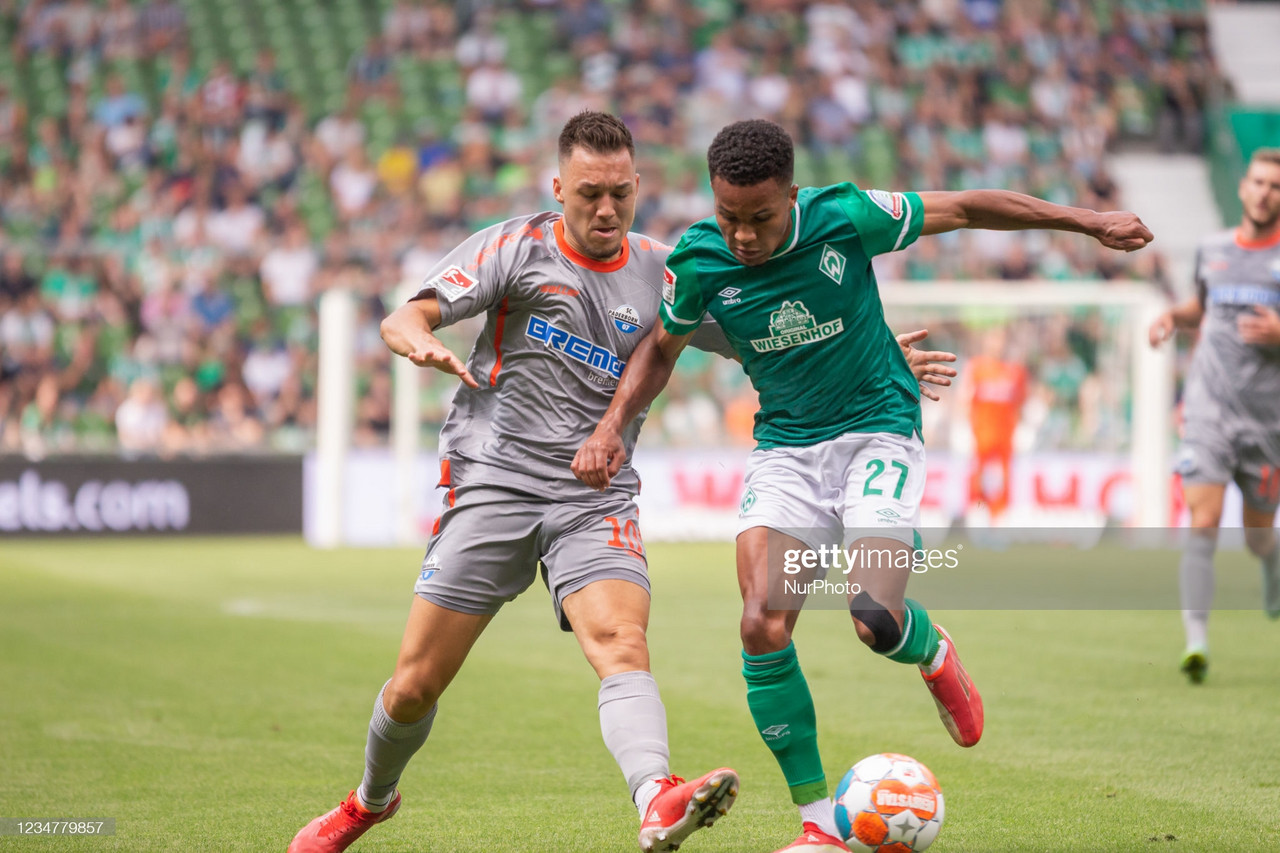 Two teams in the thick of the fight for promotion in the 2. Bundesliga face off on Saturday afternoon as Paderborn hosts Werder Bremen at the Benteler-Arena.
Both boosted their respective campaigns with wins last weekend. Paderborn's victory came against Nürnberg thanks to two quick-fire goals before the end of the half. They gave up one at the hour mark, but they were still able to hold on to secure the three points. Bremen, meanwhile, beat Fortuna Düsseldorf by a more emphatic 3-0 scoreline. They got a bit lucky, to be fair, as all of their goals came after the opposition had a player sent off.
It's going to be a big matchup, and it could have major implications on the promotion places.
Team news
Things are looking alright for both sides on the injury front.
Paderborn might only be without Marcel Mehlem, who just returned to training.
Bremen, meanwhile, will be without Mitchell Weiser and Abed Nankishi, while Felix Agu's status for this weekend is still up in the air.
Predicted lineups
Paderborn: Huth, Schuster, Correia, Hünemeier, Justvan, Srbeny, Schallenberg, Klement, Muslija, Platte, Michel
Werder Bremen: Pavlenka, Mbom, Veljković, Toprak, Friedl, Jung, Bittencourt, Groß, Schmid, Füllkrug, Ducksch
Ones to watch
Sven Michel
If Paderborn are to score in this contest, it'll likely be thanks to Sven Michel.
He's been their main attacking threat this season, and it's not particularly close. The forward has 14 goals, which is double the amount of the team's second highest scorer. He also leads them in assists with five. That sort of input certainly is impressive, but the fact that he's been so responsible for the side in the attacking third just highlights his importance to them.
Michel doesn't really look like the most dangerous player. At 5'10" and 170 pounds, he's not an intimidating figure in the box. He's not a spring chicken either, so he's not too quick, and he certainly looks like a 31-year-old due to his baldness.
However, that experience leads to the two reasons why the German is so good. First of all, he's incredibly smart. An old-school sort of center forward, he just knows how to be at the right place at the right time. He finds spaces to operate in, and times his runs into those spaces to perfection.
Then, when he gets the ball in dangerous areas, he's able to pounce. Michel is so clinical that he's able to consistently score in a number of different ways from a number of different positions. If he gets a chance, he'll likely bury it.
If Bremen can keep him quiet, then they'll have a good chance of winning on the afternoon. However, that's not going to be easy considering how good he's been as of late.
Niclas Füllkrug
Speaking of strikers, a less heralded one is Niclas Füllkrug, who will be across the pitch from Michel.
One half of Bremen's front two, Füllkrug has had an interesting season. He was absolutely woeful early on when he had to lead the line on his own. He was then dropped to the bench when Marvin Ducksch was signed, forced to settle for cameos off the bench.
Füllkrug didn't settle for long, though. Following a loss to Darmstadt, the player was suspended after confronting and hurling abuse at Clemens Fritz, the club's head of scouting and professional football. A quick apology meant that he wasn't out for long, and that he actually was back in time for the team's next game. He was the hero on that day, scoring an equalizer in stoppage time to salvage a point.
Interestingly enough, the forward was then given the captain's armband for the next two games, where he scored once and provided two assists. He lost the captaincy when Ömer Toprak returned to the side, but he didn't lose his starting spot. Since then he's been superb, with eight goal contributions to his name, including two goals this past weekend.
A big reason for this turnaround has been a change in tactics and the aforementioned Ducksch. Bremen turned to a front two, and the new strike partnership has blossomed. The pair are two different types of forwards, but their differences are what bring balance and a certain dynamic to the team going forward. They've learned how to play with each other very quickly, and the club has reaped the rewards as a result.
Whether or not they can keep the good times rolling until the end of the season remains to be seen, but for now, there's plenty of reason to expect Füllkrug to make an impact once again.
Last time out
The reverse fixture earlier this campaign was a bit of a blowout.
Taking place at the Wohninvest Weserstadion, Bremen found themselves down 2-0 early on despite being at home. Felix Platte grabbed both of them, with the first coming via an open header before he then hit on the break.
Paderborn kept pushing forward, and they scored a third past the hour mark after some woeful defending and goalkeeping. Sven Michel broke free in behind and tried to chip the keeper, who seemed to have read the attempt. However, he spilled the ball back to the feet of the forward, who then danced by him before slamming the ball into the back of the net with the outside of his foot.
Bremen went for it to start the second half, and they did pull one back in the first few moments. It was a well-worked counter, and it came to a close when Eren Dinkçi's low cross picked out the run of Niklas Schmidt, who then found the bottom corner with a clinical finish.
Their comeback didn't last long, though, as Paderborn restored their three goal advantage merely moments later. A corner was whipped into a dangerous area, and Ron Schallenberg got on the end of it to power a header home.
That proved to be the end of the scoring, and the away side ended the afternoon with an impressive victory.
How to watch
The match kicks off at 1:30 p.m. CEST, and it will air live on Sky Sport Bundesliga 7, Sky Sport Bundesliga 8, Sky Ticket, and Sky Go for those in Germany.