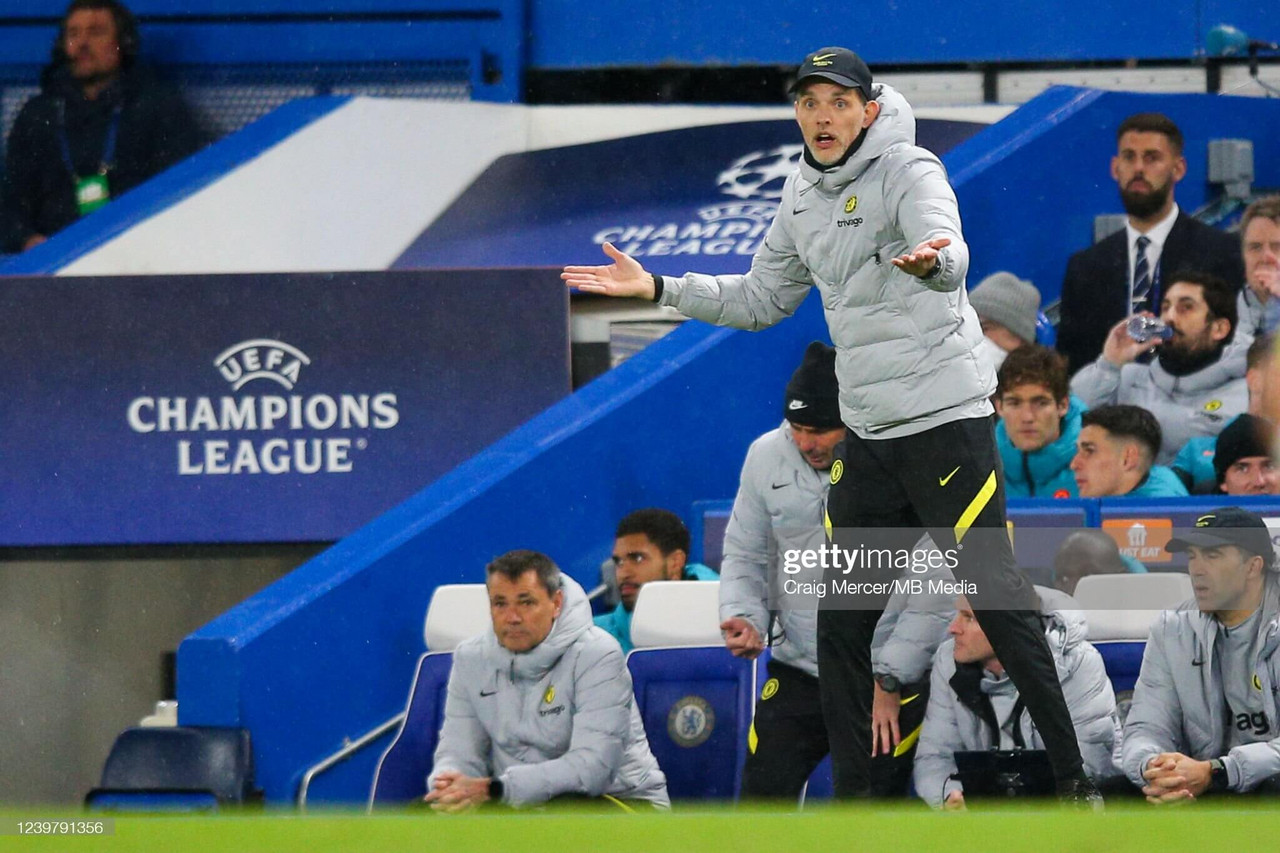 The previous Chelsea manager had the upper hand over the current one here. Whereas Thomas Tuchel cut a downcast figure on the sodden touchline, his arms flailing whenever proceedings again went against the west London club, Carlo Ancelotti stood serenely amidst the tumbling rain, watching as his Real Madrid cut their way through his old team.
The Real manager was so close to not even being at Stamford Bridge for this Champions League quarter final, having only registered a negative Covid-19 test on the morning of the game and so able to take a quick flight from Spain. The rushed trip was worth it as Real put more than one foot into the semis.
At first they were pinned back, both by Chelsea's rather quick start and the atmosphere being whipped up at the Bridge. The slick surface led to a fast-paced and open first half. Yet slowly but surely, Madrid started to bend this tie their way and Karim Benzema's quick headed double, along with Ancelotti's deft tactics, provided the crucial building blocks.
Chelsea's game-plan ebbed away and by the end — once Benzema had completed his hat-trick after Kai Havertz had made it 2-1 to restore some belief — it was Reece James who was trying to salvage something before the trip to the Spanish capital next week for what now looks like a formality on Real's part.
This game was big for Chelsea. After all, they are the reigning European champions, and such have been the on-goings off the pitch that actually watching games has become a distraction. But losing 4-1 to Brentford on Saturday, ending a six-game winning run, and then this defeat to the La Liga leaders leaves Chelsea, realistically, with just an FA Cup to fight for. They meet Crystal Palace in the semi finals next weekend.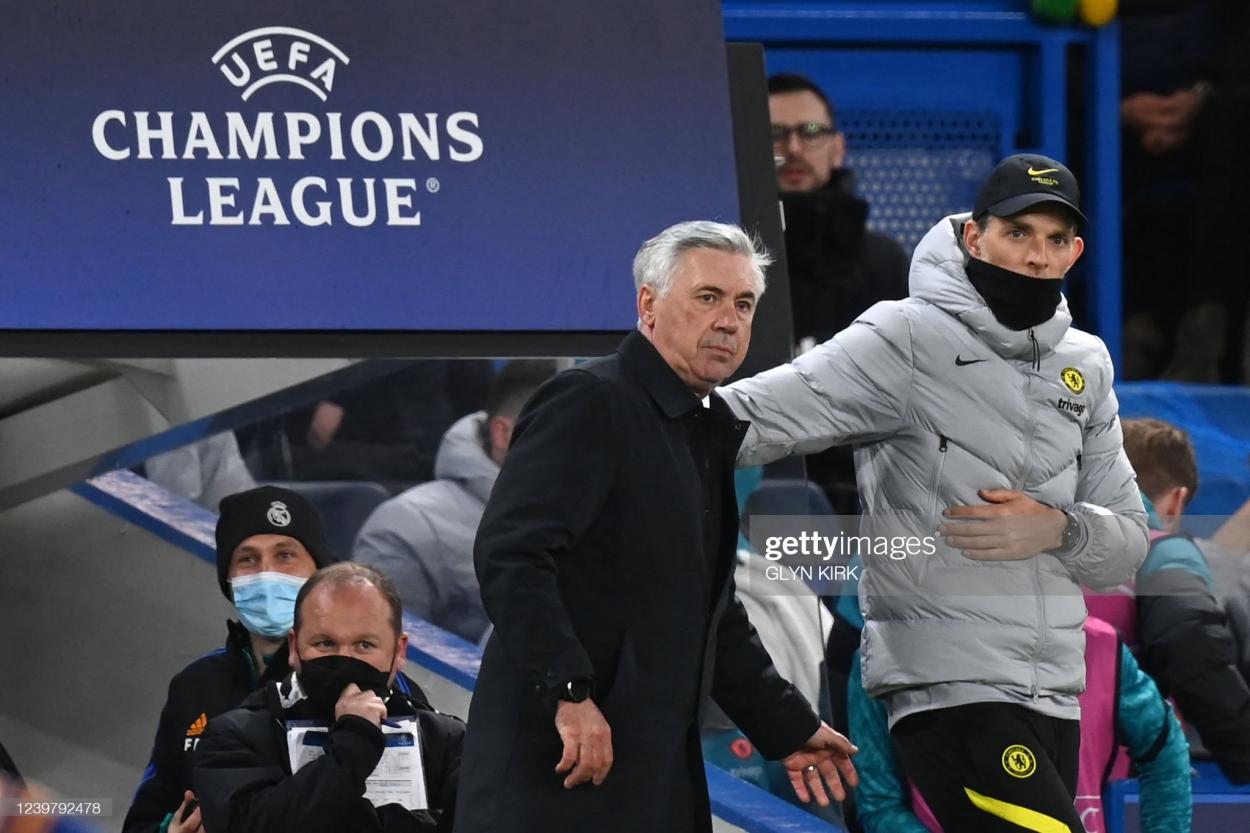 Asked whether this tie is still alive, the Chelsea manager said: "No, not at the moment, no, because we have to find our level again. I don't know where it is. I worry more about Southampton [who they play on Saturday] than Real Madrid in the next week. Today, with this performance, is it alive? No.
"If we don't get our heads and legs straight we will not win in Southampton and then this tie is not alive. If things change then maybe but how many clubs have done this? We need three goals and how often did this happen? If we keep on playing life this we will lose in Southampton and then we don't need to think about the Bernabeu — we will get hammered in Bernabeu."
Tuchel's frank assessment and search for answers hints at how this season is running away from Chelsea somewhat. Their disappointing evening took a turn for the worst when Edouard Mendy's mistake gift wrapped Real's third in the first minute of the second half. That came seconds after Tuchel had hauled off Andreas Christensen and N'Golo Kante at the break and switched to a back four.
With the process on-going regarding the purchase of the club, Tuchel needs to ensure that they are in the best place. Of course, this is far from cliff-falling form but the downward trend is becoming a little too clear and Tuchel understands the need to address it.
"When you ask the circumstances of the ownership, I still see no differences to the last weeks so I won't accept that as an excuse," he said. "Since five days, it's seven goals conceded. We did not change, not in approach or line-up. I don't think there was a deeper reason for it. It's alarming because in two games seven goals but nothing has changed."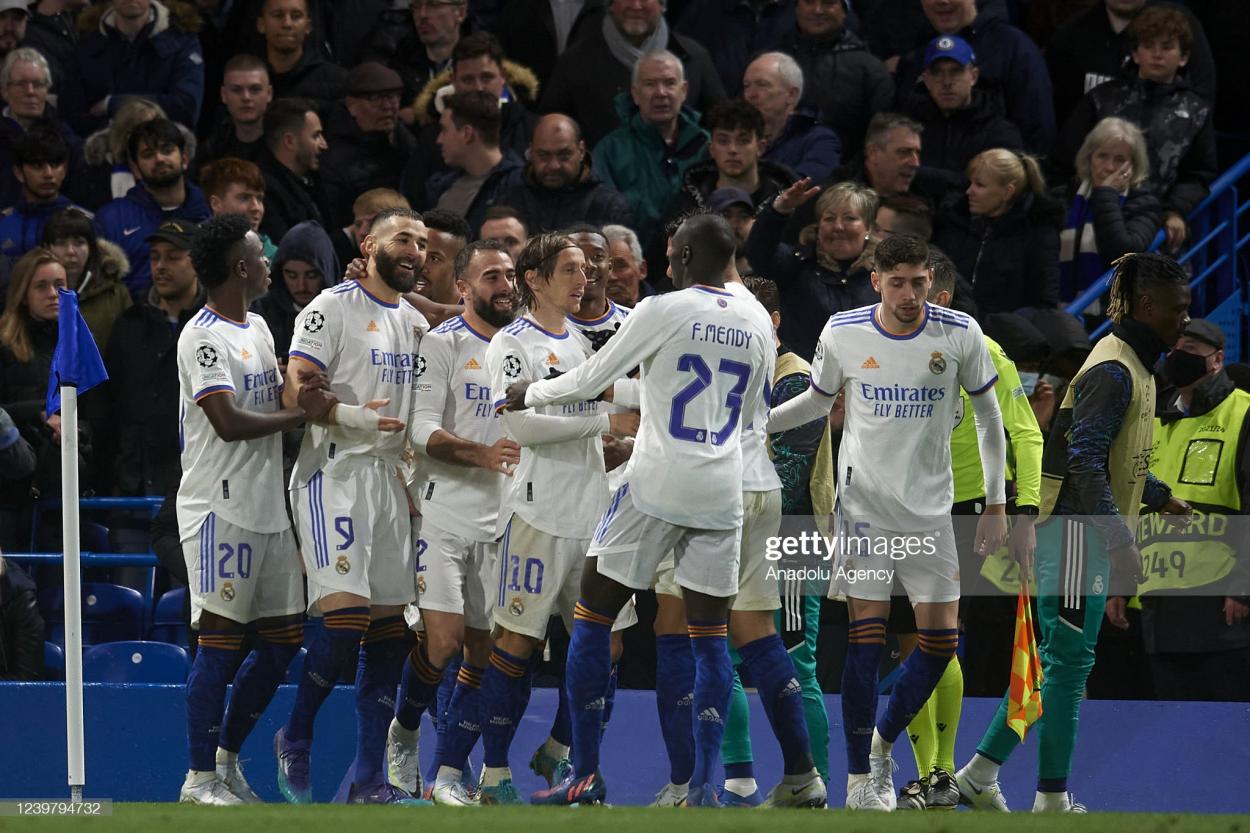 For all of the inquest surrounding Chelsea, there was equally praise for Real's evenings work. The golden oldies of Luka Modric, Toni Kroos, Casemiro and Benzema, added with the new spark provided by Vinicius Junior and Fede Valverde, were on song and demonstrated that they are as comfortable as ever amongst Europe's elite.
Naturally, though, Ancelotti wanted to lessen the expectation on his team by suggesting that Chelsea are still far from out of this tie. "Of course we have a lead but the tie is still open," Ancelotti said. "I think Real Madrid played better but there is another game to go and anything can happen."
For Benzema, that is now two hat-tricks in his last 57 minutes of Champions League football, combining with his heroics in the previous round against Paris Saint-Germain. At the Bridge his striking instincts and movement were spot on. His current form is scintillating.
"Karim Benzema is getting better everyday, just like wine," the Madrid manager said. "He is more of a leader everyday. He feels more and more important in this squad. I think that's what makes the difference. He knows he's a very important player for us. He's an example for everyone."