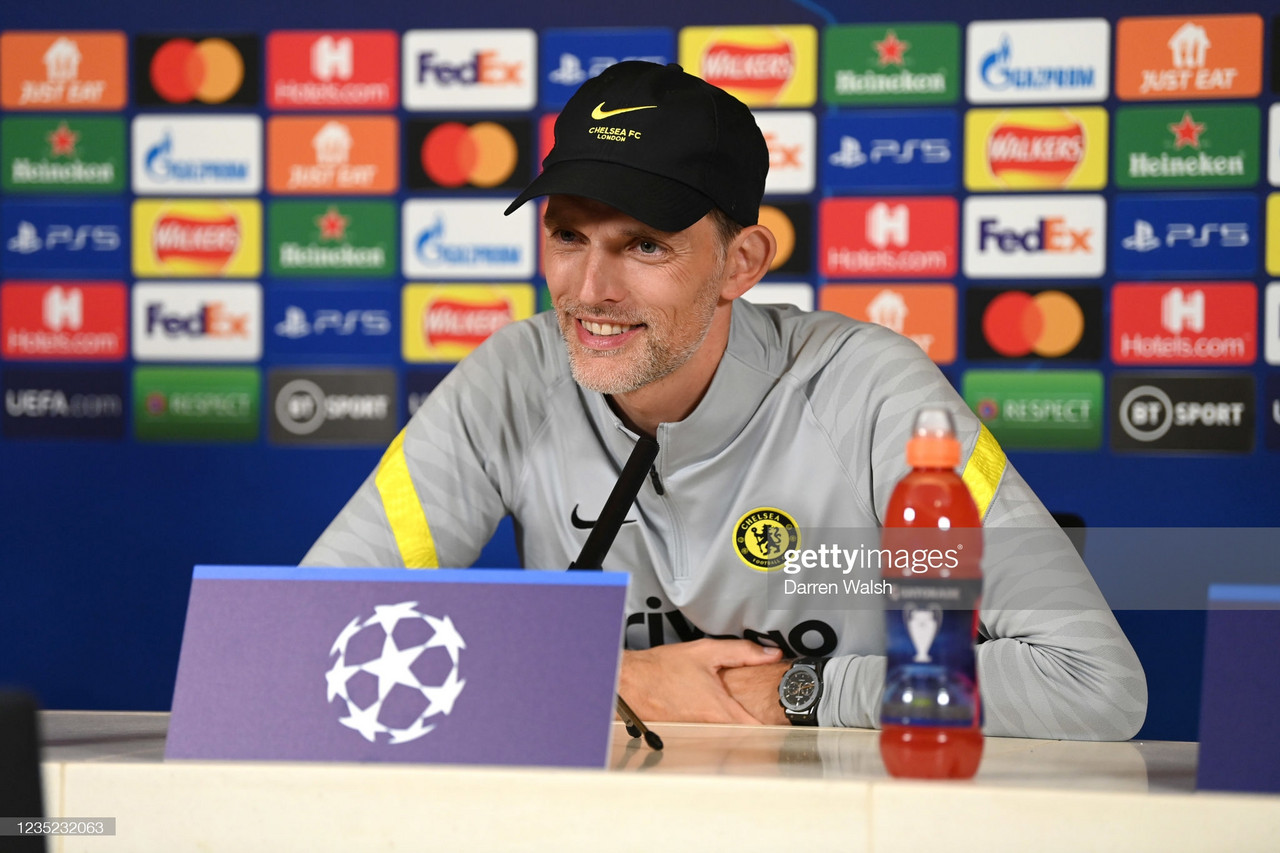 Thomas Tuchel addressed journalists during his pre-match press conference for Chelsea's Champions League group stage tie against Zenit St Petersburg.
The Russian side will travel to Stamford Bridge to face the current European Champions, though Tuchel was hesitant to suggest his side could retain the title.
He also spoke about his team's injury news, gave his thoughts on Romelu Lukaku's start to life in England and an update on players who have struggled for minutes so far this season.
These are the five key quotes the German head coach had to say today...
Team News Update
'Christian [Pulisic] did not train with us, he's in that 10 day period where we want to bring him back to the pitch. So he's still in treatment and individual training.'
'N'Golo [Kante] had two training sessions yesterday and today, but the Champions League game comes a bit too early. We won't take the risk now at this moment of the season.'
It's not too much of a surprise to hear that American winger Christian Pulisic will be absent from the match day squad seeing as he returned from international duty on crutches.
However, Chelsea fans will be disappointed that N'Golo Kante isn't fit to return, especially as Tuchel had suggested before the Aston Villa game that the Frenchman could return.
Regardless, with options such as UEFA Player of the Year Jorginho and midfield maestro Mateo Kovacic (who got his first goal at Stamford Bridge over the weekend) available, it shouldn't be too much of a concern.
Hopes For This Season
'We came a little bit out of the shadow [last year], not many people would have thought we would be the winners of the competition in the end. But, believe it or not, I think there are so many teams who can win it.'
'This competition is a very open competition and like you also see in other sports anything is possible if you believe, have momentum and have luck. This is what we had.'
Drama. Upsets. Heartbreak. Glory.

The story of the 2020/21 UEFA Champions League 🏆

Ready to go again?pic.twitter.com/L1PoZzj8qq

— Football on BT Sport (@btsportfootball) September 12, 2021
It may be a surprise to see that Chelsea's very own head coach isn't totally confident in his side's ability to retain the Champions League, but his rationale does have logic to it.
While they were undoubtedly one of the best side's in Europe last season, there is always some fortune needed along the way: just think of Olivier Giroud's bicycle kick against Atletico Madrid and the small deflection off of a defender meaning the Frenchman wasn't offside.
It's small margins such as those that can make or break a team's run, so there is genuine credit to the idea that, as the old saying goes, anyone can win it.
Ben Chilwell's Chances
'It has absolutely been difficult for him and I think it is pretty normal. We had some talks with Chilly about the situation. He knows that I would've done the same thing the other way round - to trust him if he was here and showed this kind of personality and attitude like Marcos [Alonso] did.'
'He must be a bit patient and keep on training. We had to give him a little bit of time to be a bit more patient with himself. He is in good shape, in mental shape, attitude and good shape on the pitch so he can play any minute.'
For Ben Chilwell, it's been something of a strange past few months, since going from the starting left back for the European Champions to barely being seen at Stamford Bridge this season.
That can be explained in part due to the fact he arrived back at Cobham later than other members of the squad as a result of his international duty, but the Englishman would've expected to feature by now.
Judging by Tuchel's remarks, it is more to do with Marcos Alonso's impressive performances than Chilwell's lack of perseverance, though it seems safe to assume that, with a large amount of fixture congestion to come, the 24-year-old will get his chance soon.
Lukaku's Magnificent Start
'I think you can estimate [what scoring at Stamford Bridge meant to him] when you hear what he says. He dreamed about it since he was a little boy and he has the opportunity to come back as a number nine [...] and to be the guy to help the team with goals [...].'
'We all know how important it is to have a good start as a striker and not wait too long for their goals. Hopefully he can continue tomorrow to score and be decisive for us.'
Sealed with style. ✨ pic.twitter.com/BQgRC8b3T2

— Chelsea FC (@ChelseaFC) September 12, 2021
Romelu Lukaku's excellent 'second' home debut will have brought great relief not only to the striker himself but also to the club as justification for his club-record price tag which he was purchased for in the summer.
The Belgian's delight at scoring at Stamford Bridge was palpable and, as Tuchel said, it will be important in setting him up for further form as the season progresses.
Whether he starts against Zenit is at yet unknown, particularly as fixtures begin to pile up and rests are needed, but if he is called upon it can be relatively safely assumed the 28-year-old will continue to deliver.
Players On The Fringe
'Listen, it's very easy. If you get registered then it's your duty to be ready. When you change in the dressing room, come here to Chelsea every day, it's your duty to be ready. This is the baseline for everything.'
'For whatever reason they didn't find or accept other clubs. Now they deserve to take the next step and be part of this group, and as this group you have to match the high expectations we have of ourselves. It's that simple. They have to be ready.'
With this message being directed primarily at the likes of Malang Sarr, Ruben Loftus-Cheek and Ross Barkley, it will serve as hope for the trio that their chances in West London are not totally extinct.
Tuchel appears apathetic to the idea that the players had initially wanted out of the club and now seeks to engage with them and ensure they are best enveloped within the tight-knit squad he has.
There's a vast range of experience among the three, but each of them will hope that they get at least a few chances to impress, even if it is only for adding to a portfolio to showcase in the January transfer window.