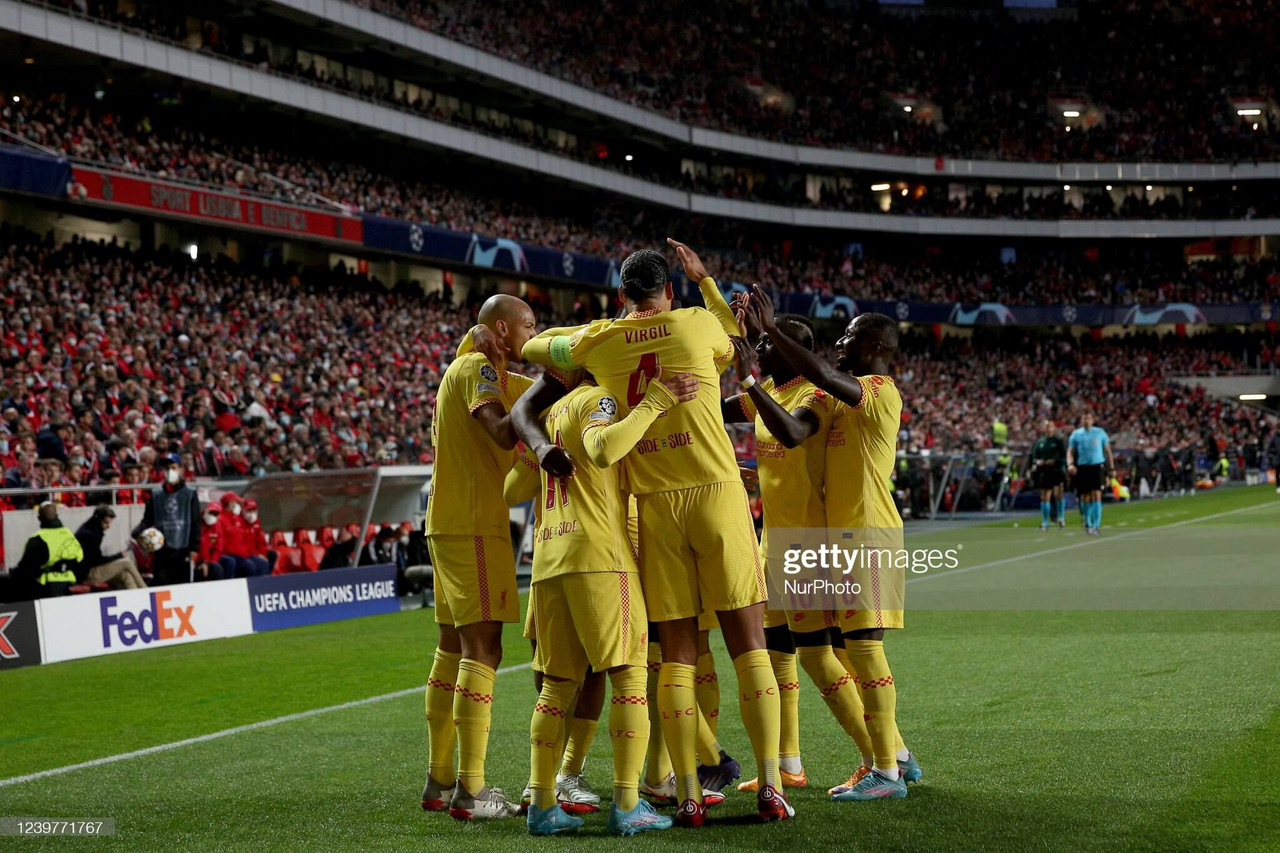 Jurgen Klopp always knew that Benfica would have their time. The Liverpool manager just couldn't have foreseen that it would come following such dominance from his team and via a helping hand from them too. Simply, Liverpool had come to Lisbon, quietened a deafening atmosphere into near silence and then set to work in installing a sizeable first-leg lead.
So far so good, but after a first half of near perfection in which Ibrahima Konate scored his first goal for the club, Sadio Mane added a second and Luis Diaz enjoyed himself far too much as far as the Benfica supporters were concerned, Liverpool started to waiver.
Suddenly, two goals ahead and control flashed away from the visitors. They had done the hard work, but were slipping up when they should have been tying a bow over this Champions League quarter final tie. They had more or less one foot in the semi finals but allowed Benfica back in.
There were misplaced passes, errant touches and then also a Benfica goal too. Liverpool didn't take the foot of the gas as such, it was more that the home team pressed their case more.
Darwin Nunez, as quiet as a newt in the first half, was all of a sudden causing havoc. And soon enough the much-talked-about Uruguayan striker had his fifth goal of this season's competition. Assistance came from Konate mis-kicking a clearance, but the greater concern was the return of a febrile atmosphere that had dropped as soon as Liverpool had begun their onslaught early on.
Analysing Liverpool in the first half may serve their upcoming opponents — namely their direct rivals in league and cup: Manchester City — observing their slight wobble straight after the interval may also install confidence too, but, perhaps most importantly, it is important to note how Liverpool overcame that difficult period, rode that particular wave and reasserted themselves, finishing the game just as they started: on top.
Liverpool's shift was apparent from the figures too. Twelve shots in the first half became none in the opening 15 minutes of the second, by which time Benfica — who had struck at Alisson's goal on one single occasion in the first 45 — had racked up five. Then a triple change, introducing Jordan Henderson, Roberto Firmino and Diogo Jota swung things back Liverpool's way. Diaz's late goal meaning that the pressure lessens somewhat in next week's return.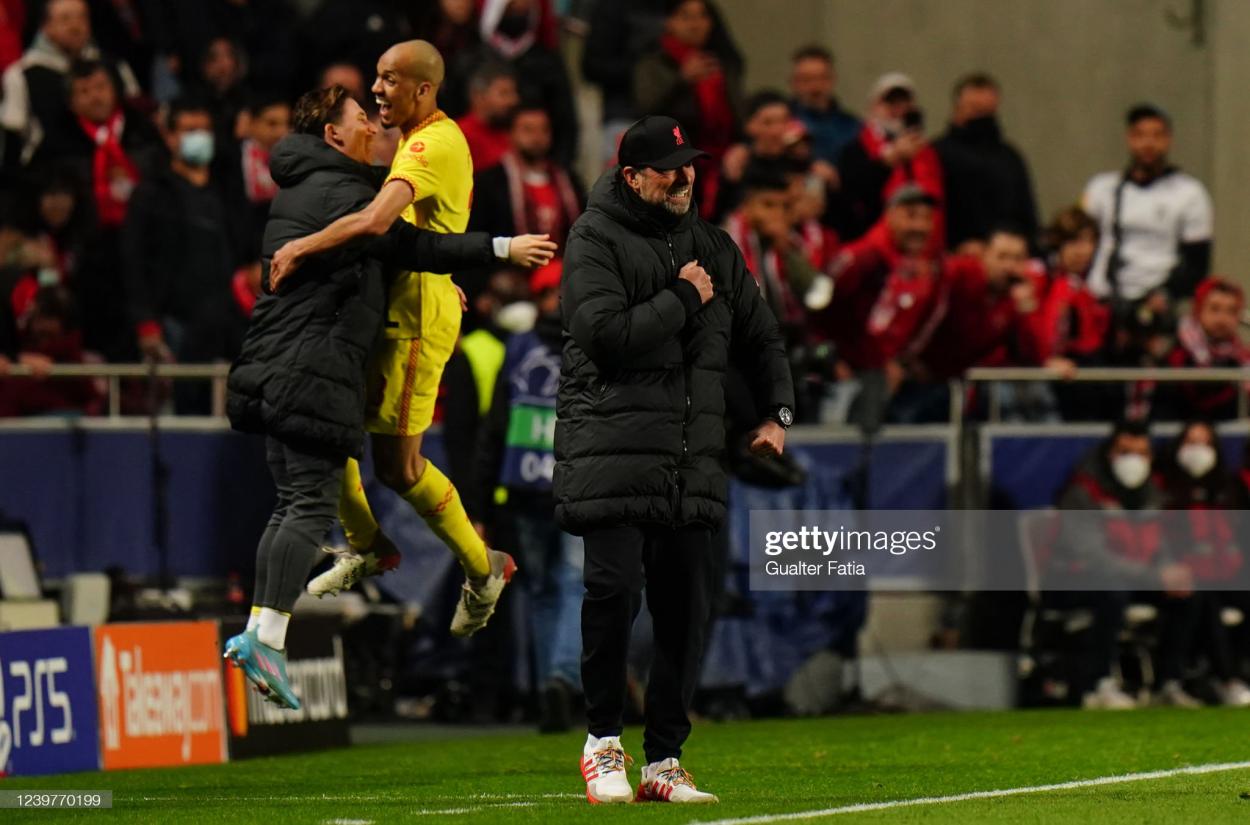 Klopp later admitted that his team came to Lisbon for "a result"; it is such that will take Liverpool through to the semi finals and a step close to an unprecedented quadruple. The Liverpool manager will hope that results continue to go their way with two meetings with City coming in the next week-and-a-half, forming decisive moments in both teams' run-ins.
"It doesn't tell the whole story but the most important thing is we came here for a result," Klopp said in the aftermath in Lisbon. "I didn't expect the game being any easier but I have to say a big compliment for Benfica, they really fought for their lives – especially after we opened the door a little bit for them.
"It was clear when they scored the crowd would be back and the atmosphere would be good. Good teams tend to use that.
"The game was slightly more open than we wished but in the end we scored and I think everyone in the room would agree we could have scored more goals and should have. We would have wished we didn't give them the opportunity to come back in the game. It was an away game in the Champions League quarter-final and if that was easy something would be wrong with the competition."
Accusations that Klopp had one eye on Sunday's Premier League game with City were denounced by the man himself despite the six changes to the starting lineup. "I didn't think a second until now about the City game, so I couldn't make changes for the game," he said.
What hope for Benfica, then? The Portuguese team would have lapped up a 2-1 loss given how they faired early on, but now look destined to exit the competition when they travel to Anfield next week. Benfica caretaker coach Nelson Verissimo knows the concession of that late goal has made their task much more difficult.
"The tie is not over. We are aware it is harder now," he said. "We suffered from a corner but felt at half-time the game was not over. I tried to inject some confidence into my players as we wanted to score a goal to get ourselves back in it and the second half started like we wanted. In the end they scored again and that makes our task all that much harder but not impossible."