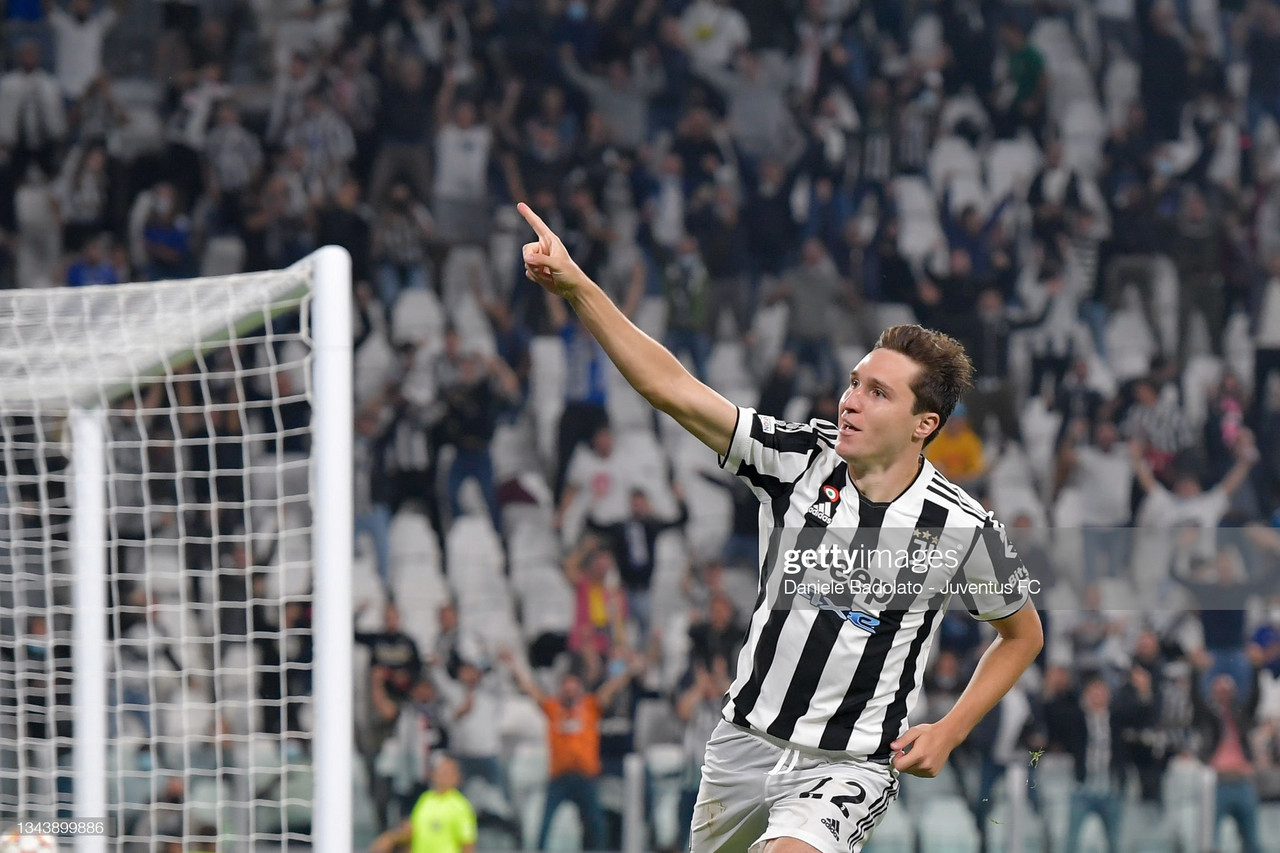 Juventus took all three points against group rivals Chelsea courtesy of a Federico Chiesa goal just 11 seconds after half time in a game where Thomas Tuchel's side failed to break down a strong opposition defence again.
It was a very quiet first half as the two teams appeared to come to a stalemate whereby Chelsea, although having by far the majority of possession, failed to get past a solid Juventus defence.
The opening goal came seconds after half time though, as Federico Chiesa raced in on goal and fired an impressive shot into the top corner, in a sudden shift from the pattern of the opening 45 minutes.
For the remainder of the half it was again Chelsea who were on top in terms of having the ball but still they could do nothing with it, much to the frustration of Blues' fans.
The win takes Juventus to the top of Group H with six points out of six, while Chelsea remain second, ahead of Zenit St Petersburg on their head to head record.
Story of the Match
At an Allianz Stadium full of atmosphere, the first chance came to the away side when a corner, won by Hakim Ziyech's cross being cleared away, was met by Romelu Lukaku on the edge of the box.
🔊 𝙏𝙃𝙀 𝘾𝙃𝘼𝙈𝙋𝙄𝙊𝙉𝙎𝙎𝙎𝙎𝙎𝙎𝙎!#JuveChelsea #JuveUCL #ForzaJuve https://t.co/gQfCq7Od6C pic.twitter.com/fRz4EXfETn

— JuventusFC (@juventusfcen) September 29, 2021
The Belgian's shot went straight into the hands of Wojciech Szczęsny but it was evident that the Blues had been told to come out strong with Thomas Tuchel's side enjoying the lion's share of possession in the opening period of the game.
That said, the home side did a good job defensively of keeping their opponents away from any clear-cut opportunities, instead forcing them into a repeated cycle of recycling already much-used passing lanes.
For all the possession Chelsea had however, it was Juventus who found the first major chance when Federico Chiesa broke through on goal and fired a powerful low shot just wide of the post.
That was something of an anomaly in an otherwise rather deadlocked first half an hour, in which the defensive solidity of the Italian side prevented any Chelsea player from even coming close to threatening Szczęsny's goal.
At the 30 minute mark it was again the home team who created a chance as Adrien Rabiot's edge of the box effort flew inches over Edouard Mendy's crossbar.
A further spell of possession without much end product followed for the Blues who appeared to be at a loss on how to get past the seemingly brick wall opposition defence.
Eventually, the referee blew for half time and, although they had not enjoyed much of the ball, it would've been Massimiliano Allegri who went in the happier of the two coaches as his side had looked at least slightly more threatening on the attack.
No goals at the halfway stage.#JUVCHE pic.twitter.com/qSaTCVeqjU

— Chelsea FC (@ChelseaFC) September 29, 2021
As the second half began, there was an introduction of a player who has rarely featured for Chelsea this season in the form of Ben Chilwell who replaced Marcos Alonso in a like-for-like change.
No sooner had that change been made though, when Chiesa raced in on goal 11 seconds into the second half and fired a superb finish into the roof of the net.
46' | 🖌 | WHAT A START TO THE SECOND HALF!!!!!!! ⚽️⚪️⚫️#JuveChelsea [1-0] #JuveUCL pic.twitter.com/7asOgsTYTk

— JuventusFC (@juventusfcen) September 29, 2021
The Italian utilised his world-class pace and raced past Rudiger to put the home side ahead before Chelsea even seemed to realise the game had started again.
Such a fast start appeared to liven up both sides, especially in comparison to the first half, and more energetic, fast-paced football followed, including a Kai Havertz effort which was deflected just wide of the post.
At the hour mark Thomas Tuchel made a triple substitution in an attempt to find an equaliser, with Callum Hudson-Odoi, Ruben Loftus-Cheek and Trevoh Chalobah replacing Hakim Ziyech, Jorginho and Cesar Azpilicueta.
The chaos of the changes was quickly followed by yet another chance for Juventus, and it was one that really ought to have been taken as Federico Bernadeschi somehow failed to direct his shot on target from just yards out.
Although the intensity of Chelsea's game made a noticeable step up compared to the first half, especially with the three substitutes, their chances remained limited to optimistic long shots that never came close to troubling the goalkeeper.
Juventus made a change of their own with Dejan Kulusevski replacing the aforementioned Bernadeschi in the 65th minute, and not long afterwards Tuchel made his final roll of the dice, sending on Ross Barkley in place of Andreas Christensen.
In between those two changes there was a half chance for Lukaku but his header went wide and as time ticked on it seemed there was fading hope of Chelsea getting anything from the match.
The goalscorer for the home side went off with 15 minutes remaining, as did Adrien Rabiot, with Weston McKennie and Moise Kean the two players arriving onto the pitch.
After a game in which he'd been almost unnoticeable, Lukaku almost found an equaliser but squandered arguably Chelsea's best chance of the game, firing a shot over the bar.
In response to the Blues finally fashioning a chance, Allegri brought on Giorgio Chiellini to shore things up at the back, and bar two headers from Havertz that failed to find the target, that's exactly what he did.
Five minutes of additional time did seem to unnerve some home fans but they needn't have worried as Chelsea still couldn't come close to getting a goal.
As the final whistle went, it meant that Tuchel's team had failed to score in the past 216 minutes of football, a statistic that will raise concerns over quite how clinical their attack really is.
It ends in defeat in Turin. #JUVCHE pic.twitter.com/WHYXBdznT8

— Chelsea FC (@ChelseaFC) September 29, 2021
Takeaways from the Match
Chelsea struggle to break down solid defence
It was another game during which Thomas Tuchel's team struggled to break down an opponent who, while defensively solid, allowed them an immense amount of the ball.
It is becoming something of a pattern that the German head coach will want to fix, instead ensuring his side takes advantage of big periods of possession.
As it was, despite having 66% possession, the away side conjured up more threatening chances on the counter attack - a concerning sight for Blues' fans who may fear even worse punishment against a team with higher quality forwards.
Chiesa shows his class again
After impressing to almost no end during the Euro 2020 tournament for his country in the summer, helping them on their way to lifting the trophy, Federico Chiesa looked to be in just as fine form during this game.
With his astonishing pace and virtually never-ending energy on show throughout the game, it was no surprise to see him on the scoresheet with his second goal of this season.
His finish was the earliest second half goal recorded in a Champions League game since records began, highlighting once more just how fast the 23-year-old really is.
Juventus relish change in competition
It was no secret coming into this game that Juventus had been struggling severely in their domestic league, Serie A, this season, with them sitting 10th in the table.
Therefore, many imagined this game to be relatively straightforward for Tuchel's side, despite the injuries they had when travelling to Italy.
As it was however, Allegri appeared to use the change in competition as a useful distraction and a way in which to cast aside any doubts over their form, to much success as his side showed excellent professionalism, particularly in defence, to triumph over their English opponent.