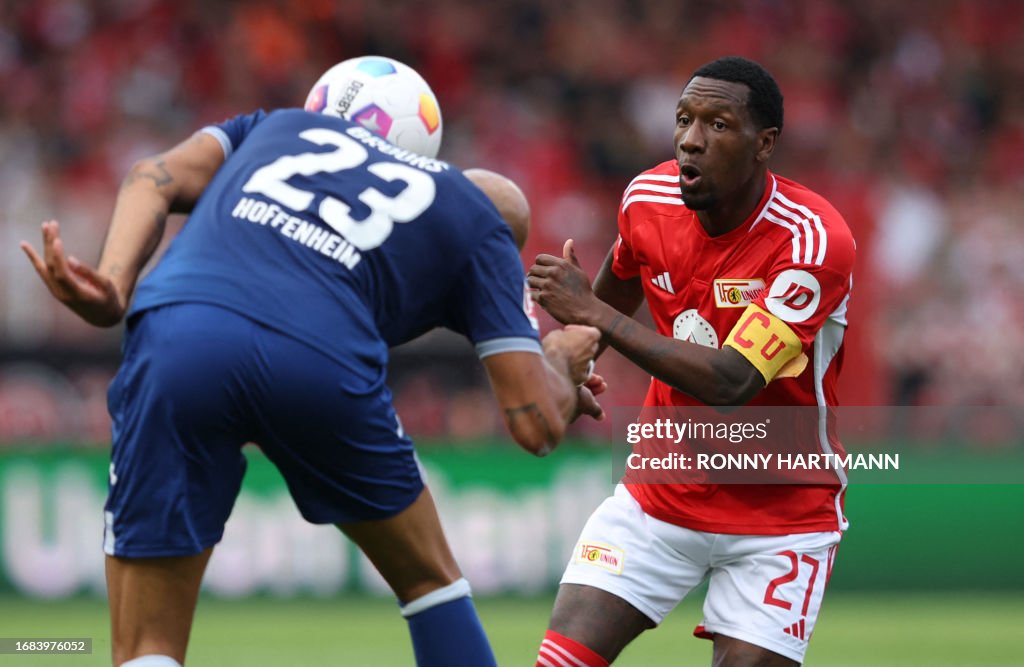 As the saying goes, make hay when the sun shines.
For a long time, across two seasons, Union Berlin were unbeatable in Köpenick and then, like London busses, they were defeated twice in succession.
First by RB Leipzig two weeks ago and then by TSG 1899 Hoffenheim.
Today, epitomised a game of two halves.
Conceding just wwo goals in the first half flattered Union Berlin. Hoffenheim were confident and organised. Everything die Eisernen were not.
In the second half, Union had more than ten efforts on goal but could find no way past man of the match, Oliver Baumann in the Hoffenheim goal.
Union have now experienced four consecutive defeats, including away to Real Madrid in Wednesday, for the first time since May 2020.
It is unchartered waters for most of the Union squad but Sheraldo Becker emphasised that there is no need to panic.
In an interview after the game with VAVEL, the captain explained that performances tell their own story and the victories will come in time.
A slow start
Union had the opening chance of the game but conceded twice in the first half and if not for a VAR intervention, it could have been worse.
Becker acknowledged that their first-half performance was not good enough and Hoffenheim were organised, but they have to be more aggressive.
"We had to start good but we didn't, it was a very bad first half but the second half was better. We created a lot of chances but the ball wouldn't go in. You know that when you're 2-0 down against Hoffenheim, it's going to be a hard game. It was and today, over 90 minutes, it was tough.
"We started the game and were chasing it when they got a goal. We weren't aggressive enough in the first half, we didn't play our game. That was it. It wasn't good."
A Call for Unity
Even in defeat, the Waldseite cheered the team off. Union Berlin's fans are known for their extraordinary community spirit and Becker said that it's time his team show theirs.
"We are Union, we need to stay together as a team. We know what we need to do but the three losses in a row is not us, it's not Union. We need to get better, for sure, in the next week. It's hard to accept when you lose so many games in a row but we need to go on, build, and show our face again.
"We are not worried, just frustrated. When you don't win and don't get points you need to go and play football again. You can lose games but it's about how we are losing games that is the problem."
Losing Alex Král in the warm-up
Union Berlin lost their talisman and midfield pivot, Alex Král in the warm-up today and Becker admitted that it made the game more challenging.
Whilst Union are no strangers to European football in midweek, their first Champions League campaign is putting pressure on their squad depth and Becker said that his side will have to work harder to compensate:
"I think everyone felt well. For sure, if you play against Real Madrid it's always a hard game but today, everyone felt fresh, we had talked to each other and yet, we started the game like this.
"With an injury (to Alex Král) it makes it hard. 2-0 down in the first half, the second half was better. We created a lot, had more time on the ball but in the end, we lose the game. We need to work harder. Losing Král made it a lot harder."
A Team player
Starved of width and space, Becker was substituted in the second half.
Becker realises that Fischer has a job to respond and admits that it's just part of football that players accept. Even when it goes against their instincts.
"When I was substituted, of course you want to play, to help the team and ye, in the end it's the Trainer's call, he made the point that he wanted to change me and I have to accept it.
"For me, personally, I do my best, I try my best to create something for the team. We had chances, normally it goes in but in the last few weeks, it's not on our side. We need to go again and stay positive. We know we have important games coming up and put the focus on next week. Everyone gives 100% and lots of good games, football-wise, we know what we need to do. We need to play forward, we need to make goals and train hard to do so."
With 1. FC Heidenheim 1846 up next, followed by Braga at home in the Champions League, the games are coming thick and fast for Union Berlin.
With injuries mounting and key players missing, Becker and company will have to dig deep to stop the busses.