In reality, the remaining 52 laps and 10 corners of the 2016 Italian Grand Prix were null and void. For Nico Rosberg was 99.9% sure of claiming a 21st career win and maiden win around Monza, after jumping teammate ​Lewis Hamilton and holding off the Ferrari of Sebastian Vettel.
A poor getaway from Pole, saw Hamilton drop down to sixth, behind Rosberg, Vettel, ​Kimi Raikkonen, Valtteri Bottas and ​Daniel Ricciardo, from then on, it was a race for second, as Rosberg gradually extended his lead, to finish a comfortable 15.070 ahead of the recovering Hamilton to secure Mercedes' fourth 1-2 finish of the season.
​​​Vettel made the Tifosi content with a third place finish, his first rostrum visit since Europe in June, ahead of teammate Raikkonen on a good day for the Scuderia. Red Bull always knew that the 1120m straight in particular wouldn't suit their car and so fifth and seventh represented an exceptional effort from Ricciardo and Max Verstappen. Valtteri Bottas hauled solid points for Williams in P6, with retiring teammate Felipe Massa collecting two points for a P9 finish.
The two ​Force India's of Sergio Perez and Nico Hulkenberg, had a below par performance, although still scored five points for eighth and tenth.
However, it was Rosberg's day. Hamilton's poor start and the seven points Rosberg clawed back means the lead of the top of the standings is now just two points. Heading to Singapore, with eight races left, it is well and truly game on for the title.
​Bad Starts all round
At lights out, it was not only Hamilton who bogged down. Verstappen stalled and lost a number of positions, although it was ​Esteban Gutierrez won the worst start award, stalling his Haas and lost his P10 grid slot, falling back to P19. Some quick reactions from Fernando Alonso prevented a mass shunt on the grid, by swerving his McLaren around the Mexican's car.
Next time around, Hamilton used his advantage of a Mercedes power unit to reel in Ricciardo, powered by a Renault - in all but name. Not quite making the move at the first chicane, superior traction from the W07 saw the Brit complete the move around the outside of Curva Grande.
However, back down the field, there was no such respect between Jolyon Palmer and Felipe Nasr. The Brazilian cut across Palmer on the exit of the first chicane and the two collided, with the Sauber awarded a 10s time penalty - after he had retired. An irrate Palmer called for Nasr to be given a "grid drop"​ for the next round.
After eventually getting past Bottas, Hamilton radioed in to tell his pit-crew "the rears are pretty wasted already"​, as his Soft compound tyres were graining. Meanwhile up front, Vettel was slowly falling back from a coasting Rosberg, whilst Raikkonen was asked to fall back, to cool his engine and tyes, despite his protests about "​losing the tow"​, from Vettel.
Lap 16 was when the front runners first stopped for a new set of tyres, with Raikkonen the first to do so. He changed his set of SuperSoft tyres for another set, and thus committed to a two-stop strategy. Vettel did the same a lap later, emerging just ahead of his teammate.
Seven laps after Raikkonen, Rosberg pitted, for the only time and it was a set of the Medium tyres fitted - again his teammate repeated the same trick a lap later, but emerging in fourth. However, he was a net P2, as the two Ferrari's needed to stop again and they were just about in Hamilton's vision.
Behind them, an interesting battle between Bottas and Ricciardo was unfolding with the Finn put on a SuperSoft-Soft-Soft strategy whilst Ricciardo, ultimately was on a SuperSoft-Soft-SuperSoft run. As the Red Bull closed in on the Williams, it seemed two of the cleanest and fairest drivers would enliven an otherwise dull race. Ricciardo wasn't keen to hang about however, and completed a contender for overtake of the season, lunging Bottas from a very long way back into T1.
After a late mistake at the first chicane by Hamilton, the front runners completed the rest of the race rather untroubled, with Rosberg powering over the line to claim his sixth win of the season.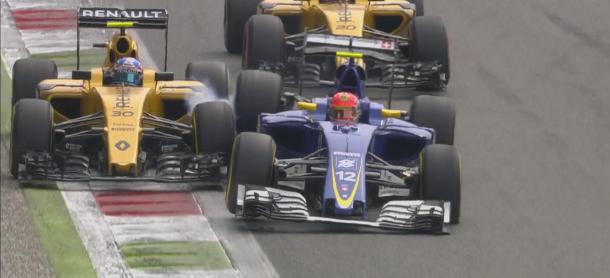 ​Williams - Force India hots up
​​After jumping Williams at Spa for fourth in the constructors, Force India were content. However, the Grove team retook the position, currently with a slender lead of three points, 111-108. The remaining tracks should be a mixed bag for the two, with each track favouring one or the other. This is a battle that could go all the way to the final lap in Abu Dhabi.
Jenson Button, fresh from announcing he will take a sabbitcal in 2017, had a stong race, despite a poor opening lap, that saw him drop down to P19. Toward the end, he overtook teammate ​​Alonso, as the McLaren's entertained the crowd for a while.
With a handful of laps remaining, Alonso laughed at his engineer when told Grosjean was catchable, before he pitted with three laps left to fit new tyres and have a go at fastest lap. Now, there are no points available for fastest lap, which indeed Alonso did set, it's just the irony of a McLaren-Honda setting fastest race lap at Monza. He was already frustrated after his first stop was delayed by a faulty "​f*****g traffic light"​, which was stuck on red.
Down on power, ​Toro Rosso had a miserable home race, with Carlos Sainz trailing home P15, whilst Danill Kvyat's luck went from none to abhorrent, retiring yet again, amidst unconfirmed rumours that Pierre Gasly is set to replace him in Singapore - something Helmut Marko was quick to debunk after the chequered flag had flown.
Marcus Ericsson, Kevin Magnussen and Esteban Ocon all had uneventful races and came home one, one and two laps down respectively.
Retirements
Along with Palmer and Nasr, who smartly served his 10s penalty by going out again, serving the penalty and then retiring on the next lap, and Kvyat, the most dramatic retirement was of Pascal Wehrlein's Manor. The young German was urgently told to "​stop the car immediately and switch off"​, after an oil leak sprung on his Mercedes PU.
Conclusions
The past 13 races are, in effect now pointless. It is a eight race championship between Rosberg and Hamilton. It's going to be close, fierce and personal. After already colliding three times this season, if they hit each other again, how Toto Wolff reacts should be interesting.
The remaining tracks should suit Red Bull and Ferrari in equal measure, a mixture of long straights and twisty bits, with Singapore the outlier in that. On a positive day for the Scuderia, they'll be hoping to cash in on last years success at Marina Bay. That will be the acid test for the team from Maranello.
It could be the last time that Bernie Ecclestone is in place as the Formula One ringmaster. Reports suggest the sport is to be sold to Liberty Media, as early as Tuesday, which could see Bernie's 58 year asscioation with F1 come to a close.
With or without Bernie, F1 is back in two weeks time, for the Singapore Grand Prix.
2016 Italian Grand Prix - Classification

| | | | | |
| --- | --- | --- | --- | --- |
| Position | Driver | Team | Time | Points |
| 1. | Nico Rosberg | Mercedes | 1:17.28.089 | 25 |
| 2. | Lewis Hamilton | Mercedes | +15.070 | 18 |
| 3. | Sebastian Vettel | Ferrari | +20.990 | 15 |
| 4. | Kimi Raikkonen | Ferrari | +27.651 | 12 |
| 5. | Daniel Ricciardo | Red Bull | +45.295 | 10 |
| 6. | Valtteri Bottas | Williams | +51.015 | 8 |
| 7. | Max Verstappen | Red Bull | +54.236 | 6 |
| 8. | Sergio Perez | Force India | +1:04.954 | 4 |
| 9. | Felipe Massa | Williams | +1:05.617 | 2 |
| 10. | Nico Hulkenberg | Force India | +1:18.656 | 1 |
| 11. | Romain Grosjean | Haas | + 1 lap | 0 |
| 12. | Jenson Button | McLaren | + 1 lap | 0 |
| 13. | Esteban Gutierrez | Haa | + 1 lap | 0 |
| 14. | Fernando Alonso | McLaren | + 1 lap | 0 |
| 15. | Carlos Sainz | Toro Rosso | + 1 lap | 0 |
| 16. | Marcus Ericsson | Sauber | +1 lap | 0 |
| 17. | Kevin Magnussen | Renault | + 1 lap | 0 |
| 18. | Esteban Ocon | Manor | + 2 laps | 0 |
| DNF | Pascal Wehrlein | Manor | N/A | 0 |
| DNF | Danill Kvyat | Toro Rosso | N/A | 0 |
| DNF | Jolyon Palmer | Renault | N/A | 0 |
| DNF | Felipe Nasr | Sauber | N/A | 0 |