After its much needed summer break, Formula 1's longest ever season returned, with Lewis Hamilton sitting pretty at the top of the table, 19 points clear of his Mercedes colleague and closest rival, Nico Rosberg.
That order wouldn't stay for long.
Hamilton pays his penalty
What better place to return to, than Spa-Francorchamps? A fraction over seven kilometres of iconic and aggressive corners, followed by glorious strips of long, open tarmac, begging for F1 cars to scream down them at maximum gusto. For the 49th time in the World Championship's history, Spa, buried in the Ardennes Forest, played host to the Belgian Grand Prix.
For Lewis Hamilton however, his weekend started with the bold decision to start from the back of the grid, as he used his sixth turbocharger and Motor Generator Unit of the season, incurring a 15 grid place penalty. He wasn't the only man to do so, Marcus Ericsson and Fernando Alonso kept him company at the back.
There was also a fresh face for the sport to welcome, as Renault test driver Esteban Ocon replaced the cash-strapped Rio Haryanto at Manor, using his Mercedes connections.
Rosberg took pole, from Max Verstappen and Kimi Raikkonen - who'd have an interesting afternoon, scrapping throughout the race, sometimes just within the sporting laws. Into La Source for the first time, Rosberg scampered clear, but contact between Verstappen and Sebastian Vettel demoted the German to last. It was all panic in the midfield, as Carlos Sainz' right rear Pirelli decided it had had enough after running over some debris.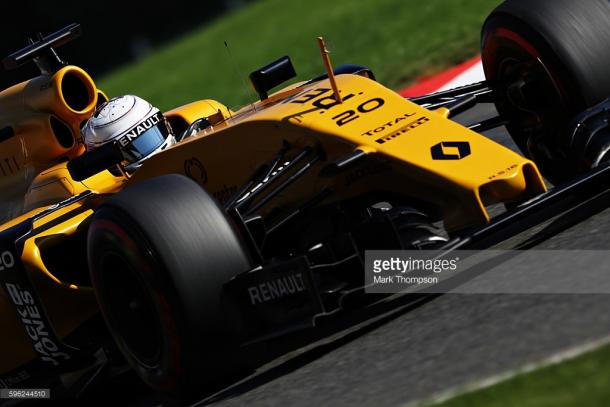 The frantic start came to a shuddering halt on lap 6, when Kevin Magnussen wiggled over the top of Eau Rouge and careered into the barriers, forcing a red flag. His Renault was yellow mess, but thankfully the Dane was okay. The barriers however, were not and everyone had 19 minutes to catch their breath. Within the drama, Hamilton had squirmed up to fifth!
As Hamilton passed the equally impressive Alonso for fourth, all eyes were fixated on the battle between Verstappen and the recovering Raikkonen. On lap 12, The Ferrari was boldly edged out, off the track at Les Combes. So, he bided his time had another go, just laps later. In a move that had shades of Michael Schumacher forcefully shutting the door on Mika Hakkinen at the same place in 2000, the Finn found his path blocked by a stoic Verstappen down the Kemmel Straight, at over 200 mph.
But no one saw Rosberg for the duration of the race, as he took a commanding lights to flag victory. With Hamilton finishing a commendable third, behind Daniel Ricciardo, the gap was down to nine points.
Hamilton - 232
Rosberg - 223
A sluggish start
After a week to digest the events of Belgium, the equally adored Monza was the next stop for the Italian Grand Prix. Before the action though, news came through of Felipe Massa calling time on his F1 career at season's end. He may be back soon though...

Jenson Button followed by announcing that 2017 would be his year off. Will he come back? Probably not.
This time it was to be Hamilton on pole, his record-equalling fifth around the affectionately known "Temple of Speed". But, he was to squander all his hard work off the line, suffering with huge wheelspin, allowing both Raikkonen and crucially, Rosberg to pass him. Vettel, Ricciardo and Valtteri Bottas followed as well to compound the Brit's misery.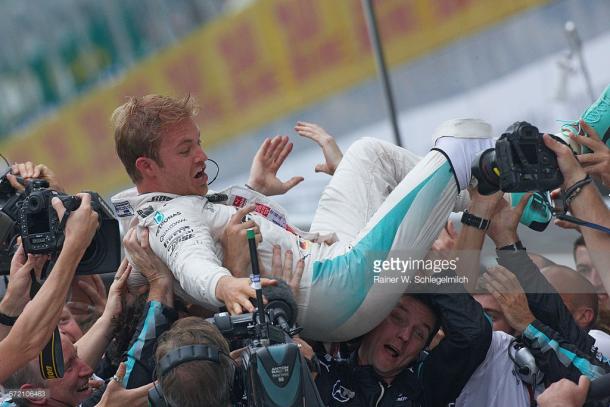 In typical Hamilton fashion, he fought back to second place. But, for the second race in succession, there was to be no stopping Rosberg, as he took victory by 15 seconds. With Real Madrid royalty Michel Salgado and Christian Karembeu watching on in the garage, Ferrari delighted the tifosi, by claiming third and fourth place, with Vettel and Raikkonen respectively.
A heavily criticised Verstappen finished outside the points once more. And Rosberg performed a questionable rendition of The White Stripes' 'Seven Nation Army'. Made into a stunning Soundcloud remix, to be fair. (Courtesy of User 960205577)
Hamilton-250
Rosberg - 248
The Honey Badger's chase
For the ninth time in its history, Formula 1 entered Singapore, under the lights at the Marina Bay street circuit. A popular destination, that now has its future hanging in the balance, I'm sorry to say.
One thing that wasn't under question was Mercedes holding pole position. Rosberg and Ricciardo fronted the grid, with Hamilton in close proximity. Rosberg got off to a good start, his fellow Nico, Hulkenberg...didn't. As the midfield bunched up, the Force India driver found himself sandwiched between two Toro Rossos, clipping Carlos Sainz and sliding haplessly into the wall after around 200 feet, if that.
As the race resumed, a steward had to show some Usain Bolt like acceleration to get out the way of 21 excitable Formula 1 cars bolting down the pit straight. Luckily, he crossed the road and got to safety in the nick of time.
The story of the bulk of the race was that Mercedes suffered with "brake issues". Whether those were materialised or not remained to be seen, but something was askew with the Silver Arrows. Rosberg was comfortable out in the lead, but Hamilton came under immense scrutiny from Raikkonen, who was given the all clear to attack by his race engineer, Dave Greenwood.
He did just that, passing the Brit as he ran wide at Turn 6. Further down the field, Verstappen found out what it's like to be stuck behind a car around Singapore, one year after he did everything he could to keep his then Toro Rosso team mate Sainz at bay. This time, the Dutchman was frustrated by Daniil Kvyat, the man whose seat he took in the senior team just months beforehand...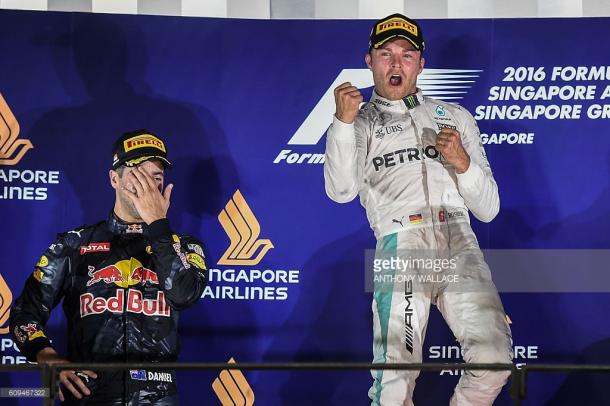 The race changed in complexion in a final round of pit stops with around 20 laps to go. Ricciardo and Hamilton both opted for fresh rubber, and were hell bent on using it to the best of their, and its ability. Rosberg stayed out, holding a commanding 21 second gap. But, Ricciardo was having none of it, eating into said buffer lap after lap, and before you knew it, the Australian was tucked right up behind the German's gearbox. It was clear that Rosberg was struggling. Was it tyres? Was it actually brakes? He just had enough to keep the Red Bull behind, as Ricciardo's ultrasoft tyres started to vanish. His charge was noble, but only good enough for second.
His smile suggested he was satisfied. Hamilton wandered home in third, ahead of Raikkonen, as Ferrari once again made a mess of the strategy. It wasn't enough to maintain his championship lead, however.
Rosberg - 273
Hamilton - 265
"Oh no! No!"
Malaysia. A pivotal race in the complexion of the 2016 season. It's a race that's notoriously demanding on both car and driver. Something had to give.
For the 10th time in 2016, Mercedes claimed the front row as their own, Hamilton dominating Saturday's action to take pole by nearly half a second. Although he was second, Rosberg struggled at the slippery final corner throughout the afternoon.
And so, to race day. Hamilton avoided a repeat of Italy and got away well, but Vettel tried an adventurous lunge at Turn 1 and clouted into Rosberg's right rear. Vettel was out on the spot with a destroyed front left suspension. Rosberg flicked his car around and continued, after a swarm of drivers took evasive action to avoid him.
The German's fightback started, just as Romain Grosjean's race ended. Rosberg had a perfect view of the Frenchman suffering brake failure at the final hairpin, rendering him a passenger.
After a nifty strategy and some blistering times, Rosberg found himself in wheel-to-wheel combat with Raikkonen. After lining up a move through the long Turn 1, the Mercedes jerked to the inside of Turn 2. The Ferrari didn't budge and Rosberg made substantial contact - again. Once more, he got away scot-free, or so he thought. Raikkonen limped on with reduced aero performance. Rosberg received a 10 second time penalty for his misdemeanour.
Both Verstappen and Ricciardo had benefitted from a superb strategy by Red Bull, and found themselves in second and third. Until..
On lap 40, with a comfortable gap behind him, Hamilton's Mercedes engine cried enough and was ablaze going into Turn 1. He let out a cry of frustration and placed a sole hand on his head, before parking his smoking car. He leapt out and sunk onto his haunches, he felt his crown slip away.
Ricciardo won, and greeted it with a welcome "shoey". Not a bad way to celebrate Red Bull's first one-two since Brazil 2013. Verstappen, Rosberg and even Christian Horner joined him. Mark Webber, however, didn't.
Raikkonen fell 13 seconds behind Rosberg by the time the flag fell, meaning the German kept third place.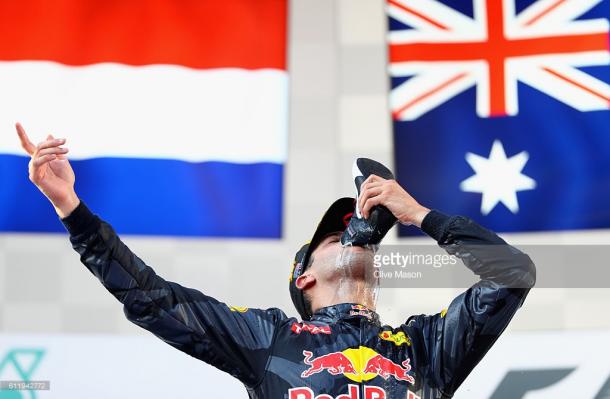 Rosberg - 288
Hamilton - 265
A new dawn
In the land of the rising sun, Nico Rosberg had made up his mind, but kept it quiet. Kept what quiet? Wait until Part 4.
His Japanese Grand Prix was equally quiet, after the first lap, of course. He didn't start on pole, once more that honour went to Hamilton. But, the Brit got off to yet another sluggish start, falling to eighth and avoiding contact by the skin of his teeth as the field piled into Turn 1.
From then on, the race was about him. Rosberg shot off into the distance, even being told to hurry up for the sake of his car's wellbeing. Hamilton fought, and did well, pulling off some credible manoeuvres, mostly into Turn 1.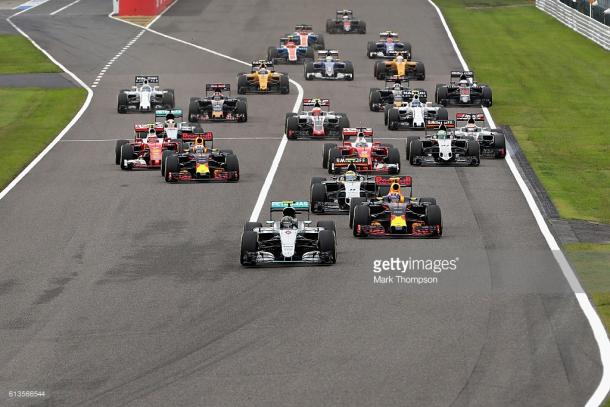 But, try as he might, there was no way past a defiant Verstappen for second. After passing Vettel in the final round of pit stops, courtesy of another Ferrari blunder (and a touch of the old blue flags), Hamilton probed and pushed, but Verstappen was too wily - saving his battery power for the run out of the Casio Chicane. His attack culminated in a desperate dive around the outside at Casio - the site of a fantastic Hulkenberg pass on Bottas earlier - but he was ushered out fairly by the Red Bull. He took to the escape road and saw the Dutchman eke out a crucial one second advantage.
Rosberg - 313
Hamilton - 280
33 points was now the difference.
Part One and Part Two can be found by clicking the respective links.
Part four of VAVEL UK's 2016 Formula One season review spans from USA to the season finale in Abu Dhabi. Look out for that in the coming days.