Manor Racing have announced that as of the Belgian Grand Prix at Spa at the end of August, French rookie Esteban Ocon will be driving for the team, replacing Indonesian Rio Haryanto.
The decision comes after Haryanto's backers defaulted on a series of sponsorship payments, which according to Racing Director Dave Ryan left the team in a situation where "in the best interests of the team, we were forced to explore other options for the remainder of the season". Haryanto will remain at the team, taking up the position of Reserve Driver. It is understood that Haryanto's contract only went up to the Hungarian Grand Prix, but was allowed to race in Germany as a solution was sought.
During the 12 race weekends, he and Pascal Wehrlein were partnered together, to the shock of many, Haryanto more than proved his worth, dismissing his tag as 'a pay driver' with some standout performances, including out-qualifying Wehrlein on debut in Melbourne. Wehrlein just edged the battle on Saturday's 7-5.
Ocon, a Mercedes junior driver has been drafted in to fill the seat alongside fellow Mercedes junior driver Wehrlein, and in doing so will become the 71st French driver in Formula One history.
Warm Welcome
Ryan said the team, who are currently 10th in the Constructors with one point, thanks to Wehrlein's efforts in Austria, "are very pleased to welcome Esteban to Manor Racing for the remainder of the season". Ocon, has already taken part in practice in 2016, doing so for the Renault team, whom Mercedes had loaned him to.
Talking about Manor's future ambitions, Ryan added that not has the team "made significant strides in 2016" but reiterated that Manor is a team on the rise by insisting "maintaining its pace of development to achieve our ambitions".
He went on to say that "we're confident that when Esteban makes his Grand Prix debut in Spa, we will have a potent line-up with which to take the fight to our immediate competitors for the remainder of the season".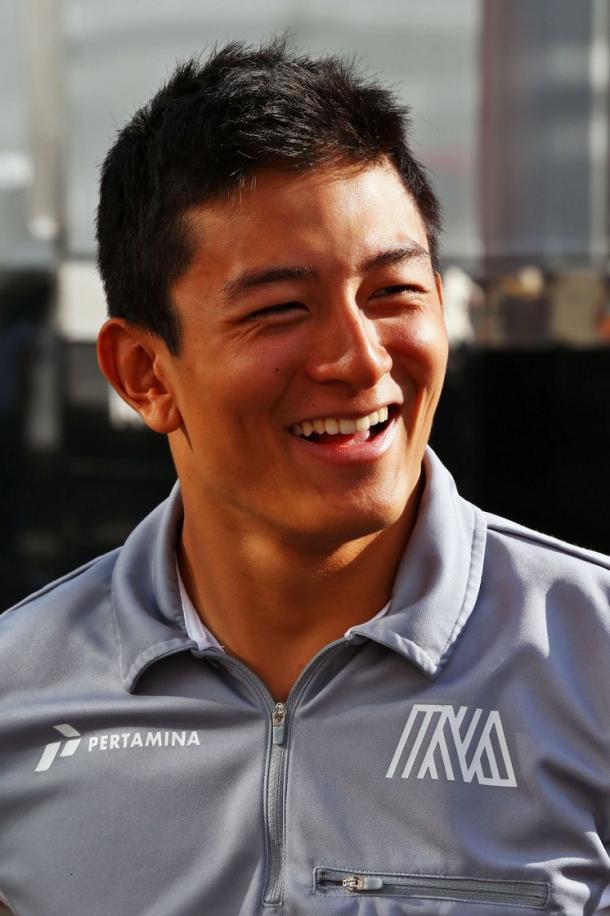 Ocon, a former European F3 and GP3 champion, was placed in DTM by Mercedes for 2016, to replace reigning champion Wehrlein after his promotion to F1. Luckily for the Frenchman, there are no clashes on the two calendars, although he indicated he would solely focus on F1 in the past.
"I'm thrilled to be making my Grand Prix debut with Manor Racing," Ocon said, "and at Spa, of all circuits, the next best thing to my home race". "I'm ready for this exciting step up", said the man who will carry No.31 as his race number, before going on to add his thanks to Renault and Mercedes, before concluding "I'm going to grab (the opportunity) with both hands."
What this means for Formula One
The support Haryanto had in Indonesia was quite surprising. He has a loyal backing of supporters, who are F1 diehards, and although he'll continue on as reserve, it could harm F1 as it tries to make a bigger impact on the Asian market after the failures of Korea, India and to an extent China.
With Ocon's promotion, an intriguing scenario has now come to fruition. Ferrari with Haas and to an extent Sauber have a close technical relationship, with the American team, buying all non-listed parts from the Italians, too much criticism. Some went as far to label Haas as a Ferrari B-Team.
Red Bull and Toro Rosso are obviously joined together, as both are owned by Dietrich Mateschtiz, and the latter previously used year old senior team chassis back in 2006.
So, where is this going? Ferrari and Red Bull both have junior teams, as outlined above, and Mercedes to an extent did with Manor and Wehrlein. Now that Ocon, a Mercedes junior don't forget, has been placed at Manor, the current top three all have bona fide B-Teams to run experimental parts and place junior drivers.
In many ways, this is good for Formula One. The 22 drivers on the grid are supposed to be the best in the world, but the cream doesn't always rise to the top. Pay-drivers have always been a part of F1, and some take up precious seats for the cream of the crop, although not all pay-drivers do, as Niki Lauda started as one back in 1972.
By the bigger teams, joining forces with the smaller teams to evaluate and analyse the up and coming of the sport, it can only be a matter of time before the grid is filled with a majority of the best, and fastest drivers in the world.