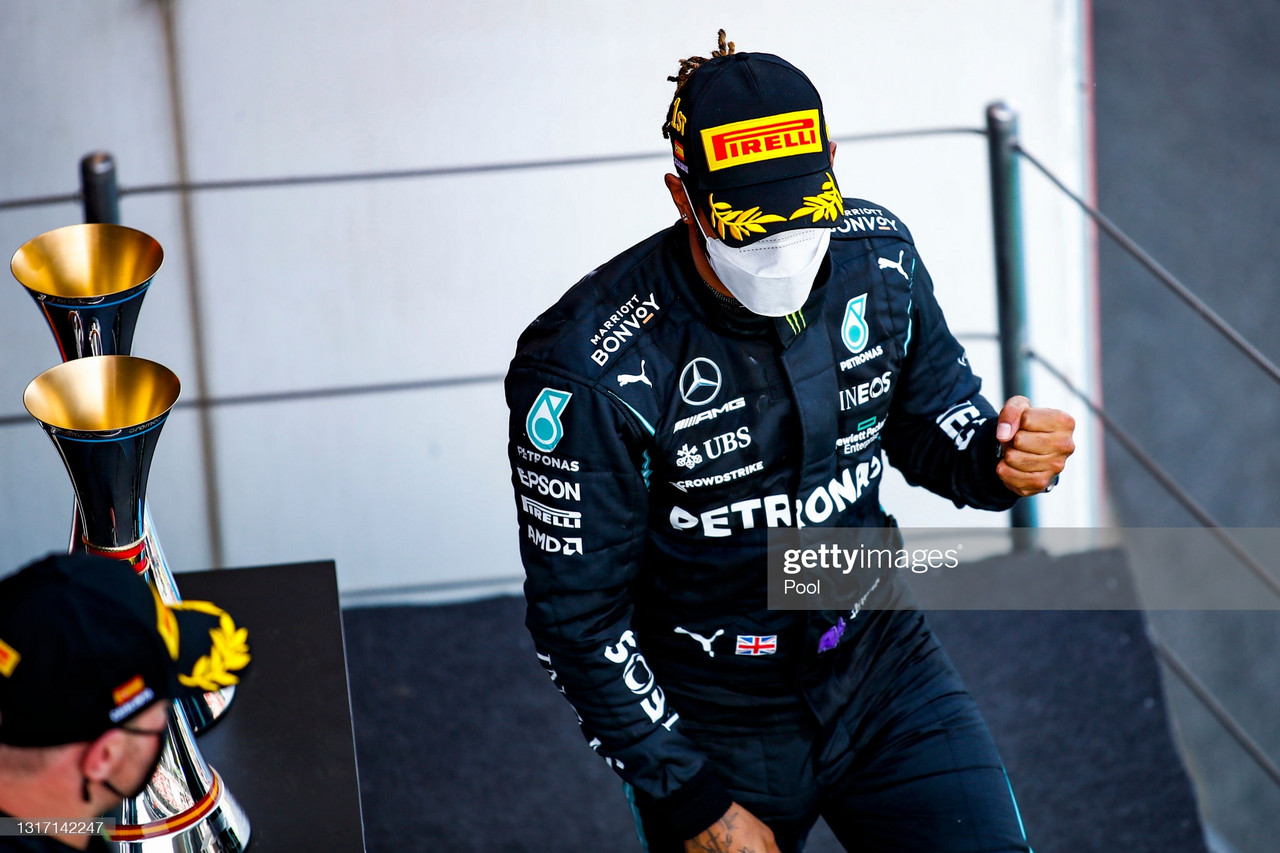 After achieving his 100th ever pole, Sir Lewis Hamilton took home yet another Grand Prix, this time in Spain, after having a great head-to-head with Max Verstappen.
On the other hand, Yuki Tsunoda had a devastating weekend, ending it with a DNF due to a shutdown in the engine during the race.
The race also included some great racing for 10th place between Fernando Alonso, Esteban Ocon, Pierre Gasly, Sebastian Vettel, Kimi Raikkonen, and even George Russell.
After an interesting race in Catalunya, we're going to rate the drivers and their performance throughout this weekend, based on race and qualifying results.
Ratings
Race - 1st
Qualifying - 1st
Without a doubt, Hamilton displayed once again what a true champion and great driver he is. After conceding a few places due to his pit stop, and having both Nikita Mazepin and teammate Valtteri Bottas get in his way and costing him a few seconds, he still managed to reach Verstappen and overtake him too.
History repeated itself, as just like in Hungary 2019, a pit stop to change to the soft compound tire, saw Hamilton come out on top within 22 laps.
Race - 2nd
Qualifying - 2nd
The tactical decisions taken by Mercedes got to Verstappen and there was not much that the Dutchman could do about them. Despite this, he had a great race overall, leading for the majority of the race.
Tactical decisions were not in favour of Verstappen's 100th race for Red Bull, as tire selections played a huge factor, and the best were those who opted for a two-pit stop plan.
Race - 3rd
Qualifying - 3rd
Being pressured by Ferrari's Charles Leclerc throughout the race made it very difficult for the Finn to keep his place, but he did eventually. The pit stops helped him to keep his pace and managed to overtake the Monegasque driver.
One of the stand-out moments during today's race was when the team radio indicated for Bottas to let Hamilton through, but the 31-year old decided to make life difficult for his teammate, costing him a second or two.
Charles Leclerc - 7
Race - 4th
Qualifying - 4th
Once again, Charles Leclerc is showing how much he can push that Ferrari to its limits. Displaying some great racing against Bottas, the 23-year old managed to keep his place at 4th and help the Scuderia earn some points once again.
Even Ferrari themselves were surprised by the great progress the team made compared to last season. The pace improved in both qualifying and in the race and is enabling the Ferrari drivers to compete against other midfield teams.
Race - 5th
Qualifying - 8th
Many are aware that drivers often find it difficult to live up to the expectation of Red Bull's second driver's seat, but Perez is on another level. For his first season with Red Bull, he is delivering some great results just like he did during this race.
Pit stops went as planned, the pace was good enough, and Perez managed to fight off Ricciardo and finish in 5th place.
Race - 6th
Qualifying - 7th
The Australian had to up his game and he did. Having never driven a Mercedes engine before, Ricciardo had been struggling to find pace during qualifying and racing. Last week in Portugal, he didn't even make it into Q2, but this week was a different story for the 31-year old.
He managed to also be faster than his teammate, Lando Norris throughout both qualifying and race.
Race - 7th
Qualifying - 6th
The Spaniard seems to find himself comfortable in his new seat this season. Despite the fact that he lost a place during his home race, he still managed to win Ferrari some points.
Throughout the race, he had been going head-to-head against both McLarens, but he brought out the best of his Ferrari to overtake his former teammate.
Race - 8th
Qualifying - 9th
We are used to seeing Norris in the top five but in this race his car didn't seem to cooperate with the British driver. We got to see go head to head against his former teammate Carlos Sainz, but the Ferrari was faster than the McLaren for this race.
The tire strategy was similar to the others' but he did a good job at keeping his position and delivering some points to the team.
Race - 9th
Qualifying - 5th
The Frenchman had a great weekend during practice and qualifying but it seems that he could not display the same pace during the race. He lost four places as he found himself battling out in the midfield against five other cars.
Looks like Alpine needs to work on their race pace even more, especially with a difficult circuit such as Monaco coming up.
Race - 10th
Qualifying - 12th
Alpha Tauri was set to be the main contenders for the midtable this season, but things are not going their way. Gasly came out on top in the battle for 10th position and managed to get Alpha Tauri a point during a horrifying weekend in which they lost a car.
The Frenchman displayed great racing and surely deserved the point after coming through for the team like that.
Race - 11th
Qualifying - 11th
The Aston Martin is not living up to the expectations that everyone had. Credit to Stroll though, as the only five points that the team has were earned by the Canadian.
Stroll tried racing it out for 10th, but he could not get through Gasly and remained in the same place in which he started the race.
Race - 12th
Qualifying - 17th
Despite the fact that he earned no points, let's still give some credit to the 2007 World Champion, who gained five places during this race. Fighting it out against the likes of Fernando Alonso and Vettel, something which I'm sure every Formula One fan enjoyed watching, as he managed to come out on top against both drivers.
Alfa Romeo does not have the best car to compete with, but this is where Raikkonen's experience comes in, as he knows how to push a car to its limits, even when it is not performing at its best.
Race - 13th
Qualifying - 13th
Last season, Vettel did not show much motivation to deliver great results after falling out with Ferrari but this year it is supposed to be a different story. Is it the fact that he never drove a Mercedes engine potentially the reason for his struggle?
Not sure, but something is not going right for Vettel and it is not allowing him to be competitive enough during races.
Race - 14th
Qualifying - 15th
George Russell is still waiting for his first points in a Williams, however, his strong Saturday performances show promise for the young Brit. Compared to other seasons, where Williams was basically racing on their own at the back of the grid, Russell has really come through for the team and it is exciting to see him try and race against other competitive cars during such races.
Race - 15th
Qualifying - 14th
Giovinazzi did not have the worst of races, but we have seen better from the Italian. Let's not blame it all on the 27-year old though. A 54-second pit stop in lap eight cost him a lot of places, and in my opinion he did great to try and recover.
While the mechanics were changing his tires, one of them realized that the front left had a puncture and so the team had to rush to change the whole set of tires, causing a delay in the stop.
Race - 16th
Qualifying - 19th
Having had three pit stops, it was a good race for the Canadian who we also got to see him going head to head against some other cars during the race.
Latifi does not make the headlines often but recently he has been trying to up his level for Williams and in my opinion, he is a great asset for the team. He acts responsibly, takes care of his car, and had a good race in Catalunya.
Race - 17th
Qualifying - 10th
It was a Disappointing race for the Spaniard. He was on top of the battle for 10th, but changing to the soft compound tire for the last four laps, cost him many places.
He tried going head to head against other cars and displayed some exciting racing but he just could not come out on top of it and finished in a very devastating position.
Race - 18th
Qualifying - 18th
Have to give the German some credit for the reason that he is really trying to deliver a better result for Haas. The team themselves know it that they are not competitive enough and cannot do much with their car and budget.
Despite this, Schumacher still goes out every weekend and tries to race, just like he did in Spain against the Williams, which shows what a great driver he is already.
Race - 19th
Qualifying - 20th
The Russian gained a position due to the fact the fellow rookie Tsunoda had to exit the race due to an engine failure. Another race, another complaint by the race leaders for not letting them get through while they are lapping the Haas.
He was also handed a grid penalty which basically kept him in the last position of the grid for blocking Lando Norris during Q1 in Saturday's session.
Race - 20th
Qualifying - 16th
It was not a great weekend for Tsunoda. He did not even qualify to Q2 during Saturday's session and an engine failure forced him to retire the race early while causing a safety car. The Japanese is new to Formula One and has shown potential during testing and other sessions this season.
In my opinion, the Alpha Tauri driver just needs a bit more time to become consistent and get used to the new systems that the promotion to Formula One present, which he shows confidence in doing.