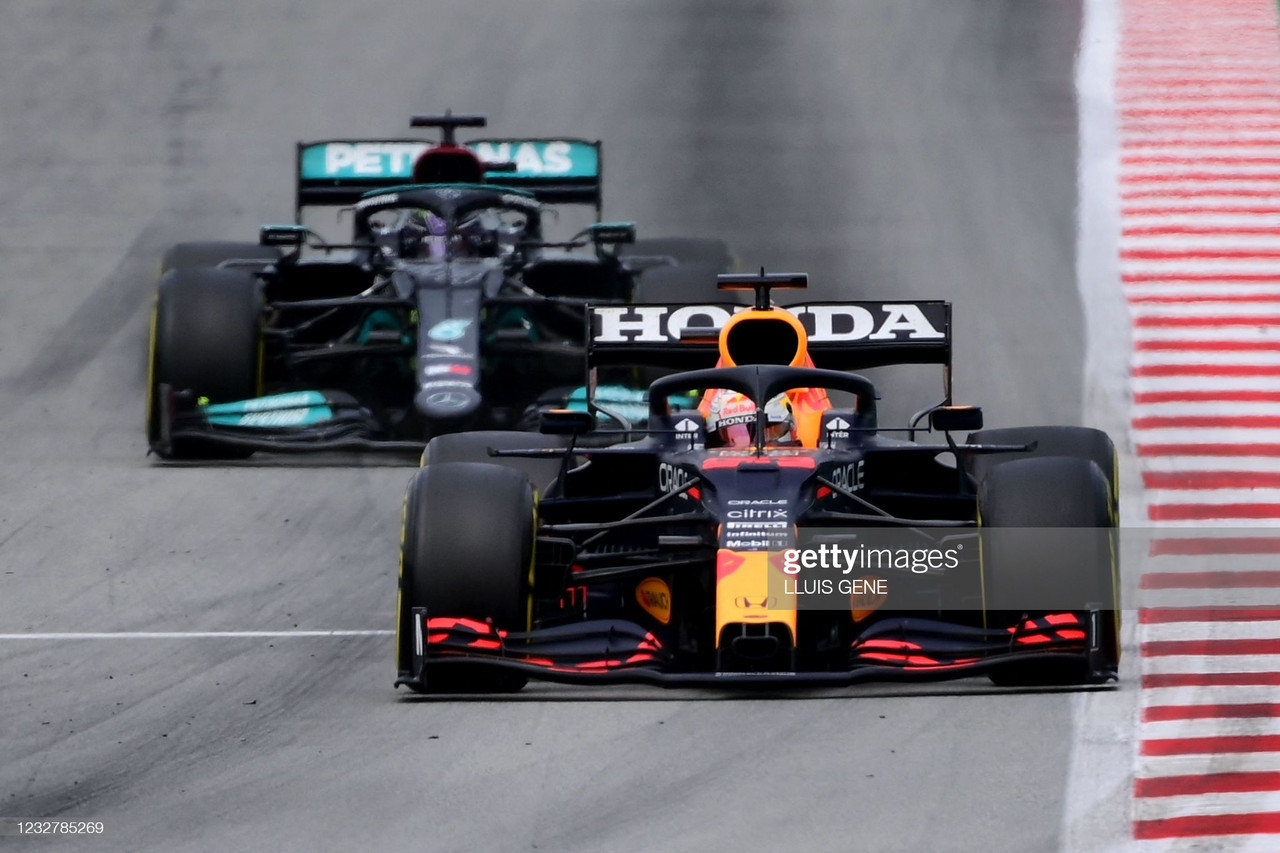 Sir Lewis Hamilton claimed his third victory of the season at the Spanish Grand Prix after Red Bull botched Max Verstappen's tire strategy.
The Dutchman finished runner-up, losing ground in the title race, while Sir Hamilton's Mercedes teammate Valtteri Bottas, came home a distant third.
Contrary to predictions, Sunday was not a dull procession like previous races at the Circuit de Barcelona-Catalunya have been. Indeed, there were in fact some interesting developments that could have huge ramifications on the rest of the season. Here are five of the biggest talking points from Spain:
100 poles for Lewis
The milestones just keep on coming. Qualifying was an extremely tight affair, with just 0.036 separating the top two, but in the end, Sir Hamilton edged his opponents and in doing reached an incredible landmark: 100 F1 Pole Positions.
It is a remarkable achievement and one that will likely not be repeated for many years. His nearest active challenger, Sebastian Vettel, is on 57 and while Verstappen (11) certainly has the potential to reach that feat, he still has a long way to go.
Sir Hamilton will no doubt be celebrating yet another milestone soon. His win in Spain was the 98th of his career, leaving him just two shy of an unprecedented century of wins.
History repeats itself
As the Grand Prix played out, pundits and fans alike couldn't help but feel a sense of déjà vu. As Sir Hamilton kept pace with but struggled to pass Verstappen, Mercedes called the Brit in for a second stop, while Red Bull opted to keep their race leader out on old tires. On a fresher set, Sir Hamilton began to close the gap and with just a few laps to go, Verstappen's tires gave way, and Sir Hamilton passed the Dutchman with ease to win the race.
If this sounds awfully familiar, it's because it is the exact same state of play as the 2019 Hungarian Grand Prix. Yet it seems Red Bull has not learned from their mistake that day. The team had the opportunity to counter Mercedes and pit Verstappen straight away after Sir Hamilton's stop but strangely decided not to.
As a result, Sir Hamilton is now 14 points clear of Verstappen. In a season as close as this, every point matters and Red Bull cannot afford to throw away great opportunities like this.
Ferrari (quietly) impress
With all the attention on the battle for the lead, a lot of the midfield scraps went unnoticed. While there was a fantastic battle for the last point between six different drivers, ahead of the one team managed to pull off an impressive result, with too little fanfare.
Ferrari came home P4 and P7, with Charles Leclerc looking particularly quick after overtaking Bottas at the start. Four races down, the Prancing Horses sit fourth in the standings, just five points behind McLaren.
With Alpine and Aston Martin floundering, it looked like McLaren would ease to third place and best of the race. But the Scuderia have made significant progress over the winter and while they would obviously prefer to be challenging for victory, this is still a great result to be proud of right now.
Drivers under scrutiny
F1 drivers have always pushed the boundaries of the rule book, but an unusually high number of them came under the scrutiny of the race stewards on Sunday.
First, Nikita Mazepin's ignorance of blue flags cropped up again. After incurring the wrath of Sergio Perez last time out in Portugal, his blocking of Sir Hamilton led Toto Wolff to personally call on the FIA to act.
Then multiple drivers were given black and white flags, warning them not to move suddenly under braking, a dangerous maneuver that can lead to serious crashes. Daniel Ricciardo, Lando Norris, and Lance Stroll were among those cautioned.
There are some who believe the FIA over-regulates the racing, but for these incidents, the action was rightly taken, and the punishments were fair.
The curious case of Valtteri Bottas
Not a day goes past without rumors surrounding Bottas' future cropping up in the news cycle. Prior to the weekend, the Finn shut down reports that Mercedes was planning on replacing him with George Russell or Esteban Ocon before the season was over, a claim the team has also strongly denied.
Yet, Bottas' recent performances have come under increasing criticism. Three third-place finishes in four races is certainly nothing to be sniffed at, but he has been miles off the pace of Sir Hamilton and Verstappen. And things got a little too close for comfort in Spain when Bottas didn't let his teammate by easily when he was chasing the lead.
Ultimately, no harm was done. But if there had been a collision or had Sir Hamilton failed to win, then you can be sure there would have been some strong words in the garage post-race. It was nice to see Bottas attempting to stand up for himself and not simply yield to his teammate as expected, yet if he keeps delivering sub-par performances, one can't help but wonder whether this really is the beginning of the end for the Finn.