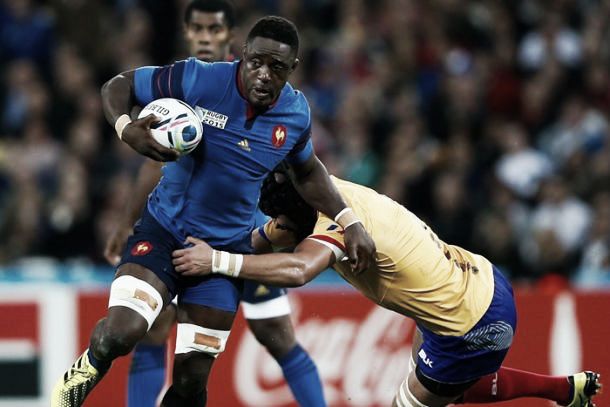 In a game which has France as the clear favourites - and understandably so - minnows Canada will be hoping to put up the best of fights and learn from Japan, who defeated South Africa earlier in the tournament against all odds.
France bring in rested new side
France have taken their last fixture, and their upcoming fixture against Canada, as a chance to rotate and rest their side. Just three players from the win against Romania have retained their spot in the starting XV.
Brice Dulin, Wesley Fofana and Bernard Le Roux are the only three players to keep their places in the starting 15. This means that in a fixture which France are already expected to dominate, they are able to bring in a fully rested side. French boss Saint-Andre is looking to give all his players as much match fitness as possible.
Another talking point from the French starting XV is that winger Remy Grosso makes his test debut for his country.
A bonus point win against Canada will put France clear at the top of the table with Ireland playing Italy on Sunday. With Italy being a difficult side to break down, it is more than possible that Ireland will not get the bonus point win. Should the French claim all available points, it could make all the difference in this group.
Canada make changes as they look to do the impossible
Canadian rugby is not a name that comes to mind when one thinks of rugby. The Canadians are a true minnow of the sport, but that leaves room for huge upsets to take place.
Canada will be looking to fellow minnows Japan, who - against all odds - managed to defeat South Africa in the opening round of fixtures.
Canada have lost both their games so far this World Cup, to Ireland and Italy respectively. With their coming game against France being no easier than the previous two, it could be a tough day for the underdogs.
Line-ups
France: Eddy Ben Arous, Guilhem Guirado, Rabah Slimani, Pascal Pape, Yoann Maestri Thierry Dusautoir, Bernard Le Roux, Damien Chouly, Sebastien Tillous-Borde, Frederic Michalak, Brice Dulin, Wesley Fofana, Mathieu Bastareaud, Remy Grosso, Scott Spedding
Replacements: Benjamin Kayser, Vincent Debaty, Nicolas Mas, Yannick Nyanga, Fulgence Ouedraogo, Morgan Parra, Remi Tales, Alexandre Dumoulin.
Canada: Hubert Buydens, Aaron Carpenter, Doug Wooldridge, Brett Beukeboom, Jamie Cudmore, Kyle Gilmour, Richard Thorpe, Tyler Ardron, Phil Mack, Nathan Hirayama, DTH Van Der Merwe, Nick Blevins, Ciaran Hearn, Phil Mackenzie, Matt Evans.
Replacements: Ray Barkwill, Djustice Sears­‐Duru, Andrew Tiedemann, Evan Olmstead, Nanyak Dala, Gordon McRorie, Harry Jones, Conor Trainor.