When The Undertaker returned on the 900th episode of SmackDown Live, he declared the blue brand "his home". WWE officials apparently have plans for "The Phenom" on the Tuesday night program on the Road to WrestleMania.
According to a NoDQ.com report, some in the company brought up the idea of Taker facing WWE World Champion A.J. Styles for the title at the 2017 Royal Rumble pay-per-view in San Antonio, Texas. While far from concrete, if "The Deadman" won the title from Styles, he would defend the title against John Cena at WrestleMania as "The Face That Runs the Place" pursues Ric Flair's world title record.
Undertaker's recent hip surgery and rehab represent the only roadblocks that prevent the match from happening.
A Return to the Title Picture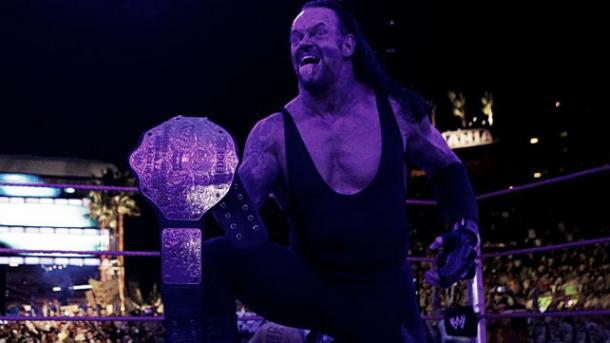 A seven-time World Champion, Undertaker's last title match was at Bragging Rights 2010 in a Buried Alive match against Kane for the World Heavyweight Championship. Kane won with help from The Nexus and Paul Bearer. The 2007 Royal Rumble winner has worked a limited schedule ever since. The Houston, Texas native last held a world title between October 2009 and February 2010.
Taker defeated C.M. Punk at Hell in a Cell 2009 to win the title and held it until Elimination Chamber 2010. Taker lost the belt to Chris Jericho after Shawn Michaels interfered, setting the stage for their classic match at WrestleMania XXVI.
Thoughts
The idea of Undertaker returning on a semi-regular basis for SmackDown gives the brand more star power throughout the build to the Royal Rumble and WrestleMania. Styles, as a potential opponent for Taker, shows the companies continued faith in him as a top guy. Should WWE go this route, they need to heat "The Phenomenal One" between now and January.
The Champion has suffered multiple defeats since winning the title at Backlash last September. Dean Ambrose, Seth Rollins, and the great James Ellsworth all scored pinfalls over Styles in the past couple of months (although Styles was protected at Survivor Series with The Shield powerbomb and blatant interference in the Ellsworth matches by Ambrose).
It isn't necessary to put the title on Taker, especially for a match with Cena. If Cena and Taker face off at "The Showcase of the Immortals", they don't need a title to fight over, especially if it's Undertaker's last match.