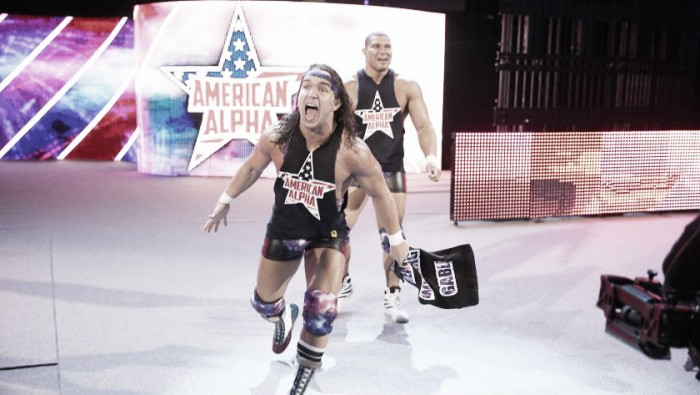 When American Alpha was promoted to the main roster from NXT in the 2016 draft, big things were expected from one of the most promising tag teams to arrive in the WWE.
Chad Gable, a former Olympian and Jason Jordan, a phenomenal athlete in his own right, combined to form a tag team that captivated the NXT fan base.
Their victory over The Revival at NXT TakeOver: Dallas was one of the best bouts of the entire Wrestlemania 32 weekend, capped by an incredible fan reception for Gable and Jordan's eventual win.
It speaks volumes that amongst a stacked NXT tag team division, consisting of the likes of The Revival and the now separated DIY, American Alpha were the champions coming out of the biggest show of the year.
However, since they were called up to SmackDown Live, it's been a very different story.
Life on the main roster
There was obvious hype at the start of their run, as they were the first tag team drafted to the blue brand being run by Shane McMahon and Daniel Bryan.
After a few months of build, and some time off to nurse a kayfabe injury for Gable, the pair would capture the Smackdown Tag Team Championships from the Wyatt Family.
Despite the win over such an established team, the pair were booked very poorly as champions; regularly either losing on TV or being absent from the show.
This resulted in the newly heel Usos winning the titles in the weeks approaching WrestleMania, and the pair being thrown into the Andre the Giant Memorial Battle Royal.
And now, the team are effectively disbanded after Jason Jordan was revealed as the illegitimate son of Raw General Manager Kurt Angle, and Gable stayed on SmackDown Live.
The team had so much potential, there were rumblings of them being mentored by Angle but he was placed on the wrong brand to take up the role.
Also, the SmackDown roster could use another legitimate threat to the tag team titles, with The Usos and the new champions The New Day the only real contenders.
The decision to pair Jordan with Kurt Angle was a weird one in itself, as Gable shares the Olympic wrestler link with the Raw GM, and has already shown himself to be a hugely talented singles worker in bouts with the Phenomenal AJ Styles.
There is definite potential for both Gable and Jordan to succeed as singles stars, but as things stand, they're another example of a hot NXT prospect flopping on the main roster.