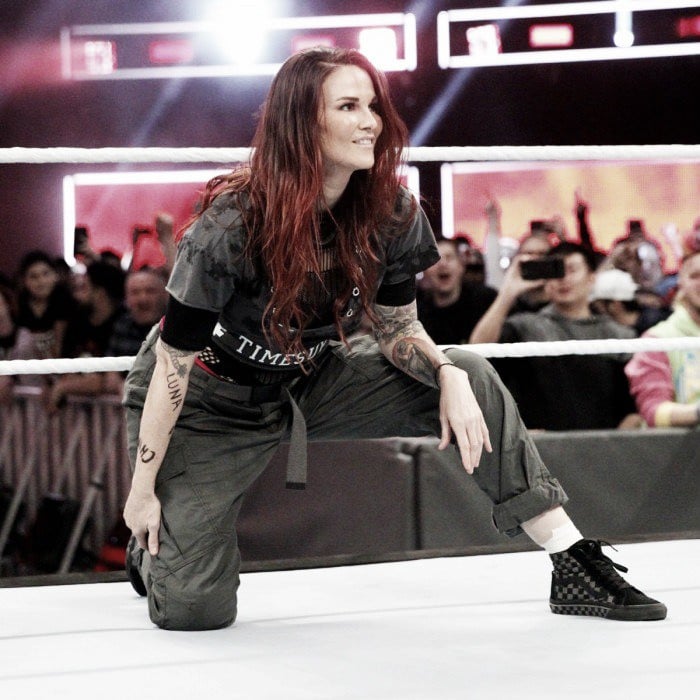 This past Sunday marked one of the most historic moments for WWE's women's division as the first ever Women's Royal Rumble took place in Philadelphia. The women's revolution has been growing over the years and this match showed that WWE is taking this movement seriously. After being announced by Kurt Angle that the Women's Royal Rumble would be no different than the men's, fans had to wonder who exactly would be making an entry in this historic event.
Who would perform in the Royal Rumble?
A quick head count of both the Raw and SmackDown rosters would tell you that there weren't enough women to fill the match. Unless WWE wanted to fill the remaining entries with women from NXT, fans were in for a surprise. No doubt that's what they got as women from WWE's past made history once again.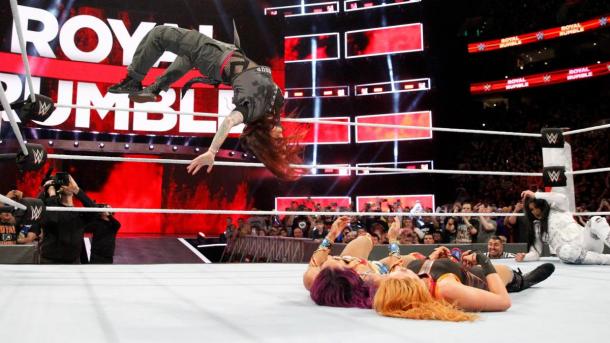 This first surprise came from the fifth Royal Rumble entry: Lita! The four-time Women's Champion was met by a loud pop from the fans as she entered the ring. Lita hasn't wrestled in a WWE ring since her retirement match against Mickie James at Survivor Series in 2006, but that didn't stop her from making two eliminations, a Twist-of-Fate, some DDTs and a moonsault onto Becky Lynch and Sasha Banks. Fans chanted "You still got it," in response to her moves.
Lita represents #TimesUp
One noticeable element about Lita at the Rumble was her choice of wardrobe. Lita rocked her signature punk rock style and thong but she also chose to rep another movement going on in Hollywood today. Across her waist, Lita sported the hashtag TimesUp. Times Up is a movement in Hollywood that arose in response to the allegations against Harvey Weinstein and the hashtag MeToo. Times Up is a movement against sexual harassment in the workplace.
Lita's fight for equality
Remember what WWE wants us to forget. Remember that retirement match that Lita had against Mickie James at Survivor Series and its aftermath. Remember that glorious send-off WWE gave one of their most over female wrestler. A woman who broke her neck and came back! Which no woman ever did at that time. A woman who would get louder pops than the guys. How did WWE thank her for all that work? They humiliated her in front of thousands with Cryme Tyme's "Hoe sale," where they sold her alleged vibrator and Monistat.
It is only fitting that Lita wore the hashtag. This Royal Rumble was a milestone for the women in this business. Fans see Lita wearing this hashtag as a way to represent all the years that women in this business have been misused, harassed and abused.
Lita pays tribute to women of the past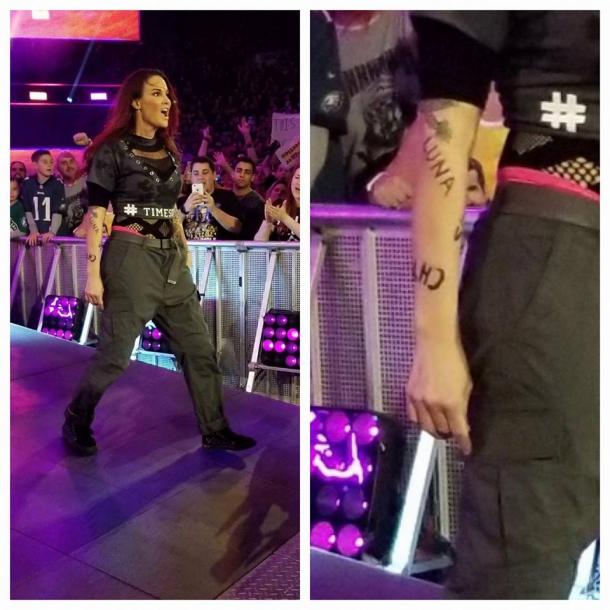 The hashtag aside, Lita also warmed the hearts of everyone watching in punk rock style. On her right forearm, Lita wrote the names of women who paved the way for wrestling history and who are no longer with us. The names of Luna Vachon, Sensation Sherri Martel, Chyna, Mae Young, and The Fabulous Moolah, all of whom opened the door to women's wrestling in the WWE. All of the women that competed in the Royal Rumble have the women written on Lita's arm to thank for the opportunity that was given to them this past Sunday.