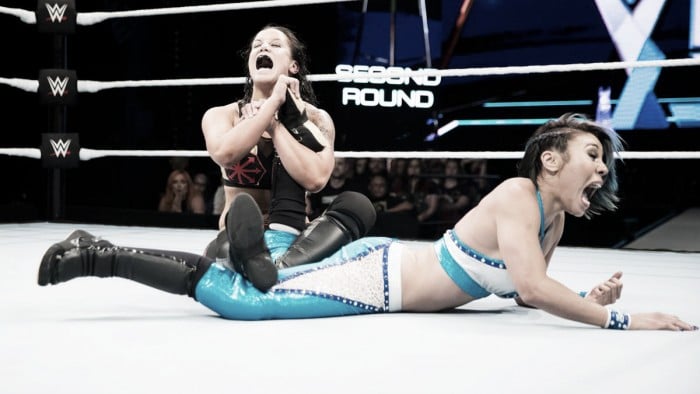 After a thrilling first episode of the Second Round the final four matches of the round take place in episode six which includes another stacked show with firm favourites and dream matchups, but will it live up to the previous high standards?
Toni Storm vs Lacey Evans
Both of these ladies really shone brightly in the first round and that was no surprise so it leads to some expectation for their bout here and they started things off very well, not messing around and it would be Lacey Evans who had the early control. The ex-Marine was incredibly physical during the match and used her size advantage to give herself the upper hand throughout the match.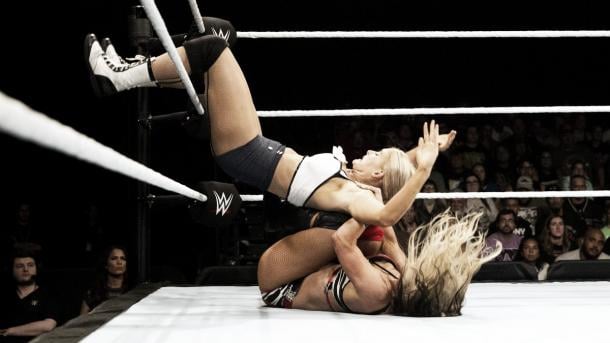 Toni Storm's experience was helpful though and after suffering a beating a backbreaker and a hip attack allowed her to regain momentum but Evans quickly fought back, making for a very even match. Ultimately it would be Storm's Strong Zero that saw the rock star earn her way to the Quarter Finals but Evans certainly has a bright future regardless of the defeat.
Winner: Toni Storm
Mia Yim vs Shayna Baszler
This is arguably the match that most fans were excited about when it came to the Second Round as both women have major experience and before Shayna Baszler got into the ring she walked past the WWE's Four Horsewomen, a stare off that teased the fans in a major way. The fans were fully behind Mia Yim early on and Baszler deciding not to shake her hand only helped that.
Despite some early sharp kicks from the former UFC star, Yim showed her wrestling experience sending Baszler out of the ring before diving through the ropes to take her out, but back in the ring, it was quickly back to strikes and hard hitting moves from the two MMA experts. Baszler's submission ability was on display when she caught Yim from a 450 Splash, locking in a sleeper hold to get the win and progress after an excellent match that saw two styles really work well together.
Winner: Shayna Baszler
Following the match Baszler went to celebrate with her MMA friends who make up the MMA's version of the Four Horsewomen, leading to a stare-off between all of the women that had the crowd in a frenzy. WWE.com posted an exclusive video where they met outside the arena and confronted each other which led to Rousey telling the WWE stars to name a time and a place.
That feud would be money, easily a PPV main event and with Survivor Series not too far away, it seems like a logical choice whilst this is still fresh in everyone's mind, book it WWE.
Rhea Ripley vs Dakota Kai
Following on from the Four Horsewomen situation it was back to the Mae Young Classic and a battle of New Zealand vs Australia with two great strikers. Dakota Kai was in complete control early on with her speed being the difference but Rhea Ripley planted Kai face first on the outside in what was a devastating move to change the pace.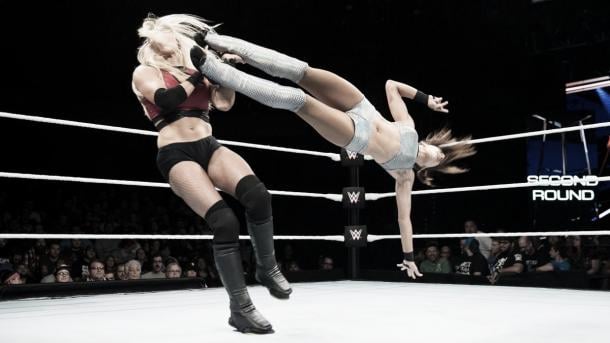 In the end, Ripley made the mistake of going to the top rope with Kai who was able to pull out the Tree of Woe and hit the double foot stomp to earn her place in the Quarter Finals. This match was another very good one but just struggled after following the brilliant match beforehand, either way, both of these ladies have an exciting future, especially with Ripley only age 20.
Winner: Dakota Kai
Candice LeRae vs Nicole Savoy
The final spot in the Quarter Finals was up for grabs in this main event and it was quite a surprise to see this close the show given what matches had happened already and with the fact, Nicole Savoy didn't set the tournament alight in the First Round. However, she was much more impressive in this outing against someone who everybody knows in Candice LeRae, but she was able to score a well-earned victory with Miss LeRae's Wild Ride after a rather quick match.
Winner: Candice LeRae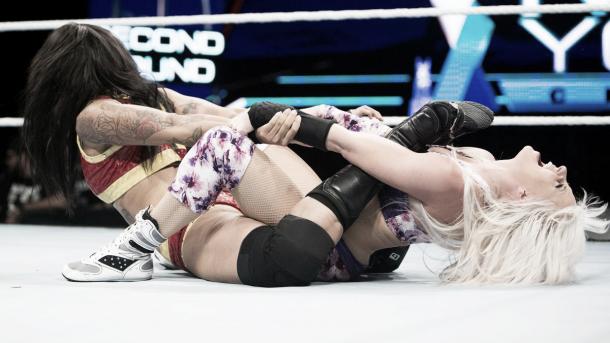 That wraps up Round Two of the Mae Young Classic as we now move onto the Quarter Finals and the final eight wrestlers left in the competition. This particular episode was enjoyable as women's wrestling continues to take steps forward with WWE creating names that the fans can get behind should they decide to sign them. Shayna Baszler and the Four Horsewomen teases were certainly the major talking points of this show and that is something fans should keep an eye on for the future.
Star of the night: Shayna Baszler
Match of the night: Shayna Baszler vs Mia Yim