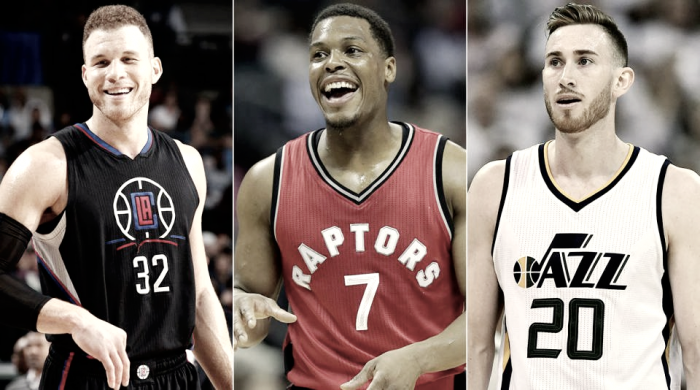 Welcome to our 2017 NBA Free Agency Roundtable Discussion. This year's list of free agents are highly anticipated because of many stars looking to join forces with other stars to create a super team. Many can say that super teams were established during the 70's, 80's, and 90's, with the likes of the Philadelphia 76ers, Los Angeles Lakers, Boston Celtics, Chicago Bulls, and Houston Rockets, while others say LeBron James, Dwyane Wade, and Chris Bosh created the 'modern day' super team. All in all, the free agents that will be discussed in this roundtable discussion are looking to do just, with Chris Paul unexpectedly making his decision to be traded to the Houston Rockets to form a potential super team with James Harden just days before the start of the free agency period on July 1.
Our VAVEL USA writers Sully Akbari, Robert Brunswick III, Christopher Jeter, Youssef Machkhas, and Austin McConnell will be discussing the potential destinations for Paul George, (although he isn't a free agent but likely to be dealt during the free agency period), Kyle Lowry, Serge Ibaka, Danilo Gallinari, Jrue Holiday, Derrick Rose, Jeff Teague, Blake Griffin, Gordon Hayward, Paul Millsap, and Andre Iguodala. They will also give their take on how Chris Paul's season will go with the Rockets and if he will re-sign with the Rockets or sign elsewhere next summer once his contract expires.
There is a lot to discuss, so let's get started!
Where Will Paul George End Up?
Sully: Boston Celtics
Throughout the course of the 2016-17 season, there was speculation that George will re-sign to a max-deal with the Indiana Pacers but there was no hiding the fact that George wanted to return home and play for the Lakers. Then as the Pacers' season was nearing its end as they matched up against the Cleveland Cavaliers in the first round of the playoffs, George knew he couldn't win this roster. Shortly after being swept by the Cavaliers, Larry Bird stepped down as Team President of the Pacers, and with Bird not running the show, this now makes it harder to bring in star talent as Indiana is not a hot-bed for star free-agent signing.
The question that still remains is where Paul George will play next. The Boston Celtics and Cleveland Cavaliers remain the top two teams to bring in George but there is one realistic destination and that is the Celtics. Boston has the assets and players to deal for George while the Cavaliers have Kevin Love, which the Cavaliers found out that it was hard to move him. Cleveland will need to spice up their offer in order to bring in George. If anything, George is shipped to the Celtics and if Boston doesn't have a successful 2017-18 season, Paul will likely head to La La Land next summer.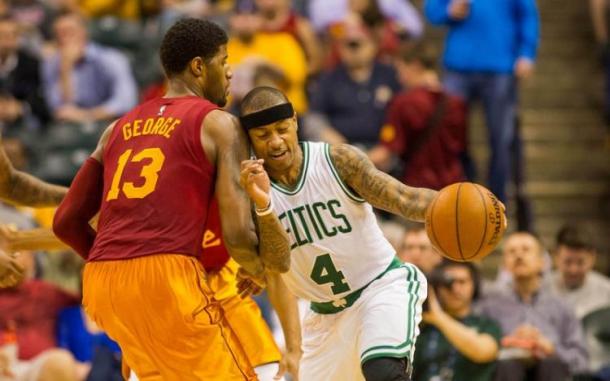 Robert: Washington Wizards
Even though he's not a free agent just yet, George's name has been connected to so many trade rumors this summer. Of the recent projections, I like his place with the Washington Wizards, as John Wall is reportedly trying to arrange some things for George to go to D.C.
No matter how good Otto Porter's become, adding Paul George to a starting five with John Wall, Bradley Beal, and Markieff Morris would be exhilarating. The scoring potential from point to small forward would be phenomenal, and it would be George's best bet at, at least, stopping the Cavaliers. Sending Porter, and even Kelly Oubre Jr., in return for George and Glenn Robinson would be a win for both the Wizards and George in my eyes.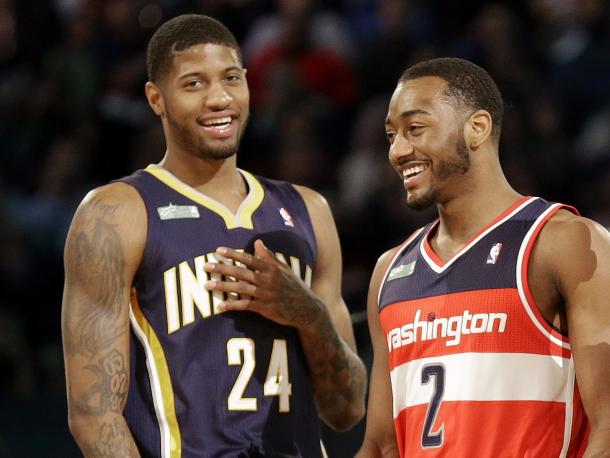 Christopher: Boston Celtics
When George told Indiana Pacers management that he wasn't going to re-sign with the team next season, trade rumors began swirling. It appeared that George was destined for the Los Angeles Lakers either this coming season or next. Now, it doesn't seem as clear. As others have pointed out, the Lakers risk George becoming enamored elsewhere if another team acquires him. If they trade for him now, they could give up too much talent and hamper their title hopes, both present, and future; though George gives them a better chance than the roster they have right now.
Aside from the Lakers, teams like the Rockets, Cleveland Cavaliers, and the Boston Celtics will also try to bid for George's services. After adding Chris Paul, the Rockets are interested in adding another superstar, and George more than fits the bill. George also stated his openness to sign and stay with the Cavaliers if LeBron James did the same. Boston would like to pair George up with Gordon Hayward if they have a chance to do so. The four-time All-Star may end up with the Lakers eventually, but I think the Celtics have the best chance to land him now. They have enough picks and interesting players for the Pacers to net a nice return for their former franchise centerpiece.
Youssef: Indiana Pacers
Plenty of teams are interested in trading for George despite the possibility he only stays for a year. These teams include the Rockets, Lakers, Cavaliers, and Celtics. Despite how amazing it would be, it's almost impossible George comes to Houston. They gave up all of their trade assets to acquire Paul and will, therefore, need a third team to send picks and young players to the Pacers. But then how can the Rockets convince that third team to do that? If they pull it off, props to Daryl Morey for figuring it out. The same goes with the Cavaliers since it's become known that nobody wants Kevin Love. They don't have many trade pieces outside of him. That leaves the Celtics, Lakers, and Pacers. Under previous Lakers' management, George would end up in L.A. because they would panic and give too much up for him. However, Magic Johnson likes his young players and will be more hesitant in going all in for George. The Celtics will end up getting Hayward, so they won't need PG13. Therefore, he'll stay in Indiana when the season starts, and they'll trade him before the deadline to at least get something out of him.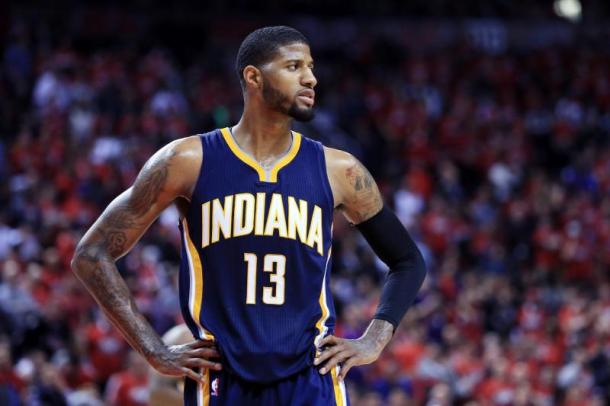 Austin: Boston Celtics
George isn't a free agent this offseason, but it has been well documented that he wants out of Indiana sometime in the next year. The Pacers have been weighing their options since his announcement, but have failed to get a deal done with any of the number of teams interested. The Los Angeles Lakers are obviously George's favorite, but they are hesitant to give up any major pieces since he could sign with them in free agency next summer. The Cleveland Cavaliers have also explored ways to acquire him, though it would likely mean the end of the road for Kevin Love. For now, my prediction is that George will actually be dealt to the Boston Celtics because of the tremendous amount of assets that they can offer to Indiana. The Celtics could then focus on making room for Gordon Hayward and becoming serious contenders in the Eastern Conference, or the clear favorites should LeBron James head west next summer. They are also confident that they could convince George to re-sign with their playing style and winning culture.
Sully's Free Agent's Take on Kyle Lowry and Serge Ibaka
Kyle Lowry - Toronto Raptors
Kyle Lowry has been garnering attention from many teams but the two teams that stand out are the Minnesota Timberwolves and San Antonio Spurs. Looking at Minnesota's situation, they recently acquired Jimmy Butler from the Bulls for Kris Dunn and Zach LaVine and the No. 7 pick that turned into Lauri Markannen. The move took away the Timberwolves' guard play, leaving only Ricky Rubio. Shortly after, Minnesota made it clear that they are shopping Rubio. If the Timberwolves are able to execute a trade that will free up Rubio's contract, Minnesota could a be a good fit for Lowry. On the other hand, after losing out on the Chris Paul sweepstakes, the Spurs are looking to add a veteran point guard in Lowry. With Tony Parker out until January 2018, the Spurs will need an experienced point guard to hold down the position. Lowry could be that player as he, head coach Gregg Popovich, Kawhi Leonard, and LaMarcus Aldridge would make a great fit.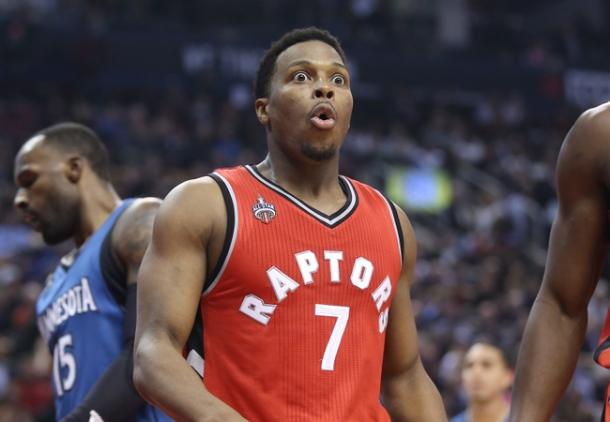 After those two possible destinations, there one option left and that is to re-sign with the Toronto Raptors. Not on a long-term basis, however, but on a two-year deal where he can opt-out after the first year. If the Raptors have an unsuccessful season, then Lowry will likely switch teams next summer. This would be the best the Raptors could offer because it all comes down to winning in the playoffs, where the Raptors have failed to do so in three out of the four years.
Serge Ibaka - Toronto Raptors
After being traded mid-season from the Orlando Magic to the Raptors, Serge Ibaka fit well with head coach Dwane Casey's system. Ibaka and P.J. Tucker worked well together on the defensive side of the court and Ibaka did his part in spacing the floor for either DeMar DeRozan or Kyle Lowry to run iso-ball. On top of that, Ibaka hit his three-point shots here and there, got his points in the post and that was just what the Raptors needed from him. Now that he is a free agent, Ibaka has been getting attention from the Rockets and Atlanta Hawks but re-signing with the Raptors would be a good move for him if Lowry too re-signs. Reason being is that Lowry and Ibaka didn't play much as Lowry was out with a wrist injury when Ibaka got traded to Toronto. Now if they both start the season together and if the Raptors add in a few more pieces, Toronto could very well be a top-three team in the Eastern Conference.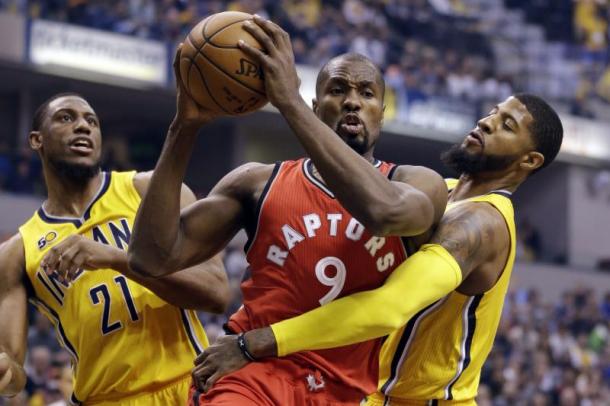 Robert's Free Agent's Take on Danilo Gallinari and Jrue Holiday
Jrue Holiday - Minnesota Timberwolves
Holiday was once an All-Star, and rightfully so. He needs to reclaim that glory and find a team that best suits his style of play. Returning to Philadelphia right now would be a waste of time because they've already crafted a roster for the future. Even though his name hasn't been connected to them, the Minnesota Timberwolves could be an interesting landing spot for him given their current situation. Ricky Rubio is on the block, and with a need to fill the point guard spot after dishing Zach LaVine and Kris Dunn, Holiday could swoop right in as their saving grace. Jimmy Butler, Holiday, Andrew Wiggins, and Karl-Anthony Towns sounds like a good fit to me.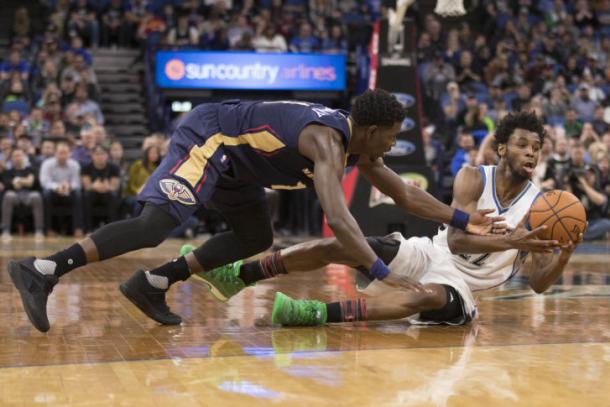 Danilo Gallinari - Portland Trail Blazers
Several years on the Denver Nuggets have gotten Gallinari nowhere, and when rumors of his being traded to the Los Angeles Clippers surfaced, it looked like he may have had a shot at something big. He doesn't offer much besides decent shooting and dunks, but he's a good placeholder nonetheless. He's a starter for sure, so he belongs on a roster that will give him that opportunity. With their lack of scoring at small forward, the Portland Trailblazers would be the best fit for Gallinari. He'd be grouping up with Damian Lillard and C.J. McCollum, one of the budding backcourts in the Western Conference. He'd also be reunited with former teammate Jusuf Nurkic, who has erupted into a quality starting center.
Christopher's Free Agent's Take on Derrick Rose and Jeff Teague
Derrick Rose: New York Knicks
Both the New York Knicks and Rose have mutual interest in a continued working relationship. However, the team is not interested in spending an exorbitant amount of money in free agency. Fortunately for them, Rose should not command anywhere close to the same salary he has made the last several seasons. The former NBA Most Valuable Player has dealt with a myriad of injuries since the 2012 playoffs, suiting up in no more than 66 games since then. When Rose is on the floor, he looks like a shell of his former self, aside from a few flashes. In his last four years, Rose has compiled 4.4 win shares; in comparison, he had six in the lockout-shortened 2011-12 campaign. Rose's three-point shooting has regressed, he doesn't get to the free-throw line often and is not much of a facilitator (4.6 assists per game over the last four years). The Knicks are the frontrunners, but how much will they spend on an average point guard with name value?
Outside of the big apple, the Minnesota Timberwolves are strong candidates to sign Rose. Should he sign with Minnesota, Rose would be reunited with head coach Tom Thibodeau and Jimmy Butler. The Wolves tried to acquire Rose last year prior to the trade deadline, but that deal fell through. Should Minnesota agree to terms with Rose, he will probably be the successor to Ricky Rubio at point guard; a baffling move considering Rose shares all of Rubio's flaws (poor shooting) without his strengths (passing). Minnesota has enough cap room to sign him, but again, it comes down to price more than anything else. I think Rose will stay in New York.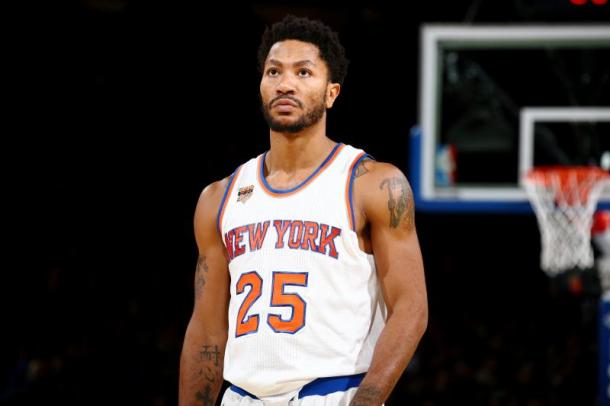 Jeff Teague: Minnesota Timberwolves
In his first go-round with the Indiana Pacers, Teague turned in one of his best seasons. His 19.2 PER was the second-highest mark of his career while posting a personal-best 8.1 win shares. Teague made slightly less than $9 million last year and will likely command more on the open market following a strong 2016-17. He might have to wait for the likes of Kyle Lowry, Jrue Holiday, and George Hill to come off the board before signing a new deal.
Teague could serve as an adequate replacement for Hill with the Utah Jazz; though that may depend on the Jazz's ability to retain Gordon Hayward. Rudy Gobert's extension kicking in this coming season and a possible Hayward deal could put Teague out of their price range. The Minnesota Timberwolves may also be in the mix for the former All-Star. They face the same financial constraints, but they could trade Ricky Rubio to make room for Teague. Should they lose Lowry, the Toronto Raptors could sign Teague as a lower cost alternative. The New York Knicks are another possibility if they fail to reach an agreement with Derrick Rose. A Teague-Pacers reunion may depend on the team's direction post-Paul George (assuming George gets traded). Whoever signs a pact with Teague is getting a borderline All-Star guard in the prime of his career who can competently run their offense. Of the teams I mentioned, Minnesota has the best chance, assuming they get rid of Rubio and can't sign Rose or Hill.
Youssef's Free Agent's Take on Blake Griffin and Gordon Hayward
Blake Griffin - Phoenix Suns
Griffin has gotten interest from everywhere, but nobody really knows who he's interested in. The Clippers are obviously trying to resign him, and to be honest Chris Paul leaving might've improved their chances. They didn't get along that well and now this will be Griffin's team. Other teams include the Oklahoma City Thunder, Boston Celtics if they can't get Gordon Hayward, Phoenix Suns and maybe the Portland Trail Blazers. The Thunder would be a good fit with Russell Westbrook, but they will need to clear a lot of space to get him, so much that it is very unlikely they'll be able to. A Damian Lillard-C.J. McCollum-Griffin Big Three would be very intriguing. However, it seems like the Suns are the only team with mutual interest; he will meet with them on the first day of free agency. The Suns make a lot of sense since they're a young but promising team and he can be the star there. He will want to be the star wherever he ends up, which leaves Phoenix and the Clippers as the best options. However, he will pick the former because they aren't screwed for the next many years.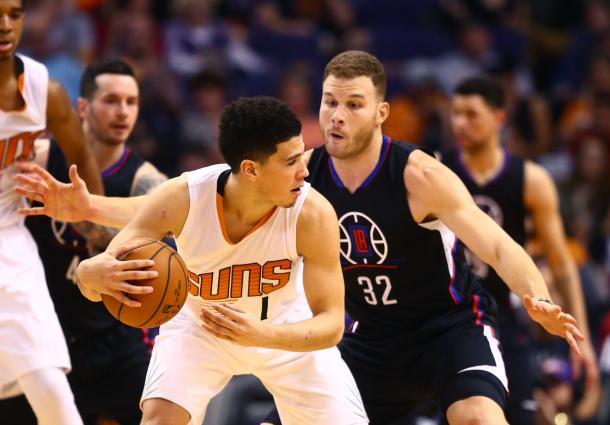 Gordon Hayward - Boston Celtics
The options have been narrowed down to the Miami Heat, Jazz, and Celtics, as he will meet with each of them over the weekend and early next week. Each team has plenty of appeal. With the Heat, he will be joining a solid team with nice pieces but not yet ready to compete. He is probably more enticed with the prospect of living in Miami. With the Jazz, he will stay with the only team he has ever known and a pretty loyal fan base. They are improving a lot and have a chance of becoming one of the best teams in the West in the near future. With the Celtics, he will rejoin his college coach at Butler, Brad Stevens. They also give him the best chance to win a ring, since they have a great team and are just one piece (aka him) from possibly dethroning the Cavaliers as kings of the East. The idea of competing at the top will be too great for Hayward, which is why he will head to Boston.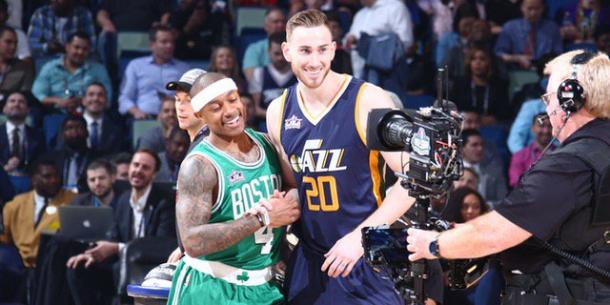 Austin's Free Agent's Take on Andre Iguodala and Paul Millsap
Andre Iguodala - Golden State Warriors
The 33-year-old Iguodala has reportedly garnered the interest of at least seven other organizations leading up to free agency, which is no surprise considering his contributions to the NBA champions. Teams like the Minnesota Timberwolves, Los Angeles Clippers, San Antonio Spurs, and Utah Jazz will push hard to meet with Iguodala and make him a more featured piece than he is in Golden State. However, the Warriors have his bird rights and the ability to sign him to a similar contract to what he will find on the open market. Additionally, Kevin Durant is planning to re-sign at a price that helps the organization keep their bench strong, which includes Iguodala and backup point guard Shaun Livingston. Therefore, it would make sense for him to return to Golden State and continue to fill his role on a team that could be title favorites for the next few years.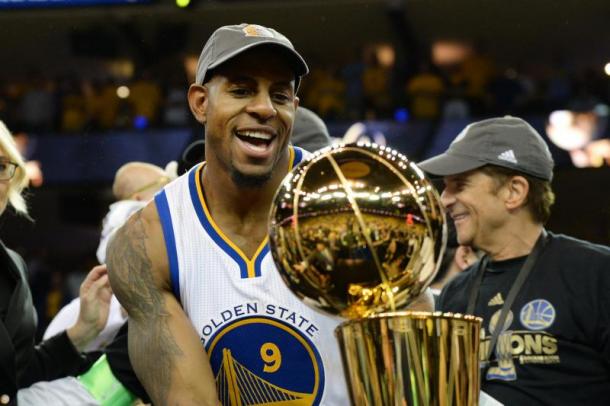 Paul Millsap - Denver Nuggets
Millsap is a guy who will have numerous potential suitors once July 1 rolls around, as he is one of the best two-way forwards in the league. The Atlanta Hawks have relied on his production to maintain their winning ways, but general manager Travis Schlenk has already made it clear that they are not necessarily willing to offer him a max-contract. Schlenk places a huge emphasis on avoiding "bad" or untradeable contracts, and a Millsap max offer would pay him over $30-million into his late 30's. Other teams who are ready to immediately take the next step, however, are willing to entertain a sizeable deal for the all-star. The Houston Rockets could be in play if they cannot land George or Carmelo Anthony first, while the Phoenix Suns and Sacramento Kings have expressed interest as well. An intriguing destination and my prediction for Millsap, though, is the Denver Nuggets. Whether they engage in a sign-and-trade or sign him outright, the Nuggets would be a perfect fit for a guy like Millsap. They have a lot of young pieces, including center Nikola Jokic whose skillset would pair nicely with Millsap's, and the cap space to get a deal done. The 32-year-old has been underpaid pretty much his entire career, so he will likely be ready to earn the money he deserves with another team this offseason.
What Does Chris Paul's Future Hold?
Sully: What Chris Paul did was unexpected, to say the least. Not that he switched teams but that he did it so soon. I would have expected him to wait a few days into the free agency period to ask for a trade by opting in his final year, which he did, or signing a long-term deal once he officially opted-out on July 1. However, now that he is an official member of the Houston Rockets, there are two ways in which this could end, either abruptly or have a long-term agreement. Paul is a true point guard. James Harden was asked to play point guard by Mike D'Antoni. Paul has had the long-term success of being the floor general while Harden had one amazing year running the point. The question that remains is how will two ball-dominate players play together? The only way is for them to share the position and with the roster not fully complete, it will take time to run the point successfully between the two.
All in all, if both Harden and Paul can mesh together and have a successful first-year, then Paul will likely sign the super-max contract the Rockets can offer next summer. If not, I wouldn't be surprised if he returns to the team he was once drafted to and that is the New Orleans Pelicans.
Robert: It's a bit of a shock Chris Paul would sign-and-trade to Houston, but in a way, this could be the right move for him. He brings a good defensive edge at the point guard position and even though he's a bit short, he can move off the ball as a shooter. The Harden-Paul tandem should result in Chris Paul having a memorable season, so long as he's healthy.
When he enters free agency, if he doesn't win a ring with Houston and D'Antoni, Paul will probably leave to join the Spurs as Kawhi Leonard enters his prime years. The only other consideration is LeBron James, Paul, Dwyane Wade, and Carmelo Anthony joining force somewhere.
Christopher: Now that Chris Paul and James Harden are backcourt mates in Houston, the Rockets have seemingly ascended back into the championship picture to begin their chasing the juggernaut in the Bay Area. Unlike Kevin Durant's seamless transition into the Golden State Warriors offense, the Harden/Paul pairing may take some time to gel. Both men are at their best with the ball in their hands, meaning one will have to defer to the other on occasion. In addition, Rockets General Manager Daryl Morey will have to find more shooting now that Lou Williams and Patrick Beverley are gone, so those players may struggle to get acclimated as well. Eventually, I think that Harden, Paul, and company figure it out (especially if they land another star or two).
Paul's chances of re-signing with Houston depend on his ability to mesh with Harden. The last time that Rockets management had to choose between two stars that couldn't co-exist, the team stuck with Harden and sent Dwight Howard packing. Paul is not as hard-headed as Howard, and I can see him sacrificing some of his ball handling duties, while picking up the load when Harden needs a breather. If the two stars make it work, I could see Paul ending his career in a Rockets jersey.
Youssef: A Chris Paul-James Harden is risky but worth it. If they can adjust their game slightly, they will become the best backcourt in the league. They need to learn to compromise, and from what they've said to the media it seems like they want to take more of a backseat so they're not always worn out. Because of that, they will click and if they do there's no reason for Paul to not come back except for money. Houston is also his best chance to win a ring outside of San Antonio. Even if the team stays put the rest of the offseason, they'll have an extra year to try to trade Ryan Anderson and could afford a big star next offseason. LeBron James anyone? It's a pipe dream, but who knows what will happen.
Austin: Now that CP3 is off to Houston, it will be interesting to see how he gels with MVP runner-up James Harden. From Houston's point of view, it was impossible to turn down a transcendent talent like Paul despite the concerns that the two guards might clash over touches. However, the biggest reason Paul wanted this move was to unite with Harden and it seems like the two will be able to figure things out pretty quickly.
The Rockets are aggressively looking for ways to land either Paul George or Carmelo Anthony, so they may not be finished quite yet. Either way, Chris Paul makes them a direct contender for the 2-seed in the West but still doesn't elevate them to the level of the Golden State Warriors. Odds are that he will re-sign with the team next offseason, especially if they are able to bring in another superstar.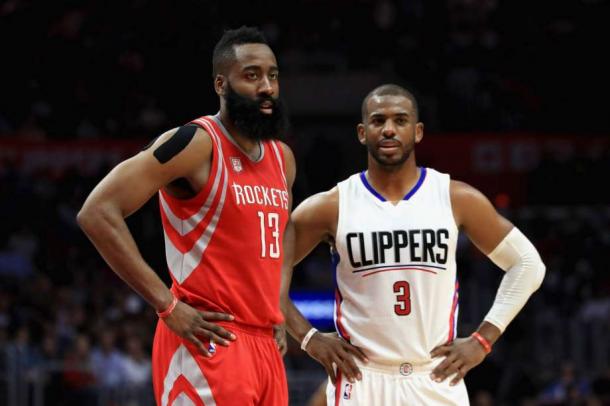 ---
That concludes our roundtable discussion on this year's top free agent class. Stay tuned as July 1 is where the free agency period begins and the free agency craze that comes with it.