 Update (4:30PM, Jun 28th): Turns out that the Houston Rockets also traded Kyle Wiltjer to the Los Angeles Clippers.
Update (3:02PM, Jun 28th): The Rockets traded for both Shawn Long and Darrun Hilliard for cash considerations and a 2018 second round pick. They join the list at the bottom of this article of unknown players that are going to the Clippers to make this move work.
Original Story:
Chris Paul is off to the Houston Rockets. He has agreed to opt into the final year of his contract. All Houston had to give up was Patrick Beverley, Lou Williams, Sam Dekker, Montrezl Harrell and a 2018 first-round pick instead of the trillions most people expected him to ask for. Still a steep price for a 32-year-old.
I covered what would happen if the Rockets acquired Paul in this article from last week. Here's a brief summary: the bench will be fine without Williams. Paul can make the Rockets contenders if James Harden is fine with a less ball-dominant role. This move would definitely be worth the risk because it's the team's only chance of competing with the Golden State Warriors.
Why Trade Instead of Signing?
There are two reasons why the Rockets chose to trade for him instead of just signing him in free agency. The first is security. If they waited until free agency, Paul could have still chosen to stay with the Clippers or gone to the San Antonio Spurs or Denver Nuggets. Now, there is no competition; he will be in Houston.
The other reason is even more important. Because Paul will pick up his player option instead of signing a new contract, the Rockets will have to only pay a little more than $24 million. A max deal would have cost them around $35 million. That's $11 million that they can use in free agency.
Next Steps
Right now, if the Rockets do not resign any players, they will have about $10 million to spend. The big "if" in this situation is if they can trade Ryan Anderson. His contract is worth close to $20 million, so if they do trade him (early rumors say the Sacramento Kings are an option), that's close to $30 million for another free agent. Add a mid-level exception to that and they can potentially add a star and a solid role player.
Small Forward
The ideal free agent would be Gordon Hayward. He is one of the biggest names in free agency, as he's coming off a year where he averaged 21.9 points per game and played good defense for the Utah Jazz.
A big three of him, Paul, and Harden would devastate most of the league. The nice thing about Hayward is that he doesn't need the ball in his hands. He can get open without it and create with it. Also, he doesn't have an ego, so he'll be fine having a slightly smaller role.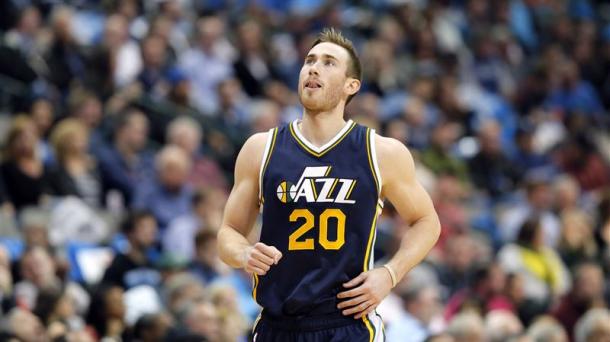 However, it looks like the only teams he's interested in are the Jazz, the Boston Celtics, and maybe the Miami Heat. It's telling that he wasn't one of the players rumored to be in the Rockets' sights; the chances of signing him are low.
The next biggest small forward with links to the Rockets is none other than Carmelo Anthony. He has said that if the New York Knicks bought out his contract, he would like to join his friend Paul in Houston.
Obviously, the Rockets would get one of the best scorers in the league, if not ever, out of him. And they are all about scoring, right? However, this would not be a good fit. There is already concern that Paul and Harden can't share the ball since they're both ball-dominant players. Anthony is not only ball-dominant but likes dribbling out the shot clock. Yep, not a good call. Plus he and Mike D'Antoni have been at odds since the latter's stint at New York.
Another option is Andre Iguodala. He is a great defender and can shoot well from deep. Him being a Warriors' player makes him that much more valuable. However, the chances of prying him from Golden State are basically zip. He loves it there and he can be a part of a dynasty, why would he want to leave to try destroying that same team?
Finally, a great cheaper pick would be Luc Mbah a Moute. He's another quality defender that shot 39.1 percent from deep last season. He would be a great option off the bench behind Trevor Ariza. However, he is obviously not going to be enough to compete with the Warriors. He is just an extra player that can fit if the team has enough money.
Right now, their two main targets are Blake Griffin and Paul Millsap. It wouldn't be a good idea to pair up the former with Paul again when you take into account that they have never made it past the second round together.
However, Millsap might be a quality add. This article covers how he would fit on the team. Another brief summary: while he would be a great all-around player, he is getting old and would need to improve his three-point shot to be the stretch four that Mike D'Antoni's system needs.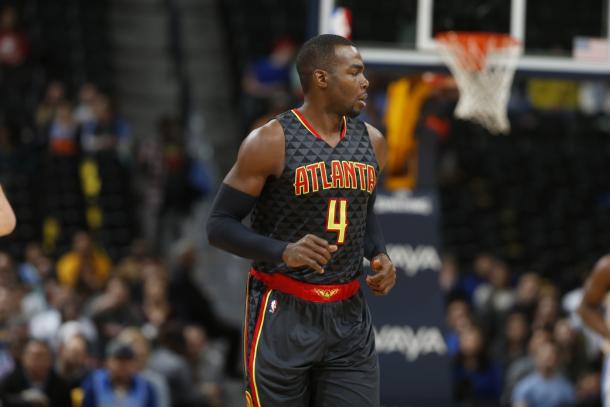 This is entirely possible and with the Rockets rolling the dice on Paul, they might as well on Millsap. He will fit in well in the offense and will bring the team one step closer to competing with the Warriors. A CP3/Harden-Millsap pick and pop would kill opposing defenses.
Another option is Serge Ibaka. He could be a great stretch four as he shot 39.1 percent from deep last season, as well as a quality defender. The problem with him is that, despite his high three-point percentage, he doesn't score that much. Still, overall, he might be a better pick than Millsap because he will cost less and is younger.
Now this one boggles my mind. I don't know how, but the Rockets are trying to land Paul George. They will have to offer something better than the Los Angeles Lakers' first-rounder, a 2019 first-rounder, and Jae Crowder since the Indiana Pacers rejected that offer from the Boston Celtics.
George would be amazing to have on the team, but what can the Rockets offer that the Pacers would even listen to? Clint Capela would have to be in the trade, as well as Eric Gordon. Oh, actually, Houston would just need to offer their next 20 first-round picks as well and it might be a deal!
That's the problem, the Rockets already traded away all of their pieces. Getting George is virtually impossible unless the Pacers decide to be stupid.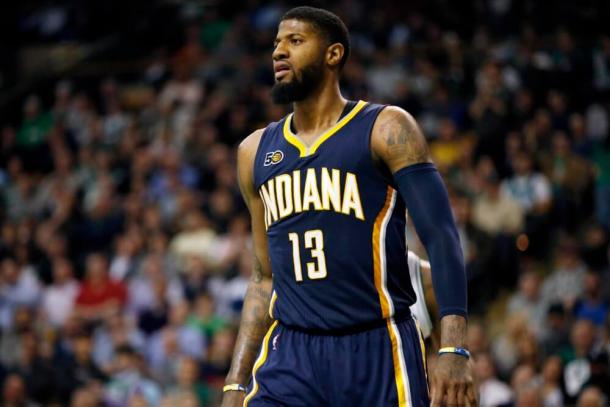 Is It Enough?
So this is a step in the right direction, but the Rockets still need to pull some moves. Hayward and George are goals, but most likely won't happen. The best likely situation is to trade Anderson, sign Millsap or Ibaka and maybe afford enough for Mbah a Moute. Then use the mid-level exception on some sub point guard.
With D'Antoni's system, that team would pose some threat to the Warriors. Paul is still an elite defender (he was on the All-Defensive First Team last year) and can defend Stephen Curry (ignore this, this, and this). Harden will be better rested as he won't have to be the only playmaker. Therefore, if he defends like he did in the 2014-15 season, he can at least stay in front of Klay Thompson.
There is no slowing Kevin Durant down, sorry Ariza. Millsap and Ibaka are both good defenders that can keep up with Draymond Green. Therefore, there is definitely a chance. That could also just be me being overly optimistic, but it's always better to have hope. All the team needs is to trade for DeAndre Liggins, Ryan Kelly, and Tim Quarterman. Oh, they did? Just for cash considerations? Sweet, championship trophy in the bag. Wait never mind, they're also being traded to the Clippers.