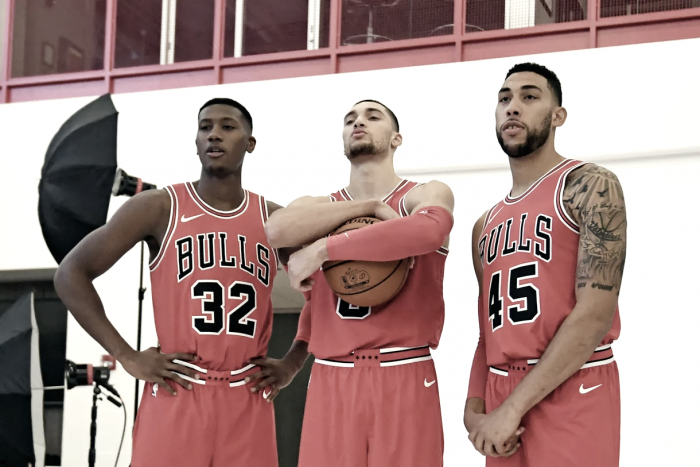 Four seasons ago, the Chicago Bulls were among the class of the Eastern Conference. They won 50 games, finished as the third seed in the East, and held a 2-1 lead over the Cleveland Cavaliers in their second-round playoff series. It has been all downhill since then. After that series, in which they lost to the Cavs in six games, Gar Forman and John Paxson decided to fire then-head coach Tom Thibodeau and replace him with Fred Hoiberg. Now the Bulls roster barely resembles those perennial playoff teams, as Paxson and Forman decided to blow everything up this past offseason and start from scratch.
Jimmy Butler is gone. Taj Gibson is gone. Rajon Rondo is gone. Dwyane Wade is gone. All the Bulls have left are an abundance of young, unproven players who will likely send one of the most storied franchises to the cellar of the East and to the top of the lottery board.
NBA Draft
Bulls fans came away frustrated with the team's decisions during the 2017 NBA Draft last June. In addition to essentially giving away Butler in one of the worst trades in recent league history, they also handed their second-round pick to the Golden State Warriors for cash. I'll detail the specifics of the Butler trade later on, but for now, let's focus who the Bulls selected with the seventh overall pick. Chicago obtained this top ten pick via the Butler deal and used it to take sharpshooting forward Lauri Markkanen out of the University of Arizona. In his lone season with the Wildcats, Markkanen averaged 15.6 points per game and shot 42.3 percent from 3-point range. Markkanen will probably help the Bulls stretch the floor, but he is not much of a rebounder or rim protector despite his seven-foot stature. Additionally, Markkanen's non-existent perimeter defense might make it impractical for him to share the floor with fellow big man Robin Lopez.
On a rebuilding team, Markkanen will receive ample opportunities to put up numbers for the Bulls. However, with so many other high impact rookies expected to get a bevy of playing time for their respective teams (Lonzo Ball, Markelle Fultz, Ben Simmons, Josh Jackson, etc.), he might be at best a darkhorse for Rookie of the Year honors. Barring injury, Markkanen should at least make the All-Rookie second team.
Free Agency Signings/Trade Acquisitions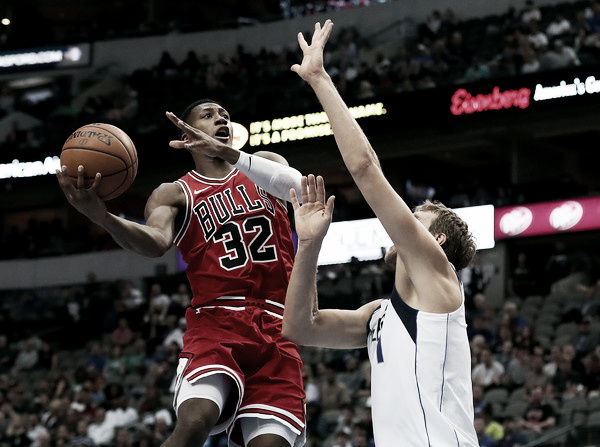 The most notable move the Bulls made was "GarPax" trading Butler to the Minnesota Timberwolves. What they got in return was less than ideal; in addition to the draft rights to Markkanen, the Bulls also brought back guards Kris Dunn and Zach LaVine. Forman and Paxson tried to spin the trade as a positive, but fans of both the Bulls and the NBA saw the move for what it was: a total fleecing at the hands of former Chicago head coach Thibodeau, who now runs the show in Minnesota.
Dunn, the fifth overall pick in the 2016 NBA Draft, appeared destined to take incumbent point guard Ricky Rubio's starting job in Minnesota last year. Unfortunately, Dunn never found his footing, finishing with a lackluster .432 true shooting percentage (.552 was the league average in 2016-17) and -1.2 offensive win shares. Dunn projects to be a net positive on the defensive end (1.3 defensive win shares) but he will struggle with just about every other aspect of his game.
LaVine, the 13th overall selection in the 2014 draft, was putting together a breakout season before he tore his ACL in February. Before the injury, he averaged a career-high 18.9 points with a .459/.387/.836 shooting line. However, he is not much of a playmaker (4.0 assists per game, 2.5 turnovers) and is a turnstile on defense; in three seasons, LaVine has amassed just 1.1 defensive win shares and a -2.4 defensive box plus-minus. At best, LaVine is a capable fourth option on a good team that can stretch the floor. On this Bulls team, he will be expected to carry the scoring load once his knee fully heals.
Regarding free agency, the Bulls biggest move was re-signing forward Nikola Mirotic to a two-year, $27 million dollar deal. The 26-year-old Mirotic has struggled since coming over from Spain, but projects to be one of the top offensive options for the Bulls this year. Depending on how he plays, the team could trade him to a contender.
The only other notable addition was a trade for former New Orleans Pelicans swingman Quincy Pondexter this past August. The 29-year-old has battled injuries over the last couple of seasons, he last played a full season in 2014-15. If he stays healthy, Pondexter can help the Bulls stretch the floor (career 36 percent 3-point shooter) for Fred Hoiberg's pace-and-space offense.
To fill the roster, the Bulls signed guards David Nwaba, Ryan Arcidiacono, Antonio Blakeney, and Bronson Koenig. They also filled out their frontcourt with Jarell Eddie, Jaylen Johnson, and Diamond Stone.
Free Agent/Trade Departures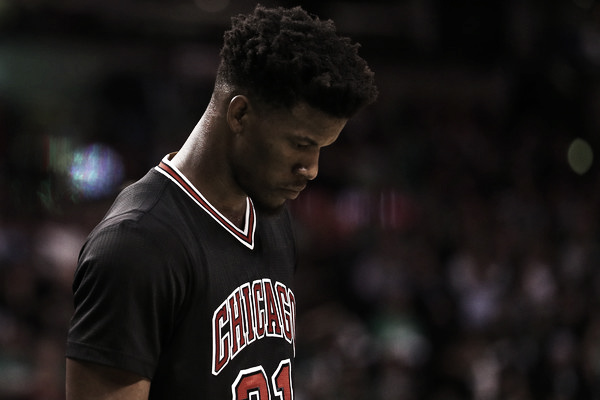 The most seismic departure from the Bulls roster wasn't due to free agency, but rather due to the incompetent dealings of Forman and Paxson. To get the likes of Dunn, LaVine and the rights to Markkanen, the team dealt away one of the top 20 players in the NBA in Butler. In an effort to start a rebuild around a new franchise player, the team gave away a top flight superstar that other clubs would kill to have.
Additionally, the Bulls also said goodbye to the other two members of the "Three Alphas", guards Rajon Rondo and Dwyane Wade. Chicago waived the cantankerous Rondo in late June, right before the second year of his contract became fully guaranteed. He now takes his passing wizardry to New Orleans.
Wade reached a buyout with his hometown team last month to re-join his friend LeBron James in Cleveland. While both players were far from the stars they once were in their primes, they remained productive and were a big reason why the Bulls took the Celtics to six games in the first round of the playoffs last season. With the Bulls set to lose a lot this year, there was no place for either man.
On lesser notes, the team also elected not to re-sign Joffrey Lauvergne, Anthony Morrow, Isaiah Canaan, and former Rookie of the Year Michael Carter-Williams. All of these men were fringe rotation players with the exception of Carter-Williams, who averaged 6.6 points per game in 18.8 minutes with a ghastly .366 field goal percentage.
Depth Chart/Lineup
PG: Kris Dunn/Jerian Grant/Cameron Payne
SG: Zach LaVine (when healthy)/Justin Holliday
SF: Paul Zipser/Denzel Valentine
PF: Nikola Mirotic/Lauri Markkanen/Bobby Portis
C: Robin Lopez/Cristiano Felicio
2018 Draft Status
If nothing else, the Bulls should receive a top lottery pick if they lose as much as many analysts expect them to. Chicago hopes to get the number one overall pick in order to select Michael Porter Jr. or some other player that emerges as the top NBA prospect. Also, the Pondexter trade netted the Bulls a second-round pick to make up for the one they lost to the New York Knicks as a result of the Carmelo Anthony trade. Hopefully, Garpax doesn't trade the pick to a good team for cash.
2017-18 season predictions
Make no mistake, this team is going to be TERRIBLE. Markkanen, Mirotic, or LaVine will probably lead the team in scoring in plenty of double-digit losses. This team is devoid of All-Star talent and will be difficult to watch throughout the year. Even if the Bulls do net a top pick, chances are that the team's "braintrust" will find some way to mess things up. After all, those Chicago fans didn't pay for a "Fire GarPax" billboard to voice their appreciation of the front office's decisions. I predict a 17-65 record for the Bulls and a last-place finish in the Eastern Conference.