Last season was one big anti-climax for Los Angeles Lakers fans. After winning six out of their first-11 match-ups, one being a hugely convincing win over the frightening Golden State Warriors with new superstar recruit Kevin Durant, the season looked bright for the Purple and Gold.
However, it wasn't to be, and the Lakers of recent memory resurfaced; December noticeably being the beginning of the end, as D'Angelo Russell picked up an injury and Lakeshow proceeded to staggeringly lose 15 of their next 18 games.
Magic Johnson took over from Mitch Kupchak as general manager and another season of tanking resumed.
Fast-forward to the present day, and we have an entirely new look Lakers: No. 2 draft-pick Lonzo Ball now runs the point, free agent pick up Kentavious Caldwell-Pope at the two, Brandon Ingram at small forward looking to prove his second overall pick status, Julius Randle at the four and former all-star Brook Lopez at center.
This lineup looks to be promising on paper, however, it's success relies on the two youngsters in Ingram and Ball to step up and live up to the hype they have garnered during the off-season.
With the Western Conference becoming littered with all-star talent, a playoff spot for the Lakers would be some feat, but let's look more deeply into what has changed and what we can expect.
NBA Draft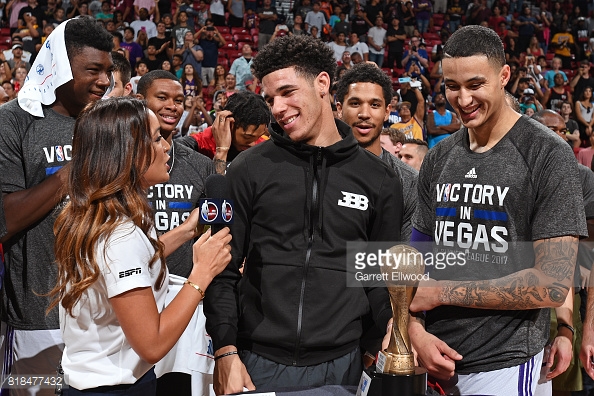 As mentioned earlier, Magic Johnson and Rob Pelinka acquired the talents of Lonzo Ball using their second pick, someone who has grabbed headlines all summer thanks to his father LaVar Ball. After picking up the Summer League MVP, expectations are even higher for the kid out of LA.
Kyle Kuzma and Josh Hart were selected at No. 27 & 30 respectively, with the former seriously impressing NBA fans with his performances both in the Summer League and preseason. Kuzma's perimeter shooting has been excellent and the youngster has displayed some veteran like post-moves too. Thomas Bryant, the 12th pick of the second round, has also shown glimpses of his talent given his limited amount of playing time so far.
Free Agency Signings/Trade Additions
D'Angelo Russell and Timofey Mozgov were traded to the Brooklyn Nets in exchange for the 27th pick and Brook Lopez in what was a clear attempt to rid themselves of Mozgov's contract and free up cap space for the future. A lot of Laker's faithful were unhappy with the decision, but only time will tell whether it was the right move, as next year's free agency period looks to be a big one.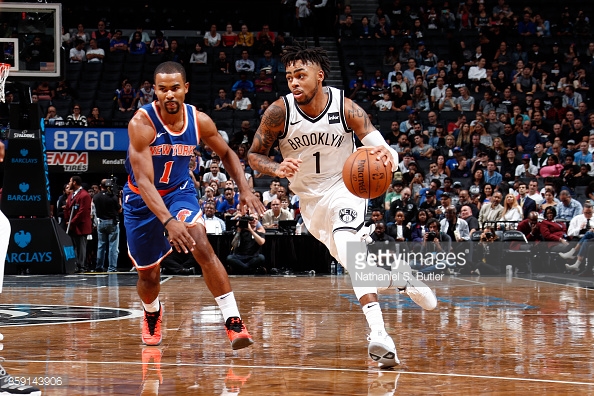 The most noticeable new additions were Caldwell-Pope - who many agree was a very good pick up for the shooting guard position, averaging 14 points per game - as well and Alex Caruso and Vander Blue, who both were pivotal to the Lakers triumphing in the Summer League.
Veteran and former NBA champion Andrew Bogut was also acquired; the Australian will hope Los Angeles will be the platform for him to finally get some minutes while remaining injury free.
Twenty-three-year-old Tyler Ennis re-signed, adding some necessary depth to the point-guard position.
In summary, we have a fresh new roster at Laker Land, filled with mostly young talent looking to make a name for themselves with a nice blend of experience in players such as Luol Deng, Brook Lopez, Andrew Bogut and Corey Brewer.
Free Agency Departures
There weren't many departures from the franchise. Nick Young, who wore the purple and gold jersey for four years, decided it was time for a chance at a ring, joining the Golden State Warriors; his three-point shooting range will be missed.
Metta Wolrd Peace, who won the ultimate prize in Basketball twice with the team back in 2009 & 2010, departed from the franchise for a second time, joining the New Orleans Gators. Elsewhere, David Nwaba was waived by the franchise despite signing a multi-year contract back in March. Furthermore, Thomas Robinson, who spent one year in LA, singed with Russian club Khimki.
In Summary, the Lakers did not lose anyone major in the hopes of future success, but they did lose plenty of veteran experience, which may have come in handy during difficult spells in the season which are bound to happen given the inexperience of the team and the sheer star power of the Western Conference.
Depth Chart
PG- Lonzo Ball/Tyler Ennis/Briante Webber
SG- Kentavious Caldwell-Pope/Jordan Clarkson/Josh Hart/Vander Blue
SF- Brandon Ingram/Luol Deng/Corey Brewer
PF- Julius Randle/Kyle Kuzma/Larry Nance JR.
C- Brook Lopez/Ivica Zubac/Thomas Bryant/Andrew Bogut
2018 Draft Status
Despite being a huge part of the NBA draft in recent years, the Lakers only have two second-round picks as of yet for the 2018 draft, so not much to look forward to in this regard.
2018 second round draft pick from the Denver Nuggets
2019 second round draft pick from the Chicago Bulls
Free Agency is where the franchise may find joy, given their status and cap space.
2017-18 Season Prediction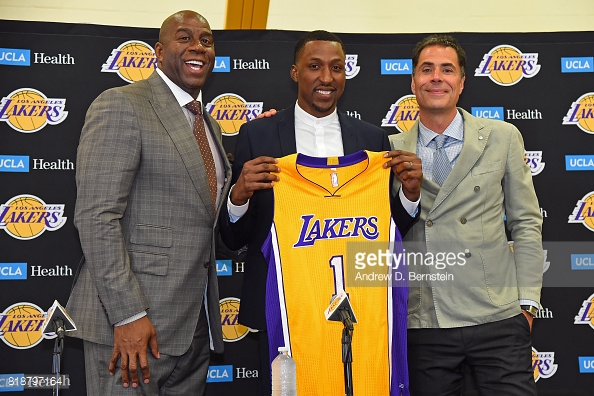 This season, Magic will be hoping a few things will come to fruition. Firstly, the decision to give the keys to Ball and trade D'Angelo was a gamble, but I believe the youngster will make the team very enjoyable to watch this season, lighting up the Staple Center with his unteachable passing ability. However, on the defensive side of things, I think Lonzo will be extremely vulnerable, especially against the top point-guards of the league, who will no doubt be looking to go at him thanks to his dad's antics- for example, saying his son is better than two-time MVP Stephen Curry.
Brandon Ingram also has much to prove this upcoming season and looks to have increased his muscle mass over the summer. The duo's performances will largely shape how the team does as a whole in this campaign.
Moreover, looking at the rest of the additions and the squad as a whole, I think that the team is too young and inexperienced to make a playoff spot in such a stacked conference, missing out by a few places. LaVar Ball would disagree with me, I'm sure.
On the other hand, I do feel as though The Lakers will be a lot more fun to watch compared to previous years, and, should the youngsters continue to progress, along with the upcoming free agency, the future could be bright for the purple and gold.