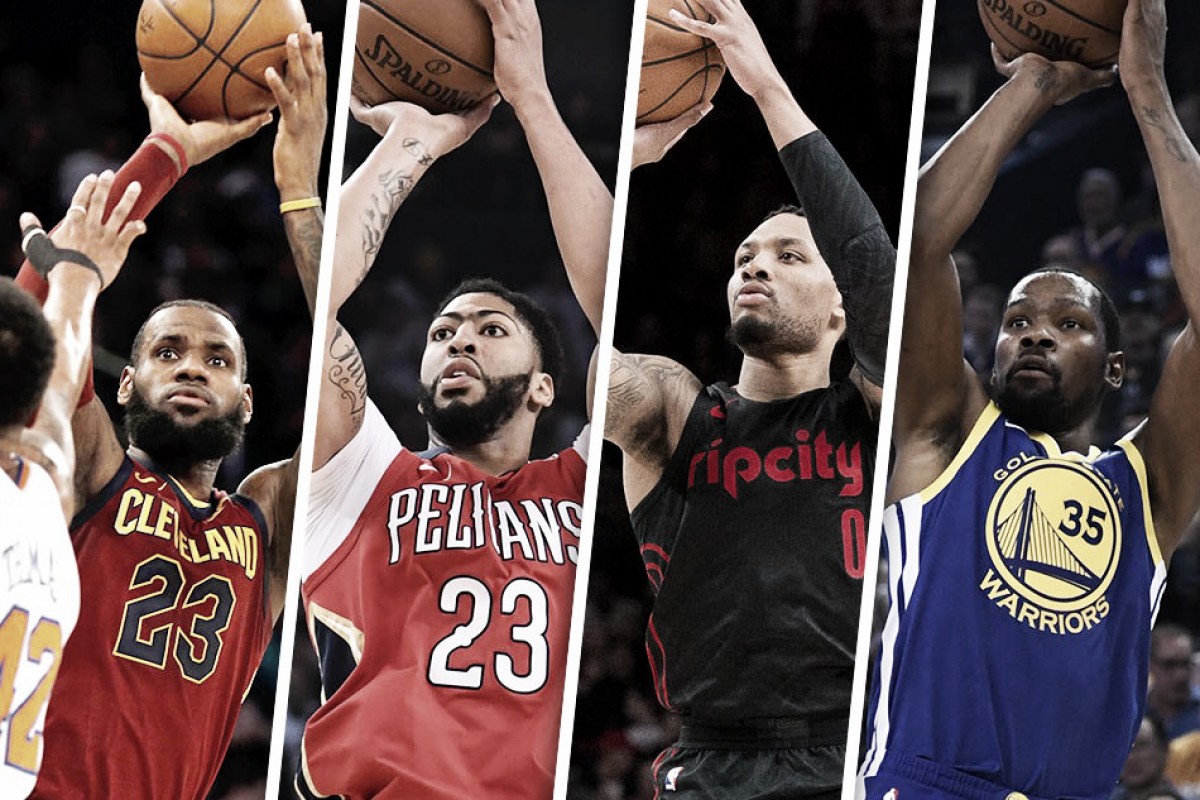 The 2017-18 NBA season has wrapped up in an exciting fashion. Through the second-half of the season, the playoff race was something like never before. Teams battled to clinch a playoff spot up until the very last day of the season, with the Minnesota Timberwolves defeating the Denver Nuggets to clinch the No. 8 seed in the Western Conference. It was so close that even teams who clinched a playoff spot didn't know who they were going to play. In the end, the final 16 teams that made it are the best 16 teams in the league and should turnout to be a great postseason
As the Golden State Warriors are set to tipoff the 2018 NBA Playoffs against the San Antonio Spurs today at 3 p.m., they will also look to make a fourth consecutive trip to the NBA Finals, but we're not even there yet so VAVEL NBA writers Sully Akbari and Christopher Jeter made their first-round predictions for every series.
Eastern Conference
No. 1 Toronto Raptors vs. No. 8 Washington Wizards
Sully - Raptors win series 4-1
There really isn't much to say about this series except for the Wizards coming into the playoffs struggling mightily on both ends of the floor. In their previous five games, Washington ranks 17th in offensive rating (103.8) and rank 22nd in defensive rating (108.8). Although, the Wizards had been playing without John Wall for the better part of the season but even with him being healthy, the Raptors' elite play on both ends of the floor (they rank top five in offense and defense) will be too much for the Wizards to stop. All the Raptors need to do is keep their free-flowing offense going and their stifling defense to withstand any offense coming from Washington.
Chris - Raptors win series 4-2
The roster may look the same, but this feels like a different Raptors team. Toronto moved away from their iso-heavy offense to a more modern pace and space style, and it has paid dividends. After ranking 28th and 29th the last two seasons in assist rate, Toronto jumped to sixth this year. They also ranked 16th in passes and eighth in potential assists (they ranked 27th and last in the same categories last year). Their offense (2nd in offensive rating) is now better built for the playoffs. Washington, on the other hand, is simply "meh."
They have enough talent to keep the series interesting, but their mediocre bench (which did improve to 16th in scoring this year) may do them in again this year.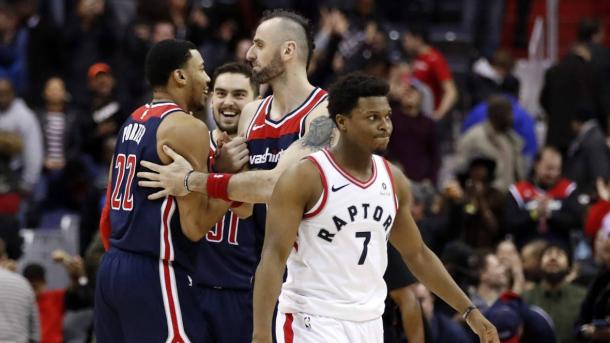 No. 2 Boston Celtics vs. No. 7 Milwaukee Bucks
Sully - Celtics win series 4-2.
The Boston Celtics cannot catch a break with their injury woes. After losing Gordon Hayward in the first game of the season, which they were able to adjust to right away, All-Star point guard Kyrie Irving went down as well following a knee surgery. Given the depth of this Celtics' team, they should be fine against an inconsistent Milwaukee Bucks team. For the Bucks, there would be games where they look great on both ends of the floor but some games where they're only good in one area of play or sometimes neither. Giannis Antetokounmpo is a player the Bucks can count on but Eric Bledsoe, Khris Middleton, and Jabari Parker, will need to be stellar all series long otherwise this series will be over quick.
Chris - Celtics win series 4-3
This one would've been a lot easier to pick if Kyrie Irving and Gordon Hayward were healthy. Instead, Boston will rely on Jaylen Brown, Jayson Tatum, and Al Horford to carry them through the playoffs. Meanwhile, the Bucks have a top-10 offense and a top-10 player in Giannis Antetokounmpo. Milwaukee doesn't move the ball around that much (19th in passes), but they are effective when they do (seventh in assist rate). Fortunately for Boston, their Irving-less lineup has been pretty productive; Their Brown-Tatum-Horford-Terry Rozier-Aron Baynes lineup has a +16.2 net rating in 11 games. It's a small sample size, but that could be enough to topple an uneven Milwaukee team.
No. 3 Philadelphia 76ers vs. No. 6 Miami Heat
Sully - Heat win series 4-2
This 52-win 76ers team have completely turned their franchise around in just one year. Their star rookie Ben Simmons proved people that not only can he be a terrific all-around player but also a leader. He and Joel Embiid have played well together, creating an all-around duo for many teams to stop. However, with the 76ers being without Embiid for the first-round, the Heat may able to pull off the upset. Expect Hassan Whiteside to take over this series with the absent of JoJo. To add, the Heat's grind-it-out style of play may cause the 76ers to be thrown off and because of that, Philadelphia will struggle to score. It was a great season for the 76ers but it will end in the first round.
Chris - 76ers win series 4-1
The upstart Sixers will get All-Star center Joel Embiid back for this series, which is good news for the Philadelphia and bad news for the Heat. With Embiid back, rookie Ben Simmons dishing out dimes, and No. 1 overall pick Markelle Fultz looking like a functional NBA player, Philly appears primed for a deep playoff run. Miami has come back down to earth after a surprising 26-15 start (18-23 in the second half). They only have a chance if they slow down the Sixers' breakneck pace (fourth in the NBA) with their plodding, grind it out tempo (seventh in defensive rating, 27th in pace). I don't see that happening though.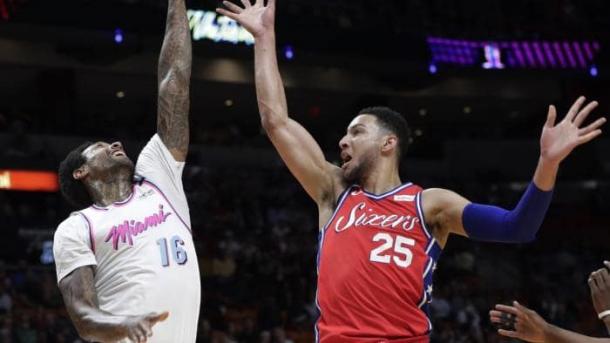 No. 4 Cleveland Cavaliers vs. No. 5 Indiana Pacers
Sully - Cavaliers win series 4-2
The Pacers had the Cavaliers' number this season, winning three-games-to-one in the regular season, but then again, the regular season doesn't mean anything (from a season-series standpoint). One thing for sure is that no one should bet against LeBron James in the first round as he has never been eliminated in the opening series of the playoffs. We all know James is a completely different player in the playoffs and this year will be no different. However, credit must be given where credit is due, and the Pacers and Victor Oladipo have achieved great feats this season but James will not let anyone go by him, especially Oladipo in the first round. Expect The King to lockdown Oladipo and go on to average something like, 28 points, nine rebounds, and 10 assists per game.
Chris - Cleveland win series 4-2
I could talk about how Indiana performed much better than many people thought. I could talk about the prospective Most Improved Player Victor Oladipo. I could talk about the Pacers' decent offense (11th in offensive rating) and defense (13th in defensive rating). I could talk about how the Cavaliers looked unimpressive for much of the season. I could talk about their awful defense (29th in defensive rating). But all of that doesn't matter because the Cavaliers have LeBron James and his teams don't lose in the first round. The Cavaliers' issues will loom larger in the later rounds.
---
Western Conference
No. 1 Houston Rockets vs. No. 8 Minnesota Timberwolves
Sully - Rockets win series 4-1
This series can go two ways. Either a sweep by the league's best Rockets or a six or seven game series with, of course, the Rockets pulling out. A sweep can be accomplished by Houston's lethal offense carrying into the series and the Timberwolves' recent struggles. With James Harden and Chris Paul leading the way on offense, the Timberwolves can do one of two things: stop one or stop the other but can't do both. The reason being is that Butler will have his hands full guarding either The Beard or CP3 so that leaves Jeff Teague or Andrew Wiggins guarding the other, and they aren't the best defenders or won't be enough to stop them by themselves. This will create offense either way for the Rockets because they are just that good at creating plays when either James or Paul are doubled.
The Timberwolves can extend the series to more than four games by giving the ball down low to Karl Anthony-Towns and letting the offense go through him. Once the Rockets start doubling or denying Towns the ball, Minnesota will need Butler, Wiggins, and Teague to create offense for themselves. However, that still may be difficult to do because Houston has P.J. Tucker, Trevor Ariza, and Paul as their wing/guard defensive stoppers. Whichever approach head coach Tom Thibodeau and Minnesota take, it won't be enough.
Chris - Rockets win series 4-1
Tom Thibodeau has his heavily used Jeff Teague-Jimmy Butler-Andrew Wiggins-Taj Gibson-Karl Anthony Towns lineup back for this series, but it may not matter. As productive as that starting five was (+8.5 net rating), the heavy minutes they played during the regular season may come back to haunt the Wolves. They have the athletes to combat Houston's iso-heavy style (to be fair, Houston goes into isolation once a big man switches onto James Harden or Chris Paul), but it hasn't mattered so far. The Rockets swept the Timberwolves during the season series, outscoring them 122.8 to 107 through the four games. I don't expect anything different in the playoffs.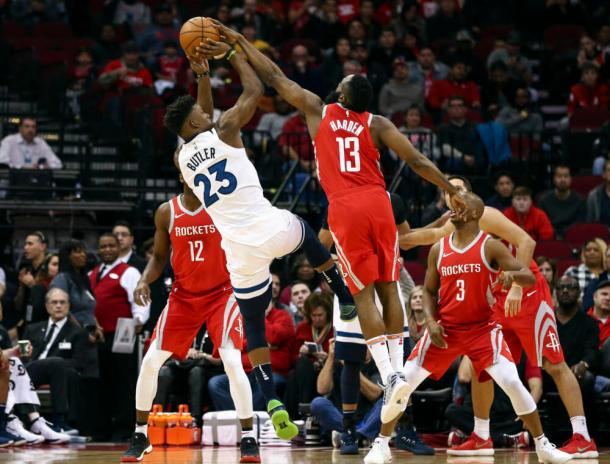 No. 2 Golden State Warriors vs. No. 7 San Antonio Spurs
Sully - Warriors win series 4-1
It's a rematch of last year's Western Conference Finals but this time around it be will less entertaining, even though it was a sweep last year. With no Stephen Curry and possibly Kawhi Leonard, this series will be all Warriors. The Spurs don't have the talent level to match the Warriors' Kevin Durant, Draymond Green, and Klay Thompson. It will just be LaMarcus Aldridge trying to do it all on the offensive end for the Spurs. I do feel Dejounte Murray will have a few good games this series, which will further prove that he can be the Spurs' future guard. To end off, I have a feeling that the Spurs will steal Game 1 but that is all they will get.
Chris - Warriors win series 4-2
Why did Steph Curry have to get hurt? Now I have to say more than "It's Golden State and the Spurs don't have Kawhi Leonard."
Curry won't be available until the second round, provided the Warriors get there. It isn't the slam dunk people thought it would be going in. Golden State is demonstrably worse without the two-time MVP (their net rating drops from +13.7 to +0.7 without Curry), and the team went 10-10 in March/April while Curry sat. These two teams played each other close during the regular season (Golden State outscored the Spurs 104.8-98.3 during the regular season) but the Warriors superior talent should get them through the series.
No. 3 Portland Trail Blazers vs. No. 6 New Orleans Pelicans
Sully - Trail Blazers win series 4-2
I have a feeling Anthony Davis will be doing it all for the Pelicans, both offensively and defensively. I think Jrue Holiday, who has been great this season, will struggle in this series. The remaining talent on this New Orleans team is limited after Davis and Holiday. E'Twaun Moore, Rajon Rondo, and Nikola Mirotic are average players but won't be enough to make a significant impact in this series. The Trail Blazers, on the other hand, are a complete team. Damian Lillard, C.J. McCollum, and Jusuf Nurkic are Portland's big three but then they have Al-Farouq Aminu, Ed Davis, Evan Turner, and Shabazz Napier, who are solid all-around players. They will be too much for the Pelicans' second-unit, giving them the hand in this series.
Chris - Pelicans win series 4-2
Portland rode a 12-3 March to the third seed, but this still looks like the same poorly constructed team that needs Damian Lillard and C.J. McCollum to cook on a nightly basis. Fortunately, both men are up to the task, and that alone should be enough to advance past the equally mediocre Pelicans. New Orleans, of course, has Anthony Davis and enough three-point shooting (13th in percentage) to give the Blazers trouble. The stars will show up for both teams, but this series will come down to how the complimentary pieces perform. I have more faith in New Orleans.
No. 4 Oklahoma City Thunder vs. No. 5 Utah Jazz
Sully - Thunder win series 4-2
This is a series is one that is different from all the others. One team has been up-and-down all year long in the Thunder and one that started off 19-28 but finished 29-6 the rest of the way, and that would be the Jazz. It seems the correct choice would be to pick the team that has been hot for the past 35 games, in the Jazz but I am not so sure I am sold on them just yet. Yes, OKC has had some terrible stretches throughout the season but I kept thinking they'll get it together at some point and I feel that I couldn't come at a better time until now. Russell Westbrook and Paul George will have their way on offense even with the Jazz ranking top-2 in defense. I also feel Donovan Mitchell will struggle in this series and will hurt the offensive flow. Rudy Gobert, Ricky Rubio, and Joe Ingles will need to pick up the offense when that happens but they aren't threats on offense to say the least. The Jazz finished the season strong but their hot streak will end in the first round.
Chris - Thunder win series 4-3
Utah's good. The sensational play of rookie Donovan Mitchell helped Utah exceed expectations and reach the postseason for the second straight year. They still beat teams by lulling them to sleep on offense (25th in pace) and smothering them on the defensive end (second in defensive rating). That should be enough to beat a Thunder team that basically watches Russell Westbrook and/or Paul George isolate (last in passes per game), and misses shots when they kick it out (18th in field goal percentage, 23rd in three-point percentage). However, if Russ gets going and George rediscovers is shooting stroke, then the Thunder can overcome Utah's stifling D. This is a coin flip series.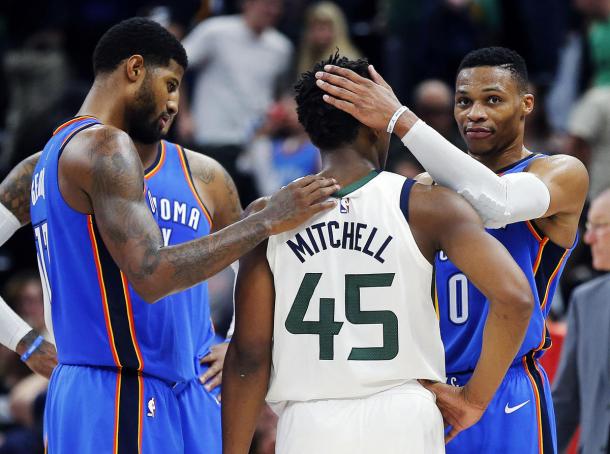 ---
That concludes our first-round predictions. Stay tuned for the next round where we will give our predictions as well.