Yet another move for the Houston Rockets; it really is exhausting covering them. Still, this is great news, so I'll gladly take it.
After almost a month of fans worrying that restricted free agent center Clint Capela would choose to join another team because the Rockets couldn't afford the deal he desired, he finally signed the dotted line. Capela will officially stay a member of the Rockets for the next five years (barring a trade).
The panic stemmed from his desire for a four-year, $100 million contract, which would've put the team deep in the luxury tax. He received interest from both the Phoenix Suns and Dallas Mavericks. However, their big man voids were filled when they got DeAndre Ayton and DeAndre Jordan, respectively.
Just a reminder, since he was restricted, the Rockets would have had the chance to match any contract offered to him. However, because of the lack of cap space, a lot of teams could have easily exceeded Houston's price range. If no contract was agreed upon, he would've signed the qualifying offer with the Rockets, meaning he would stay only a year and that he would've more than likely tested free agency next offseason.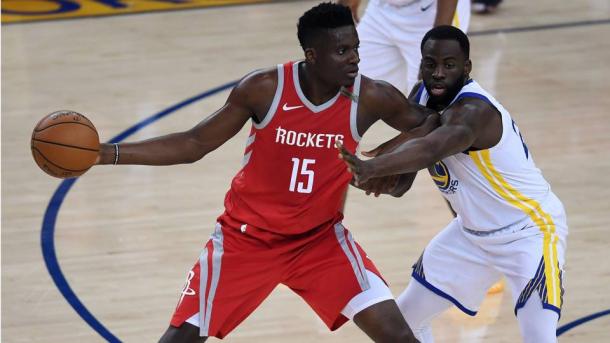 This deal was a steal, as he is being payed far less than other top centers around the league. Here's a quick rundown of every center earning more than him: Nikola Jokic, Joel Embiid, Andre Drummond, Kevin Love, Al Horford, Marc Gasol, Rudy Gobert, Steven Adams, and finally Hassan Whiteside. By the way, Love, Horford, Gobert, Adams, and Whiteside all signed for four years instead of five. He's also getting payed less than Joakin Noah and the same as Bismack Biyombo per year.
$90 million may seem like a lot, but when comparing it to other center contracts in the league, it really isn't. Especially for someone of Capela's caliber. The 24-year old has been steadily improving every season, averaging 13.9 points, 10.8 rebounds of 3.3 are offensive, and 1.9 blocks per game on 65.3% shooting from the field last year. His free throw percentage has also gotten better, culminating in 56% from the line in 2018.
The lack of league-wide interest may seem surprising, but many teams may consider Capela a system player. On offense, a lot of his points come from lobs from James Harden or Chris Paul, and while his post game has improved, it may not be good enough to warrant such a huge contract.
Still, he is pivotal to the Rockets' defense, especially with Trevor Ariza and Luc Mbah a Moute leaving. Capela's length disrupts so many shots around the rim. Without him, the Rockets' wing defenders wouldn't be able to close out as hard on threes as the opponents' drives would be more deadly. If Carmelo Anthony is indeed going to start, Capela becomes that much more important, even with defenders like James Ennis and Michael Carter-Williams on the roster.
For the Rockets to even have a shot against the even better Golden State Warriors, they needed to keep Capela. Even if they can't dethrone them this year, they now have their Big Three guaranteed for the next few years and will have plenty of shots to finally take down the villains of the NBA.