 Congratulations Daryl Morey. You've finally gotten Carmelo Anthony, a player you've been seeking for God knows how long. And with that, you shut all the haters up saying that you were a horrible general manager that couldn't get a star this offseason.
Actually, this deal couldn't be better. 1 year, $2.4 million. Both of those numbers are important, the former because he will not hurt the team long term if he doesn't click with the roster; the latter because they can still afford Clint Capela without paying a bunch due to the luxury tax. More good news: the Houston Rockets get to keep their mid-level exception for another addition.
Replacing an aging Trevor Ariza and a now ineffective Luc Mbah a Moute with a young James Ennis and now Melo? That's pretty good.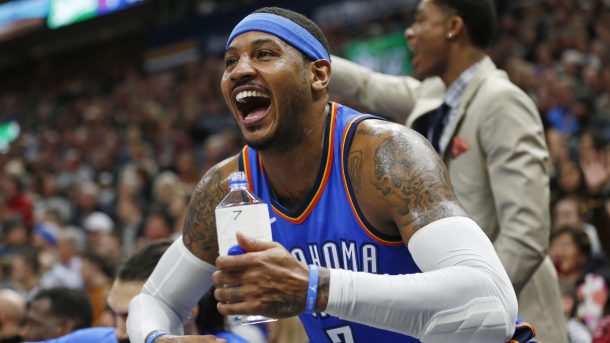 The deal won't become official until later, as the trade sending Anthony to the Atlanta Hawks hasn't gone through yet. It's been agreed on, however, the teams are waiting for the Philadelphia 76ers (the third team in the trade) to complete another move before processing it. The move is looking to be a trade for Kyle Korver.
After Melo joins the Hawks, the team will waive him and he'll have to wait two days to clear waivers. Only then can he sign with the Rockets. The fact that he's being waived is important because the Hawks will pay him the remaining $27.9 million of his contract. This was key because without all this money, Anthony would probably not accept a contract as minimal as the one the Rockets are offering him.
Lucky you, this article isn't going to be immensely long. If you would like an analysis of the move, click here. It's a great read, I highly recommend (shameless self-promo).
Knowing Morey, there are more moves to come, especially as the team still has a mid-level exception, Capela hasn't agreed to a contract yet, and there are rumors of Ryan Anderson being traded to the Sacramento Kings. Even if nothing is done (scratch that, nothing other than Capela being resigned), this would be a successful offseason for a team that had to deal with DeMarcus Cousins joining the Golden State Warriors.