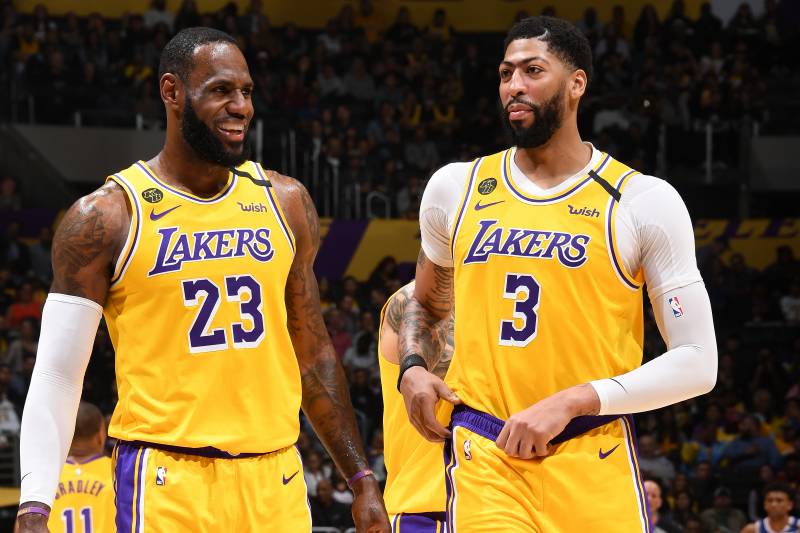 Key Statistics:
Record: 49-14 (first in the Western Conference)
Offensive Rating: 113.0 (fourth in the NBA)
Defensive Rating: 105.6 (third in the NBA)
Head Coach: Frank Vogel

Despite having the likes of Anthony Davis and LeBron James at his disposal, it always going to be difficult for Vogel to implement a winning style into a team that had suffered so greatly in terms of media scrutiny last season.
However, it must be said that the former Indiana Pacers head coach has done a stellar job at doing just that, with the team sat comfortably at the top of the Western Conference, it is clear that the team have all bought into Coach Vogel's system and philosophy.
In the top five for both offensive and defensive ratings, it is evident that the balance has been found, especially against teams below .500, with the Los Angeles Lakers winning 88.2% of their games against teams with a losing record.
Some credit must be given to the front office, as the majority of the moves that were made in the offseason have paid off, but Vogel's role in all this has gone unnoticed.
Anthony Davis 26.7 PTS 9.4 REB 3.1 AST

Leading his new team in points, rebounds, steals and blocks; Davis' arrival in Los Angeles had the Lakers on the verge of their first playoff appearance since 2013.
AD placed his stamp on this team from day one after a monumental trade with the New Orleans Pelicans secured his services for the Lakers, and it has certainly paid off so far.
After a tumultuous end to his final season with the team that drafted him into the NBA, normal service has resumed for the dominant power forward, who will be looking to secure a five-year max deal when he enters free agency in the summer.
There is no denying that the Chicago-born star is one of the most talented players in the league, taking the Lakers from a below-500 team to top of the Western Conference in one season is the latest evidence that he is a top 5 player in the team.
Standing a 6'10" with career averages of 24 points and 10 rebounds, The Brow has used his size and physical prowess to form an unstoppable partnership with LeBron James that has led their team to the second-best record in the league.
LeBron James 25.7 PTS 7.9 REB 10.6 AST
What is there to be said that has been said already about King James. Still putting up MVP-worthy numbers in his 16th year in the league, James deserves to have his name put amongst the greatest to ever do it.
His first year in LA was a turbulent one with Lakers missing the playoffs for the sixth year in a row, along with the shock resignation of Magic Johnson from his position as General Manager.
The tragic passing of Lakers legend Kobe Bryant, less than 24 hours after LeBron passed him on the all-time scoring list, has cast a large shadow over a season which has been largely successful thanks in large part to James' performances.
LBJ's scoring numbers have dropped slightly from the 27.4 points he averaged last year, however that is because, with the addition of Davis in particular, LeBron has become more of a playmaker and has been relied on less to score the ball.
It remains to be seen how many more years at the top the 35-year-old has, but if he can keep up this level of performance for much longer, he is in with a good chance of adding to his three rings with the Lakers.
Kyle Kuzma 12.5 PTS 4.5 REB 1.3 AST
On reduced minutes from last season (24.6 minutes per game compared to 33.1 last year), Kuzma has struggled to continue his progression in his third year in the NBA.
There was no doubt that it would be difficult for Kuzma to hold onto his playing time with the arrival of AD, but this team may need Kuz to step up his game as the third option on offense if they are serious about winning it all.
The young forward seemed a long way of the player he was in his sophomore year, down almost four points per game on his career average, and the Lakers have a better +/- when Kuzma is off the floor (+5.3 on +8.3 off). Not a great look.
The 24-year-old has shown promising signs of continued improvement on defence which was a clear weak point in his rookie season, although altogether Kyle needs to work on his shot selection and playmaking to become more of a standout player on this team.
Kontavius Caldwell-Pope 9.5 PTS 2.1 REB 1.7 AST
It's sometimes difficult to see Caldwell-Pope's role on the team with his less-than-spectacular offensive numbers this season.
Should he shoot more? The shooting guard has shot close to 50% from the field and almost 40% from three which is enough to say that he can score the ball, despite only averaging fewer points than he has this season when he was a rookie.
He has also shown himself to be a capable defender, with his usual role on that end of the floor being to keep the ball away from the primary ball-handler by tightly guarding them.
Only time will tell how long KCP has left with the Lakers to prove himself as a prolific scorer, as at 26 years of age most players would be hitting the height of their offensive production.
Avery Bradley 8.6 PTS 2.3 REB 1.3 AST
Brought in to provide support to his former Boston Celtics teammate Rajon Rondo at the point guard position, Bradley has been a useful addition for his steady offense and lockdown defense.
His 24-point-performance, including six three-pointers, against city rivals the Los Angeles Clippers back in March showed he is still capable of a standout performance on offense.
His capabilities as a defender go without saying, but it has to be said that the guard has struggled to fit in at a couple of teams since his departure from the Celtics in 2017, so there is no doubt he will be grateful for opportunities he has had in a purple and gold jersey.
Danny Green 8.2 PTS 3.4 REB 1.4 AST
It was clear of the back of the 2018-19 campaign that the Lakers needed more shooters from being the three-point line to compete, which is why they captured Green, who was fresh off the back of helping the Toronto Raptors win the NBA title.
Whether he is worth the $30million he will receive in 2 years with Lakers is a hot debate amongst the Laker Nation, as it has been a far from a spectacular season for the 32-year-old.
41.9% from the field and 37.8% from the three-point line were not the percentages Lakers fans were hoping for considering the might of spacing players like James and Davis create with the amount opposition defences focus on them.
Green will need to re-discover his scoring touch if he is to gain some favour with the Lakers' faithful.
Dwight Howard 7.5 PTS 7.4 REB 0.7 AST
One of the surprise stories of the 2019-20 season, Howard has found a purpose again with the team where his initial decline began.
The lone season the big center spent in LA back in 2012 was certainly a low point in his career and five different teams in five seasons followed that as injury problems took over Dwight's destiny.
As an eight-time All-NBA Team member and three-time, DPOY Howard can be a great player if he wants to, and he has become the defensive presence the Lakers need him to be.
With LBJ and AD, the team don't need Howard to score the ball, just clean up on the glass and be a defensive stopper, something he is more than capable of doing.
Rajon Rondo 7.1 PTS 3 REB 5 AST
As a potential Hall-of-Famer, Rondo, just like he has his whole career, has fulfilled his role as a playmaker on this Lakers team.
With the arrival of Bradley and Green, and with LeBron playing the point guard position this year, Rondo's responsibilities have been relaxed slightly, playing almost 10 minutes less and attempting three fewer shots a game.
He has become a role player the team needs as a confident ball-handler and orchestrator of the offense with the second unit.
Javale McGee 6.8 PTS 5.8 REB 0.6 AST
Not the most flattering players to watch but McGee gets the job done. He and Howard add height and power to a team that isn't lacking in those areas.
McGee is another player on reduced minutes from last season, in his case due to the return and resurgence of his counterpart at the centre position.
The 32-year-old's performances for the Golden State Warriors and now the Lakers have helped mend the bad reputation built around him from being heavily featured on Shaquille O'Neal's NBA blooper segment on TNT: "Shaqtin a Fool".
Alex Caruso 5.4 PTS 1.9 REB 1.8 AST
Caruso has built up quite a reputation during his short tenure with the Lakers, becoming a favourite amongst NBA fans on the internet.
His hard-working attitude on the court and his self-awareness off it are popular characteristics for a guy who to most does not look like an NBA player.
His numbers are average at best, but he is always capable of a highlight dunk, alley-oop or flashy pass which gets NBA fans excited.
The fandom he has built online is a heart-warming example of the relationship players and fans can have.
Alex Caruso Mix | Greatest Player of All Time pic.twitter.com/vnYpJ0CkYb

— Sly Global (@sly_global) July 25, 2019