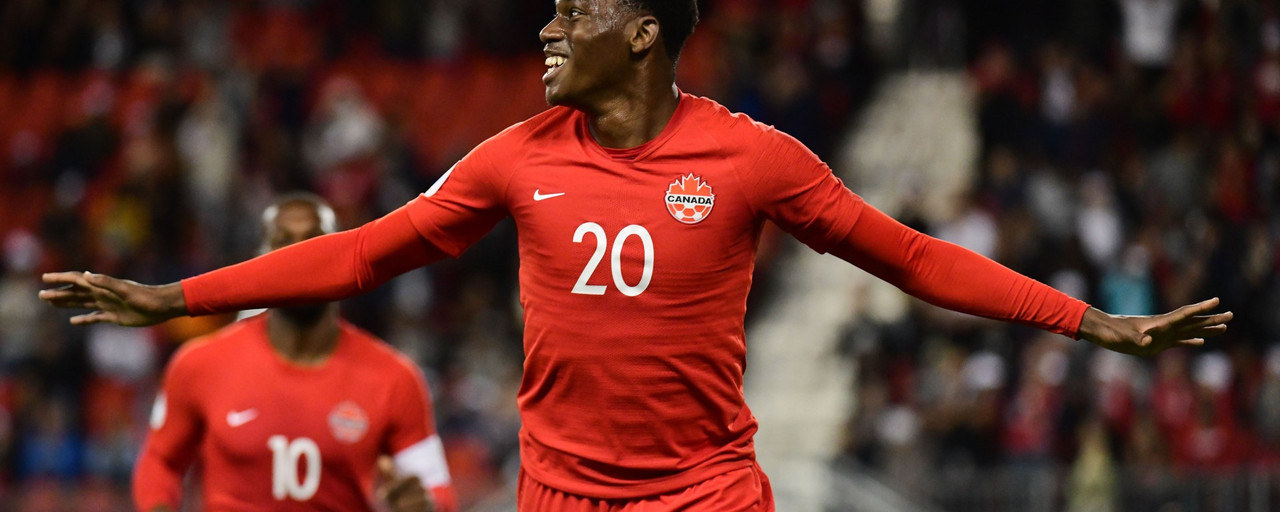 After a comfortable 7-0 victory Saturday night vs 205th ranked Aruba in Bradenton, Florida; Canada's ''A'' Team was rested. A decision that worked out in the end with eleven total changes made in the starting line-up.
A new system introduced by Canadian Head Coach John Herdman paid off thanks to a hat-trick in an impressive 18 minutes from Ligue 1 Champion Jonathan David, a first-half goal from Bayern Munich player Alphonso Davies and two key assists.
The Captain's armband was given to Goalkeeper Milan Borjan with Atiba Hutchinson due to injury. Samuel Piette had worn the armband to Hutchinson's absence.
How did Canada win this match?
Goal per game for David in Canada Jersey
Jonathan David has 15 goals in just 14 appearances with the senior side. A scoring rate that is hard to ignore. After scoring three goals in Chicago, the 21-year old forward raised in Ottawa moves to seventh all-time tying Ali Gerba. Dwayne De Rosario who holds the record with 22 goals will most likely be passed, only time will tell. David is proving to be one of the best forwards in the CONCACAF region.
Defensive Solidness
Although there was no familiarity in the back three, Doneil Henry being the most experienced defender with 32 caps. Henry coming off an injury in South Korea's K-League and Scott Kennedy who had a consistent second part in the 2nd Bundesliga made him earn his first international appearance. Then there's Alistair Johnston who picked up his 3rd match with the Canadian jersey. Johnston has been a pick part of Nashville's SC strong start in the 2021 MLS Season.
Excellent passing from all three players especially Kennedy and Johnston were key for Canada to keep a clean sheet.
''That was as strong as a debut as anyone'' Herdman spoke highly on Scott's debut.
The Red Star Belgrade Goalkeeper Milan Borjan who is coming off made one strong save in the 11th save early on but didn't have much to do for the rest of the encounter.
End of the Road and Looking for revenge
For Suriname, it's the end of their World Cup Qualifying campaign. You'd have to wonder whether after recruiting 15+ players who hold dual citizenship with Holland; if this momentum stops for the small South American nation with a Gold Cup debut on the horizon, this summer.
What's Next for Canada?
This Canadian Team will be going up against Haiti who is this team's ghost after losing 3-2 in the quarter-finals of the 2019 Gold Cup. For Head Coach John Herdman this team has grown a lot since that match two summers ago on American soil.
''That game is so important. We get to play them twice. To prove the wrongs from two years ago. We'll do our best for our country.'' Herdman said. Also, the venue for the 2nd leg was confirmed: ''We've made our base in Chicago.''
Alphonso Davies also spoke to the media post-match. ''Everyone knew their roles. We figured out the new system. For us, we just tried to play our game and attack at the right moment. I'm happy to get a goal and an assist.''
Stadium: SeatGeek Stadium, Bridgeview, Illinois.
Line-ups
Canada | 3-5-2
Borjan, Henry, Kennedy, Johnston, Davies, Laryea, Eustaquio, Piette, Osorio, David, Larin.
Suriname | 4-2-3-1
Hahn, Donk, Pinas, Leerdam, Haps, Malone, Chery, Koolwijk, Biseswar, Becker, Hasselbaink.