 It was another incredible month of the WTA tour full of surprises,drama,new faces and of course great tennis. Starting with the Fed Cup weekend,continuing with the week of St. Petersburg and Kaohsiung and ending with the Middle East Premier and American International swings, we saw many firsts from players that have been there, the "Italian Revolution" and the rise of 18-year-olds. Here are the top 10 players of the month for VAVEL USA.
10. Venus Williams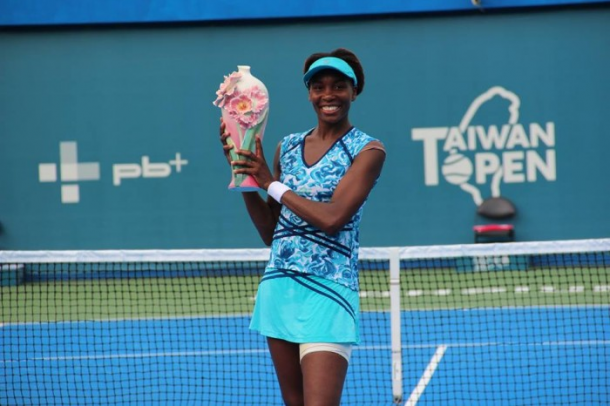 The American and seven-time Grand Slam Champion was unbeaten the whole February, winning her two Fed Cup matches and rallying to lift her 49th WTA title in Kaohsiung one week after. Venus did not face a top 60 player all month, but still, her performances were good and relieving considering she was troubled with injuries in January losing her openers in Auckland and the Australian Open.
In Fed Cup, she helped the American team battle past Poland in World Group Two giving her country a chance to compete in the World Group Playoffs, making it a difficult weekend for her opponents. Next, she took the long flight to Kaohsung in Taiwan for the first edition of the Taiwan Open who replaced Pattaya City in the tournament lineup. She won the tournament comfortably without dropping a set, even though she had to get past tough-yet low-ranked opponents like Urszula Radwanska, Yulia Putinitseva and Misaki Doi.
9. Barbora Strycova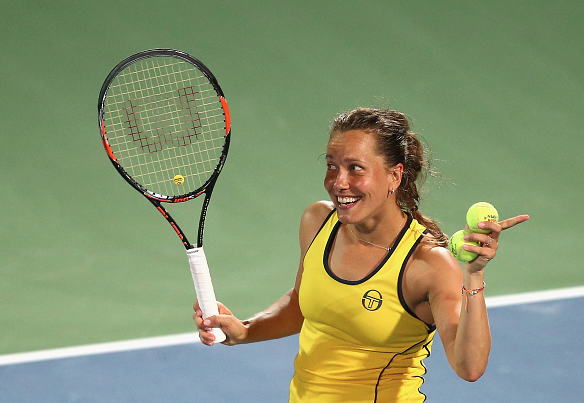 Barbora Strycova had an awesome week in Dubai where she made her first WTA Premier final, proving once again that she has entered 2016 full of confidence and ready for big results. Strycova was the savior of the Czech Fed Cup team in the doubles rubber partnering Karolina Pliskova to let the two-time defending champs stay alive in Romania. Most probably tired, she failed to live up to fan expectations in St. Petersburg, losing to Kateryna Kozlova but the big things were near.
Next week she made the Premier Final in Dubai beating names like Caroline Garcia and Ana Ivanovic before losing her nerves in the final against Sara Errani. In Doha ,she made the second round where she was really close t leading Petra Kvitova by a set but she eventually lost in two to her compatriot. It was an important result for the Czech in Dubai who did not have the best end to her season last year seeming fresher at the start of this one.
8. Belinda Bencic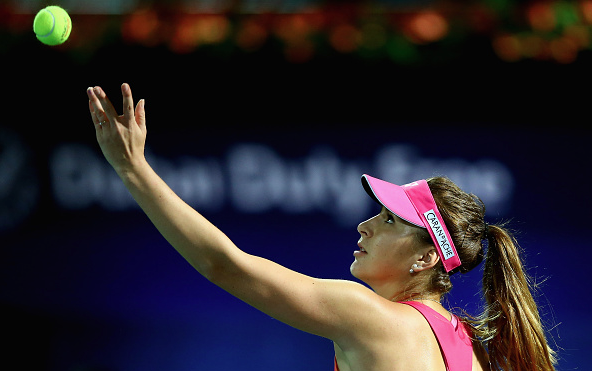 The 19-year-old Swiss keeps shining in 2016, making her top ten debut this month and taking Switzerland by her hand to secure their place in the Fed Cup World Group Semifinals. Bencic played fantastic tennis in Leipzig during the Fed Cup weekend ,beating both Andrea Petkovic and Australian Open Champion Angelique Kerber as well as teaming up successfully with Martina Hingis in the doubles rubber to help Switzerland upset Germany 3-2.
Next as a top seed for the first time in her career, she played St. Petersburg, where she reached the final despite not playing her very best and falling to an inspired Roberta Vinci. In the Middle East Swing, she failed to get a win under her belt. Seeming tired, she lost to Jelena Jankovic in Dubai and then she followed it up with a loss to Coco Vandeweghe with the fans assuming she is having trouble getting used to her new player identity. Nevertheless, it was a great month for the Swiss as she helped her country a lot, and that always gives athletes a special feeling, but also she achieved a really important first, inside the top ten of the world.
7. Dominika Cibulkova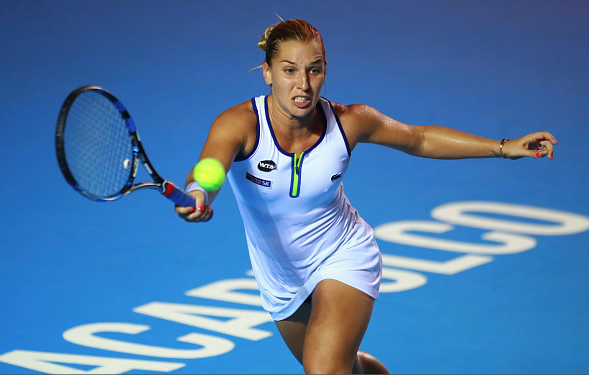 The Slovak is slowly trying to improve her ranking after the massive fall due to her injury last year and her inability to defend her Australian Open points. Cibulkova began the second month of the season by grabbing a win for her country in the Fed Cup, proving to be a clever substitution on day two, even if Slovakia did not manage to get past Australia in World Group II. She next moved on to St. Petersburg where after beating Eygenia Rodina she upset the number three seed Caroline Wozniacki (who has been on a slump lately) to make the quarterfinals.
It was a close match of high quality with the 18-year-old Russian, Daria Kasatkina, but the 2014 Australian Open runner-up did not manage to close it surrendering to a quarterfinal defeat. Cibulkova then decided to prepare in Mexico making the final in Acapulco as she avoided the second round meeting with Victoria Azarenka with the latter withdrawing due to injury. The final with Sloane Stephens was absolutely dramatic and the Slovak was close to victory and her second title in Acapulco but she marginally lost in a third set tiebreak. Even though Cibulkova lost in the first round in Monterrey to an inspired Annet Kontaveit, she seems to be ready to get back on track and if she avoids bad draws, she will bounce back quickly enough.
6. Sloane Stephens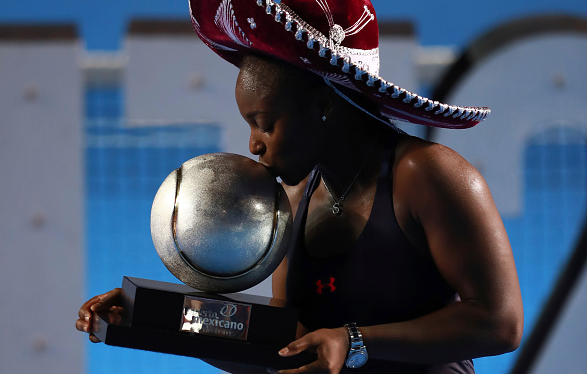 The American star went unbeaten in February winning a Fed Cup rubber and her third career title in Acapulco. Sloane defeated Magda Linnette of Poland in the Fed Cup weekend, taking part in team USA's triumph over the Polish team. Without playing any Premier events,nor in the Middle East swing, she entered Acapulco as the second seed.
Even though her road to the final was quite easy, with the only seed she faced being Yanina Wickmayer in the semis (she won her quite comfortably), the final against Dominica Cibulkova was really tough and competitive. We saw another Sloane, one that never gives up, having logic, patience and the needed energy in the end to beat Cibulkova in a third set tiebreak. Stephens was winless in WTA semifinals before last summer but now she has three WTA titles and she is the first player to have lifted two trophies in 2016.
5. Andrea Petkovic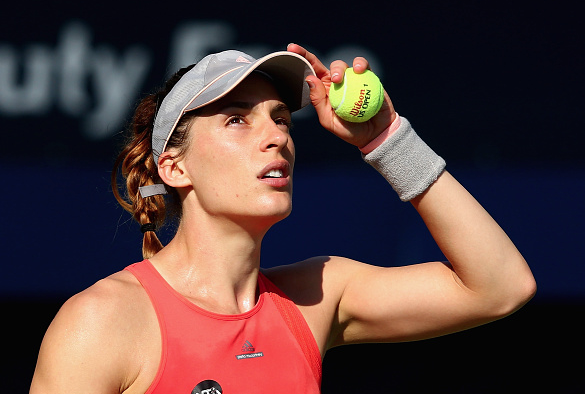 Andrea Petkovic definitely had a great run in the Middle East. Starting from Dubai, she made the quarterfinals after beating an erratic Camila Giorgi and Jelena Jankovic before losing to Caroline Garcia. She played really well and that was quite encouraging considering the end of last season. Next, she went to Doha when she had some good matches against oponnents like Ekaterina Makarova and Coco Vandewedge, but the tip of the iceberg was her quarterfinal against Garbine Muguruza. Petkovic played undoubtedly her best tennis in months to defeat the world number four, who did play her best in 2016, in a really close three set match.
Unfortunately, her awesome run in Doha ended with a retirement in the hands of Jelena Ostapenko in the semifinals after the latter came back from 1-5 to 7-5 to win the first set. Despite the poot ending, it was an encouraging and relieving month from Petkovic who has shown a lot of improvement and she seems to be enjoying tennis more, always taking into account her renowned Zhuhai interview last year.
4. Jelena Ostapenko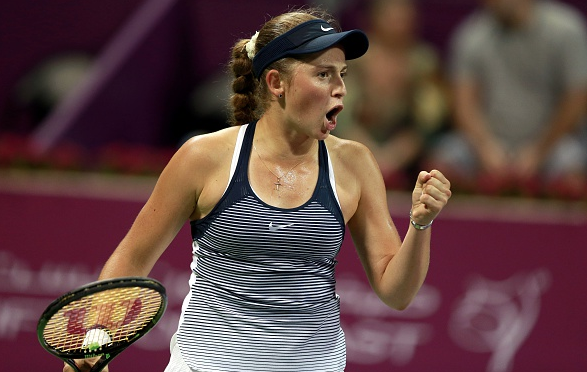 The 18-year-old Latvian had her best run in her pro career in the Qatar Total Open, making her first Premier tournament final and having a huge jump in the ranks. After a January that was marked by the incident in her second round match in Auckland against Naomi Broady, she was hoping for a new start dor the new month. She had one win in the Zonal Group of the Fed Cup but still lost quickly to Tsvetana Pironkova. She also did not get past the qualifiers in Dubai.
She was clearly still affected from he incident and she could not pick up form. None expected what would happen in Doha. Ostapenko marginally made it to the main draw, but she showed a profound mature face all week, upsetting players like Svetlana Kuznetsova, Petra Kvitova and getting even more help from the seed drought with Petkovic's retirement in the semifinals to make her first Premier final. There she led a set against Carla Suarez Navarro before the latter stepped up and won the match in three. Ostapenko is known for her rough attitude on court and her mental instability that leads in blowing many leads, however in Doha, she was a different person, more serious and mature seeming to have learned a lot from the incident in Auckland. This is for sure the best way for her to showcase her unbelievable talent that had so much success during her junior years.
3. Sara Errani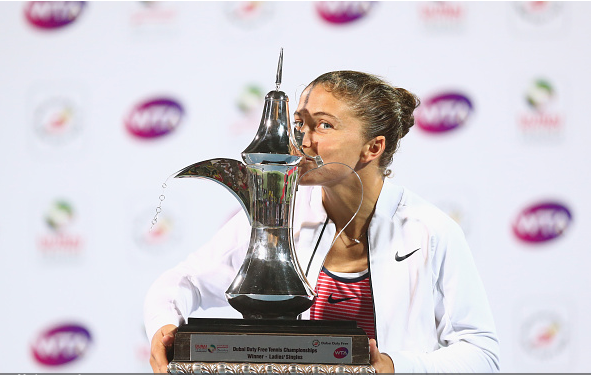 The Italian former world number five took the world by storm, exploiting an open draw after the seeds fell in Dubai, to win her biggest title of her career, quite ironically on hard courts. But let's take the things from their start. Errani was the one who disappointed during Italy's Fed Cup tie against France in Marseille losing to both Caroline Garcia and Kristina Mladenovic. The Italian had recently stated she needs to find her balance and her situation was worrying her fans and the tennis world more and more.
However, even though it was a week that the seeds were falling like flies (no seed won a match) Errani was the one to jump at the chance and win her first Premier title, surprisingly enough at this state of her career, in Dubai. It was a great run that must have boosted Sara's confidence a lot even though it lacked big wins (only top 30 win was Elina Svitolina) but it was marked by the Italian's flaming fighting spirit. Next for her was Doha where she made the second round only to lose to the big serving Timea Babos. If we exclude Dubai ,her month was not that great but still a Premier event is too important to exclude, especially if it comes in a tough state of your career and on a surface that is not your favorite.
2. Carla Suarez Navarro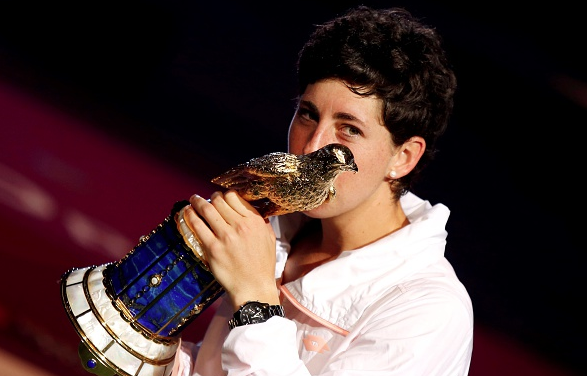 The Qatar Total Open hampion could not miss the list. The Spaniard won just her second but the biggest title of her career in Doha in the first big meeting after the Australian Open. Suarez Navarro did show her best self until the semifinals with the only top 20 player she faced being a rusty Timea Bacsinszky. In the semifinals, the Spaniard played incredible tennis, probably her best match since the first half of last year to outlast a tired Agnieszka Radwanska with a bagel as well reaching another big final. Despite her general slump in finals the past couple of years, she was the big favorite this time against the 18-year-old Jelena Ostapenko. She showed immense fighting spirit and a new attitude on court in this match fighting for every point after dropping the first set and stepping up to close the match in three. If we except the triumph in Doha, Suarez Navarro did not have any other stunning results this month ,as she dropped in the opener in Dubai and won her only Fed Cup match against Jelena Jankovic, but she still won the biggest tournament of the month.
1. Roberta Vinci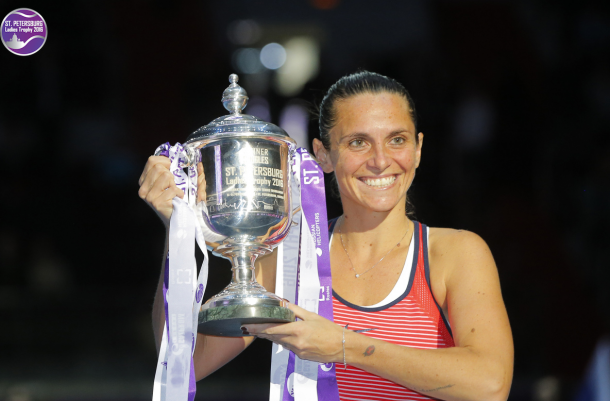 Roberta Vinci, VAVEL's Player of the Month is on the top of the list. She did not win a tournament as big as Suarez Navarro, but her level of play in St. Petersburg was high all the week and she backed that performance with a quarterfinal showing in Doha. In St. Petersburg, her level was out of this world and especially her semifinal and final matches against Ana Ivanovic and Belinda Bencic were a show of amazing slices and net play. Same with her quarterfinal match in Doha against Agnieszka Radwanska despite the different outcome. Anyway, her efforts were awarded, as she managed to finally break into the world's top ten marking herself as the oldest woman to make her top ten debut. We all hope to see more of this Vinci in the rest of the year.