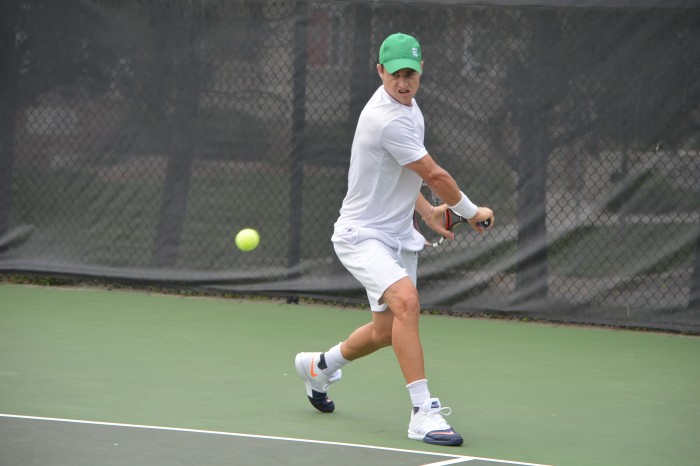 Nothing has ever come easy to Jean-Yves Aubone. The 28-year-old and Florida State University alumnus has had quite a professional tennis career, one that has changed his life forever. Born in the Floridian state of Miami to Argentine immigrants, Aubone discovered his love for tennis at the age of two after watching his parents play professionally. His father Guillermo Aubone, a former world number 133, played in all four Grand Slams, and even faced Bjorn Borg in his prime at the 1980 U.S. Open.
Hoping to replicate the same success that his father enjoyed in the late 70's and early 80's, the 28-year-old hasn't had it his own way. For his entire professional career, he has played at the ITF Pro Circuit and the ATP Challenger Tour levels, battling week in and week out to attain precious ranking points that have the power to catapult him up the rankings.
Despite ending 2015 with a 26-24 win-loss record (.520), Aubone struggled to find his form on a consistent basis, nursing injuries while continuing to travel all over the world in order to make ends meet. As a result, his career high singles ranking of number 459 in the world plummeted nearly 140 spots to his current singles ranking of number 597 in the world.
"I was very disappointed with it," Aubone said regarding his 2015 season. "Finishing the year ranked lower than where I started was a disappointment. I had high expectations. I thought I would be closer to qualifying into Grand Slams when 2016 started. I did everything I could to put myself in position to win but it just didn't happen."
"The only thing I could have done better was take more time to prepare for the season. I took eight weeks off because of an Achilles injury. I was playing a tournament three weeks later. I wasn't ready. My movement wasn't where it was supposed to be. Because I was traveling so much, it took me a long time to get back to where I wanted."
"I did have two bright spots [though]. I made it to the quarterfinals of a challenger for the first time. And representing USA in the Pan American Games is an honour I'll remember for the rest of my life," Aubone added.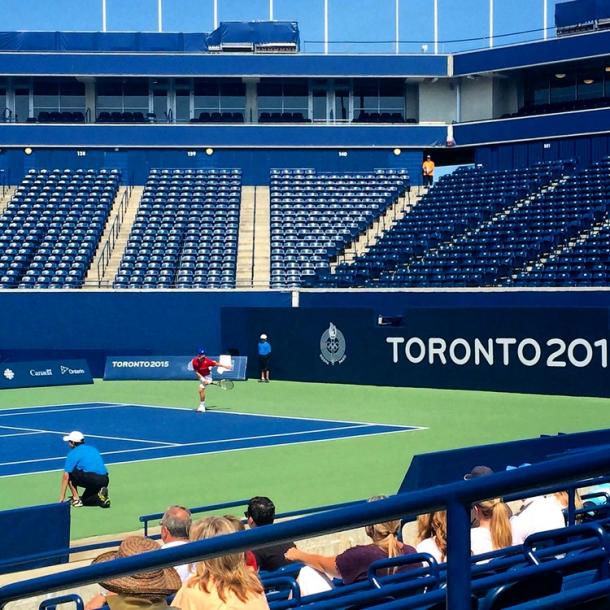 Things got so bad to the point where Aubone was considering hanging up his racquet at the age of 28, having never played an ATP-level match. However, after taking some time off and doing some coaching at the Ginepri Performance Tennis Academy in Marietta, Georgia, the American rediscovered his love for the sport that had shaped most of his life, consequently leading him to the decision to play at least one more year of professional tennis.
"It was more about I was turning 28 and I'm still playing Futures [events]," the Floridian native said when asked why he contemplated retirement. "I had to consider if I still had room to improve or that's as good as I was going to be."
"After taking time away from the game I realized I had a lot more to improve. I also believe I can improve. I believe I can achieve more things."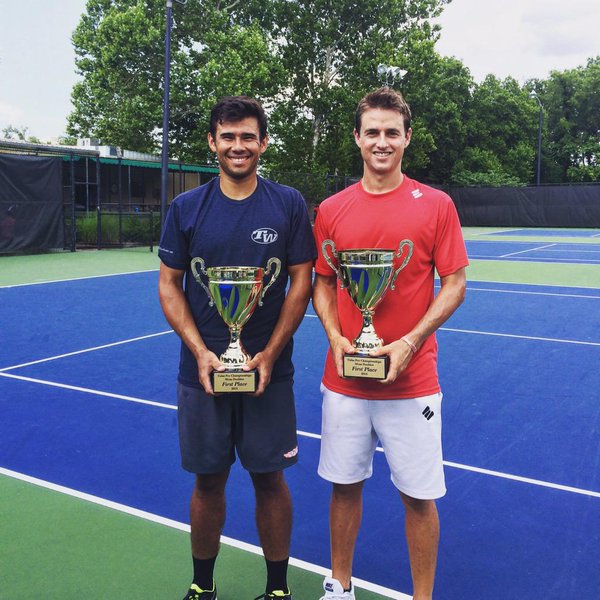 Despite his troubles on the singles court, the excitement of doubles seem to bring out the best in Aubone. A former world number 288 in doubles, the American has won an impressive 14 ITF doubles titles with 12 different partners in the last three years of competition.
"Knowing that someone else's success depends on how well I perform brings the best out of me," he said. "I don't want to let them down. And the more I like the person/people I'm working with, the more I want them to succeed so I focus better."
"When I'm playing with someone else I get to socialize a bit more. We can joke around and have fun. We are also constantly picking each other up, making sure we are positive."
It is no secret that tennis is one of the most expensive sports in the world, with players having to pay tens of thousands of dollars every year just to travel and compete from city-to-city. The players who reach the top are able to accumulate a good chunk of prize money and lucrative endorsement deals, which makes paying these fees the least of their worries. But for those who are less fortunate and are still grinding away at lower-tier tournaments, money can be a troublesome thorn in a player's side. "The money also makes it difficult. By deciding to continue, I've also accepted that I'm more than likely to not make any money this year. It's not the most exciting thought when you're 28-years-old and married."
"I definitely don't have enough money for coaching/training," Aubone added. "I have enough to eat the right way, pay for coaching when I'm home, and to travel to tournaments. But a professional should travel with a coach. That's really expensive. So I spend half the year without a coach."
When players don't have a coach, many refer to the video sharing giant called YouTube to "scout" their opponents – this entails them to get a good idea of their playing style, strengths and weaknesses which can make a big difference in the early stages of a match. Like many of his peers, Jean-Yves has his ways of scouting his opponents.
"If there is video on YouTube of my opponent, yes," he said. "If not, and I don't know them, I'll find out if they've played any of my friends and ask them for a scouting report."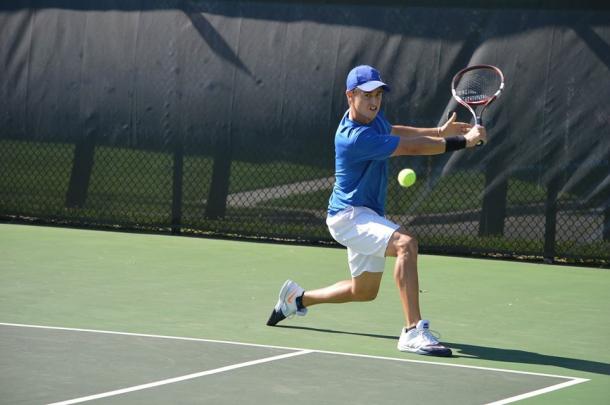 Shifting gears to a simpler time, Aubone played collegiate tennis for Florida State University during the 2007-2009 seasons before graduating. Amongst his accomplishments, the Floridian was named the Atlantic Coast Conference Player of the Year in 2009 and won two ITF Futures titles in 2008, which he said prepared him for life on the professional tour.
"It gave me time to get stronger," the Florida State University alumnus said. "It gave me time to fix the holes in my game for free (I had a scholarship). I also played high in the lineup so I was constantly playing the best players in the country. I got match tough. I learned how to manage the emotions of a match and how to step it up on the big points. It also gave me time to mature."
However, after graduating from university, Aubone decided against turning professional right away; he had grown increasingly weary and stressed when trying to find the right balance between his studies and tennis. After twenty years of dedicating his life to the sport he had once loved, Jean-Yves decided it was time to take a break.
"I was completely burned out," he admitted. "I didn't handle the stress of tennis and school well. I played tennis and went to school stressed out for four years. I needed to get away. I'm glad I did."
"I don't think I'd still be playing if I would have continued straight out of college."
Instead, the American decided to pursue a career in finance, a completely different passion of his. Initially, Jean-Yves couldn't be happier; with his new job, he travelled for fun, hardly ever played tennis, stopped living out of a suitcase and best of all, he had a steady paycheck. Unfortunately, all of that happiness and excitement seemed to fade away when Aubone saw some of his old rivals climbing the rankings table week-by-week, making him question the reason why he decided against turning professional in the first place. Eventually, at the age of 24, Aubone decided to resign from his work in the financing world in order to focus on pursuing his lifelong dream of being a professional tennis player. Financially speaking, it wasn't the greatest decision in the world but it was one that had to be done for the sake of Jean-Yves' own well being.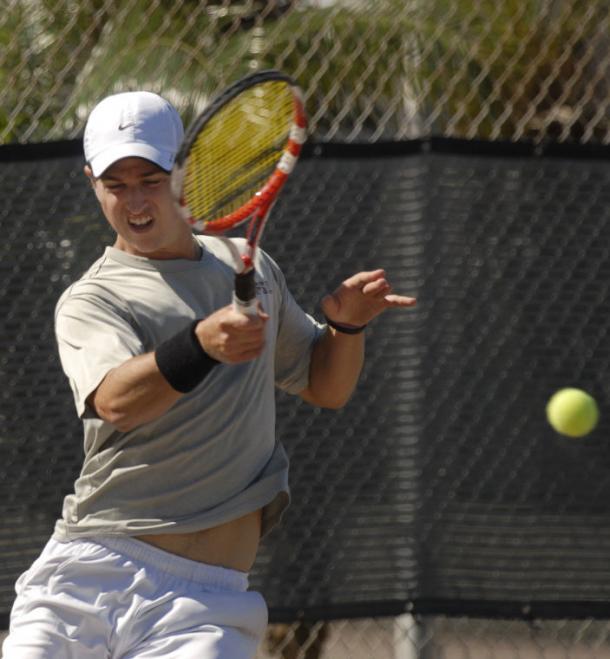 Going into 2016, Aubone feels he is in a better place than he was at this time last year. "I'm starting the year off better physically, which helps me mentally. Also, my game improved a lot last year even though the results didn't show it. I'm in a much better position to succeed."
The 28-year-old also has his eyes set on ambitious, but realistic goals. "[I need] to make sure I do everything possible to succeed and make it into the qualifying of a Grand Slam. Considering where my ranking is, I'm shooting for the US Open."
Before Aubone decides to hang up his racquet for good, what would he like to achieve?
"I want to make it into a Grand Slam again. I played in the US Open once but I want to get back. If I don't, then as long as I can look back and know I did everything I possibly could, then I'll be happy."
If Aubone can stay healthy while continuing to have the same renewed motivation improve a little bit every day – especially psychologically speaking, there is no reason why he won't be a name to look out for in the forthcoming years.
Be sure to check out Jean-Yves' website where he blogs and tennis tips for any tennis player, regardless of your skill level, and make sure you follow him on Twitter and Facebook to receive the latest information about his results and whereabouts.