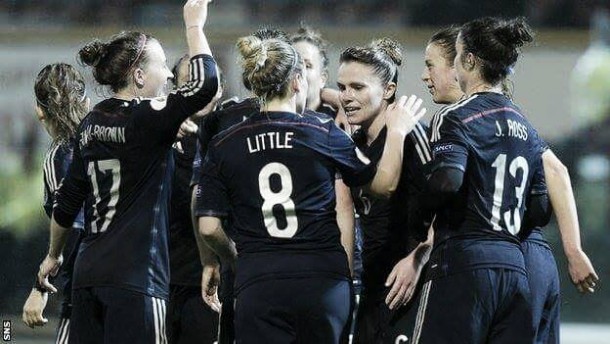 It's been an incredible year for women's football. The 2015 FIFA Women's World Cup and it's comprehensive media coverage did wonders for the sport, whilst England themselves reaped huge rewards after the success of their national team in Canada, with attendances in the FA WSL rocketing in particular.
North of the border, Scotland may not have made the summer's big event, but the sport has made great strides nonetheless in their country despite this.
All signs point to improvement
When UEFA released their annual report of women's football in September, it was revealed that the number of registered female players in Scotland has almost doubled in the past 12 months, increasing by 85.8 per cent to a total of 9,208 - having stood at 4,955 a year ago.
They might be some way off their neighbours in terms of professionalism and in developing fan bases for their domestic clubs - with the Scottish Women's Premier League having no professional players and games having an average attendance of around 50 across the league - but they are developing at a rapid rate nonetheless.
It comes as little surprise that the rise of the women's national team is coinciding with this growth too, and the improvements in the SWPL. The top flight is becoming much more competitive, with 2015 it's most successful year yet in this sense.
Glasgow City, the dominant force in Scottish women's football, did claim their eighth successive league title, but the race for the trophy was the closest it has been since 2010, Hibernian finishing just six points behind in second - just like Celtic did five years ago. Furthermore, Glasgow dropped four points this season, the most they have missed out on since the league became a summer one in 2009, with them dropping four points in the 2008-09 campaign.
To top all of this off, the league gained an extra UEFA Women's Champions League place as well this year after Glasgow's superb run to the quarter-finals in the 2014-15 campaign, where they were only upended by eventual champions 1. FFC Frankfurt. They are now amongst one of the 12 countries in Europe who are granted two entry slots to the competition, showing the progress being made in the country.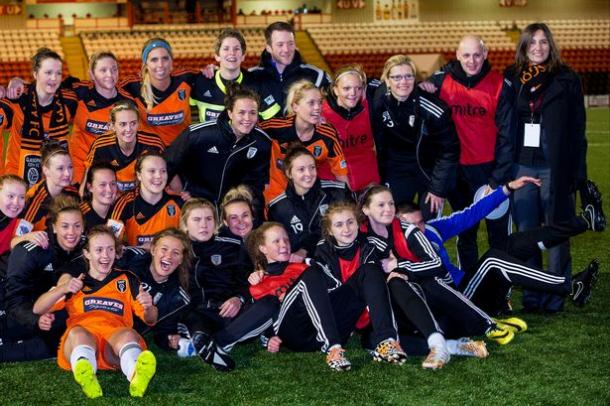 Admittedly, the league is still nowhere near as competitive as most, with third-placed Celtic some 18 points behind second-placed Hibernian this year, whilst the difference between Glasgow at the top and Inverness City at the bottom was a huge 56 points, but steps are being made in the right direction nonetheless and things can only improve if this continues, with the youth coming through exposed to better quality football and it making them better quality players as a result.
Foreign football benefitting the national team
This is not the sole reason for the sudden rise of the national team though, but one of many in a progressive year for Scotland. As well as the domestic football improving in the country, national team players are also moving from their homeland to bigger and better leagues to improve. Taking that winning mentality with them that has been gained from playing at Glasgow (as is the case with most who have moved abroad), Scottish players are now making a name for themselves around Europe, and the globe for that matter.
Just nine of the 20 called up by Anna Signeul for the country's latest fixture last month, a Euro 2017 qualifier against Macedonia, play their domestic football in Scotland, with the remaining 11 dotted all over. Six of these are based in England and a very competitive league in the FA WSL 1 - bar Caroline Weir who is now in the second-tier with Bristol Academy, and Jennifer Beattie who is currently on loan at Melbourne City from Manchester City. Kim Little plies her trade in arguably the world's best league, America's NWSL, and is also with Melbourne on loan, whilst Lisa Evans is making a name for herself in another highly-rated league, the Frauen-Bundesliga, with reigning champions Bayern Munich. Lana Clelland is with UPC Tavagnacco in Italy and, finally, the team have a duo in Sweden's top quality Damallsvenskan, both with Vittsjö GIK.
These players are all benefiting massively from the more competitive and high quality football they have been exposed to and, given the relatively young age of most players, it is definitely helping their development too.
Heartbreak has led to success
The potential of this team has been recognised this year as well thanks to these combining factors. They came so close to this summer's World Cup but were defeated by the Netherlands in the end, losing 4-1 on aggregate in the semi-finals of the play-offs, having finished second in their group behind Sweden. Ironically, the team they lost to were almost a carbon copy of them right now, a promising team with some stand-out individuals whose talent is sprinkled across the globe. That experience was looked at as one that could only benefit this young Scotland side too, a real learning curve for a nation on the up.
Since that defeat at the back end of last year, the team have moved on to bigger and better things, with some of their results against the world's biggest teams showing what they can do. Scotland have played 12 games this calendar year. They've won seven of those, lost four and drawn one. Four of their wins have come in their Euro 2017 qualifiers, with Slovenia, Belarus and Macedonia all comfortably dispatched, the latter twice, with Scotland scoring 24 goals in the process and conceding only one. However, it's the friendlies that have shown more promise.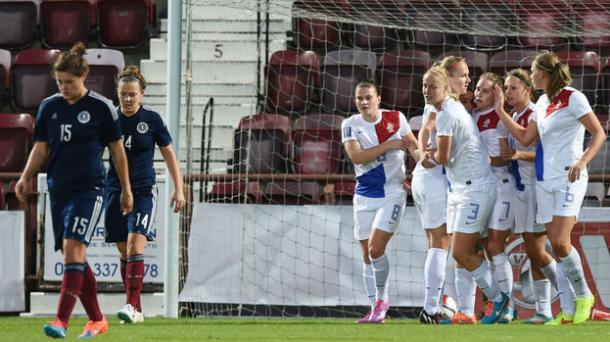 The Scots avenged defeat in the play-offs somewhat in the Cyprus Cup in March, beating the Dutch 3-1 just two days after they also overcame South Korea, another nation at the summer's World Cup, by a 2-1 scoreline, and a month after a 4-0 win over Northern Ireland.
Defeats have also had their positives. A 2-0 loss to Canada showed that the gap between them and the bigger teams is that not that huge, whilst a narrow 1-0 defeat at the hands of France illustrated this even more. The 1-1 draw with one of the summer's surprise packages Australia was another positive result, with Scotland showing that they clearly have the ability to match the bigger teams, they just need to show this consistently and develop it further with experience at the top level - both as a team internationally and as individuals with their clubs.
A young squad could shine at Euro 2017
There's a lot of youth in the team too, which makes their potential even more exciting. Half of the squad called up for the Macedonia fixture were aged 25 or under, which shows that they aren't a nation that are going to have their 15 minutes in the spotlight and then just fade away, but that they are instead a team who can relish the limelight and grow in it.
Euro 2017 should be that limelight. If the Scots can defeat Iceland - and they certainly can - then they will take control of their qualifying group and be heading to Holland in less than two years time. There, the team will gain experience and the tournament will act as almost a catalyst for their development both as a unit and as individuals. The World Cup was too soon for them this year, but the Euros can be a stepping stone to that World Cup showing, with them never having made it to the competition and never to a Euros even - not since it was called the European Competition for Women's Football anyway, last in 1989.
So, what makes this team so special on the pitch? What substance do they bring and what talent do they have? Well, they are driven by one of the world's most special talents to start, attacking midfielder Kim Little. The Seattle Reign star is the player who makes the side tick with her creativity and ability to find the back of the net, and her experience at the highest level is more than beneficial for those around her.
This adds to the already heavy presence of experience in midfield given to the team by Joanne Love and Leanne Ross, who share 281 caps between them, all of which is aiding the younger, up-and-coming players. Caroline Weir is one of these, the 20-year-old having got off to a good start with her country after five goals from her first 22 caps, whilst Leanne Crichton is another relatively new to the international scene who is learning from these wise heads.
The centre of the park is where things happen for them, with Signeul having a plethora of options which each offer her different elements. From battling qualities, to creativity, to all round hard work making for a successful box-to-box midfielder; the Swedish coach has many types of players at her disposal, allowing Scotland to adapt their team to their opponent and the game they are playing. It also allows for rotational purposes, different tactics to be experimented with and varying combinations to be tried in terms of personnel. There's a lot for Signeul to work with and it's working well for her so far.
As is the case with most promising teams causing an exciting stir, Scotland are especially good in an attacking sense, rather than defensively solid. The emphasis is on free-flowing, expressive football too, with Signeul's latest squad containing just the four out-and-out defenders - with nine midfielders and four strikers.
Little and Evans playing starring roles
This emphasis is furthered by the fact that the team is built around Little playing in a free role - in front of the two holding midfielders and the lone striker in a 4-3-3 - with everything going through the 25-year-old, and rightly so as she makes things happen like few other players in world football can. The players who her creativity benefits most include Bayern Munich's Lisa Evans and recent Manchester City signing Jane Ross, the former making very exciting steps in her career and the latter slowly but surely progressing at her own pace too. These two prolific and direct forwards have been accompanied in the squad recently by teenager Lizzie Arnot as well, a promising prospect at Hibernian who presents the team with a real option for the future, especially if she continues to develop at the rate by which she is right now.
What makes the rise of Scotland even more interesting though is that they have no set style of play, bar a direct and expressive factor. They don't just go out wide, they don't just play through the middle and they don't just launch long balls. They can dominate possession and break down well marshalled opponents or they can play on the counter and exploit their opposition with pace on the break and clinical finishing. Versatility is a running theme in this team, from the personnel to the formation and the tactics, making them unpredictable and, as a result, a very difficult opponent to plan for - one of the reasons behind their recent success against the bigger nations, not just those around them in the rankings.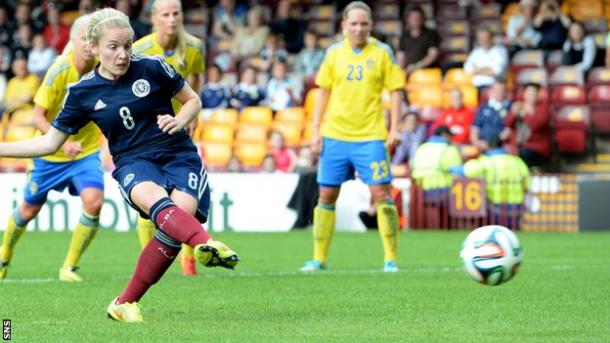 The attacking focus may hinder them at the back, not because they lack the quality to keep teams out, but because the full-backs are committed to going forward and even the holding midfielders are too. The centre-backs can often be seen enjoying a powerful drive forward with the ball as well - the team just want to get in that final third and score goals!
However, to be fair, there aren't as many defensive options for Signeul to look at as there are attacking ones, with wingers sometimes dragged back into full-back positions for their country as a result, which only makes their desire to get forward and, thus, the lack of defensive focus, increase. There are plenty of centre-backs, but the team is crying out for natural full-backs and this is something that needs to be sorted before they can move forward even more than they already are and have.
This was a big reason for their defeat to the Netherlands in their World Cup play-off semi-final, with the Dutch getting at Scotland down the wings in particular, exploiting the space left by the marauding full-backs. Whether this was caused by an unfamiliarity with the position, with, again, those in these positions not naturals there, or just down to the infectious attacking attitude that the team exudes, it was a weakness and remains one today.
All in all, things look bright for the Scots
Nonetheless, there are key players in the team who are really making their presence felt in order to influence the rest of the squad into some high quality performances. As is always said, the quality of the players around you make you play better, and that is ringing true for the Scottish women's national team.
With a maximum 12 points from their four Euro 2017 qualifying matches so far in Group 1, with 24 goals scored and just the one conceded, Signeul and her squad will be properly put to the test in June of next year when they face Iceland at home. They have hammered the lesser nations thus far, but the two fixtures with the group's current second-placed team, who have nine points from their three games so far, will be the ultimate assessment of their promise and potential. If they can pass the examination with flying colours, they only need to do the same in the reverse fixture to properly book their place in the Netherlands in 2017, where the world will be watching to see what they are capable of achieving as a team.
The signs so far though are that this is a group with limitless potential and the character to cause an upset in the near future, just like their English neighbours.