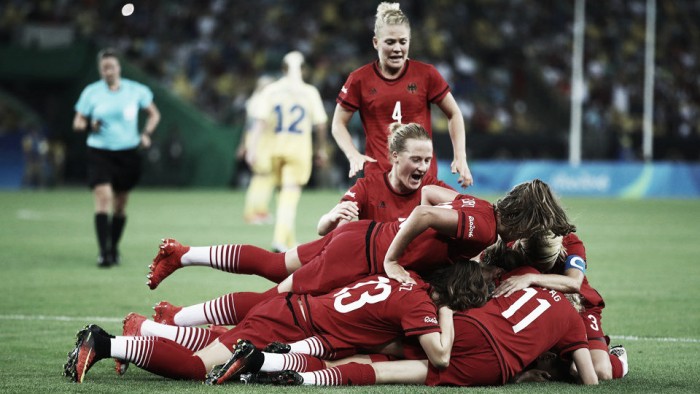 Germany won the gold medal at the Maracana at the Olympics with an own goal being the difference as they held on for a 2-1 victory over Sweden.
There were three WSL representatives in this match. Josephine Henning was on the winning Germany team and Hedvig Lindahl and Kosovare Asllani on the Sweden side.
This was Silvia Neid's final game in charge of Germany and what a great send-off it was. She will still be staying within the team as the new head of scouting and Steffi Jones will take over as manager.
Even opening half
The previous meeting between these two ended in a 4-1 win for Germany at last year's World Cup in Canada. Prior to this, Germany had won everything except the Olympics. Sweden's best finish in an Olympics was 4th place back in 2004 in Athens. Pia Sundhage, the coach, had however coached USA to winning Olympic gold in 2008 and 2012.
Sweden were critised by some previously after being ultra defensive yet got the results they needed to make it through to the final. This time around, they started off on the attack for the first few minutes with Olivia Schough getting Sweden's first chance. They did drop back and go into ultra defensive mode but still looked fairly dangerous in attack.
Germany's first chance came from Anja Mittag when she took a shot from outside the box but it saved by Lindahl whose saves have been crucial recently for Sweden. Sweden went on the break a bit later and Lotta Schelin looked to be clear on goal but a diving header from Almuth Schult cleared the chance.
It seemed to be a half where both teams had many chances but neither could finish them. Both Melanie Leupolz and Mittag had great chances but couldn't capitilise on them. Mittag's came after Lindahl spilled a save and she somehow missed from six yards out. As a result, the half ended goalless.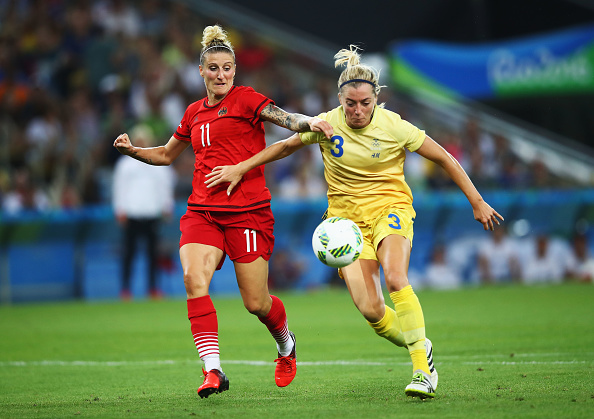 End-to-end second half sees Germany come out on top
The second half started as the first half had. Germany finally got the breakthrough in the minute after Dzsenifer Marozsan scored a spectacular goal. She took a touch on the edge of the box and curled a shot into the top beyond the reach of Lindahl. They then doubled their lead with an unfortunate own goal by Linda Sembrant. Lindahl's save hit the post and Sembrant went to clear but it ended up in the net. Quite similar and echoing a certain own goal last year but there was nothing else she could do about it.
Sweden got back in it when Stina Blackstenius, who had come on not long before, scored to reduce the deficit and give the Swedes some hope. Sweden had many chances but just didn't capitalise on them.
Despite trying their best, it wasn't to be and Germany finally won and got the gold medal that was missing from their trophy cabinet. It was the perfect send off for Silvia Neid. This will be a boost of confidence for them going into Euro 2017. Despite losing, Sweden can look back on this as an amazing achievement as they beat world champions USA and then host national Brazil to get to the final.