Marcus Rashford is hoping his hat-trick for the England Under-21s in a 6-1 win against Norway on Tuesday will put him in contention to play for Manchester United in the Manchester derby at Old Trafford this weekend.
Having also scored the winner in United's last outing against Hull City – a 1-0 away victory – Rashford is hoping his good run of form will give manager Jose Mourinho a selection headache ahead of Saturday's clash with Manchester City.
Rashford happy with performance as he looks forward to Manchester Derby
The young striker netted the winning goal in the last derby clash between the two sides at the Etihad Stadium in March, and Rashford is now "looking forward" to this weekend's game, too.
Rashford also said he hoped his contribution for England's Under-21s would give Mourinho a decision to make, and added that "it was a good debut to have."
The striker opened the scoring for England in the first half by sliding past the opposition 'keeper inside the area. He added a second after the break in a similar fashion to how he netted against West Ham in the FA Cup last season, before sealing his hat-trick with a late penalty.​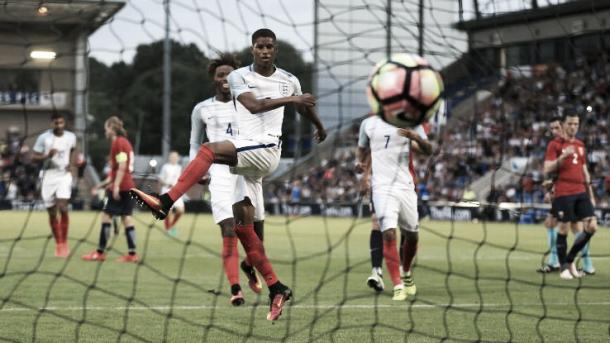 He said the goal from the spot was his personal favourite, explaining that it "was the first penalty I have scored since I have been a professional."
Youngster's humility impresses Southgate
Rashford certainly impressed the Under-21s manager, Gareth Southgate, who claimed that "what we saw all week [from Rashford] was what we saw tonight", and that his performance was not a surprise.
On playing for the Under-21s, Southgate said that no one "can rubbish the experience", and that it allows players "to play and put on a show like that." Southgate also praised Rashford's mentality and said that "he came with great humility."
The Manchester United striker was snubbed by senior boss Sam Allardyce when he named his first squad as England manager a few weeks ago, with the former Sunderland manager opting against including Rashford, despite some bright displays at Euro 2016 in the summer.
However, Rashford was happy knowing that Allardyce had been present, saying that "it means a lot [that Allardyce was here]" and that "everyone is working hard to get into that side, so it was important that he was here to see our development."