Henrikh Mkhitaryan was a signing that wowed supporters, especially when he was snapped up for the cut throat price of £30,000,000. However, the Armenian winger who enjoyed so much success with German giants Borussia Dortmund, has yet to force his way into a regular starting spot within the side, much to the shock of former Manchester United midfielder Owen Hargreaves.
'I can't believe that he's not getting a look-in'
Hargreaves told football stats specialists Squawka that 'he can't belive' Mkhitaryan isn't getting a look in. 'He would be a banker in my starting XI', claimed the 35-year-old.
The former United man went on to compare his stats of 23 goals and 32 assists to Lionel Messi and Cristiano Ronaldo standard, as he continued to state his shock that the 27 year old Armenian winger is yet to truly be given a chance by Jose Mourinho.
Hargreaves comments come after Manchester United were humiliated at the hands of Mourinho's former club Chelsea, who he has won countless trophies with. Chelsea battered Manchester United 4-0 on the night and in reality it probably should have been at least five or six.
Throughout the match, Manchester United looked unable to attack when they had possession for an extended period of time, often becoming stuck under their own feet.
But even more worryingly was that for a manager who has mastered how to hit sides on the counter-attack throughout his managerial career, is that this current Manchester United side look lost as they attempt it.
Some fans have been quick to point out that in the few games he has been given a chance, he has looked shaky at times, but much like his start with Borussia Dortmund, it took him a few attempts before he found his feet and started dominating the league.
Mkhitaryan's struggles to stay on the pitch
Usually when there are calls for a player to be given more game time, he usually has some fans in his corner and some claiming he has failed to take his chances.
But as The Daily Mail point out, he has not played more than 45 minutes in any of his appearances and hasn't played since the Manchester Derby which ended 2-1 to Manchester City.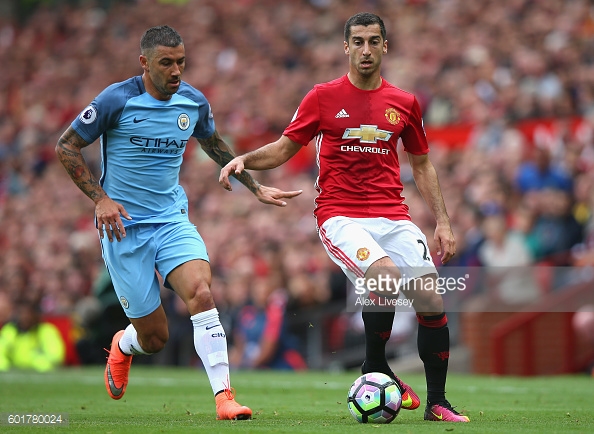 Against Leicester in the Community Shield he was brought on with just a minute to go, against Bournemouth and Southampton he played a combined total of 29 minutes and the following match against Hull saw him impress despite coming off the bench and playing for just 30 minutes.
His first start was against Manchester City in the derby, where he was dragged off at half-time after an average 45 minutes.
Unless you are the most confident player in the world, a claim that has never been stated about Mkhitaryan whose confidence levels have been questioned at times, playing just 105 minutes in all competitions at a new club, three months into the season, gives you virtually no chance to stamp your authority onto a position.
While we don't know whats going on behind closed doors at training for example, but we do know is that Henrik Mkhitaryan is fit and when he is fit he has the ability to be one of the best players in Europe in his position.
Maybe in several seasons time, we can look back and say at Manchester United Mkhitaryan was a bust, but how are people supposed to make that decision unless he is given game time to at least prove himself?
If Manchester United were winning every game on the bounce, 3 or 4-0, then of course you can understand not changing the team. But Manchester United have just been humiliated 4-0 against Chelsea, struggled to 0-0 and 1-1 draws before that.
This team needs an injection of pace and fresh ability and Mkhitaryan could be the answer, but Mourinho needs to give him his chance.