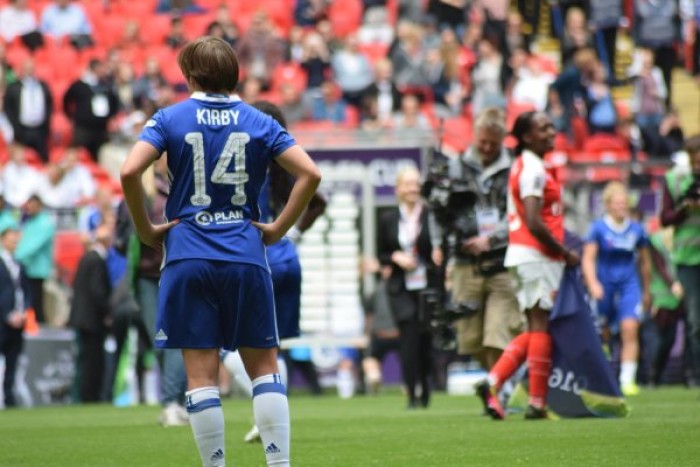 Another year and another season done. The end of the 2015 season saw Chelsea celebrating. This year, they are left wondering what went wrong.
Transfers
Arguably, one of the signings of the season happened for Chelsea when Karen Carney joined from Birmingham City. There had been rumours going around about this move and many people, including myself, didn't think it was going to happen so it was quite a shock when it did.
Carney was a well respected player at Birmingham and well versed in international football. Emma Hayes had worked with Carney twice before when at Chicago Red Stars and Arsenal. Carney was part of the quadruple winning team of 2006 alongside current teammates Gilly Flaherty, Katie Chapman and Gemma Davison.
Some young talent was brought in too with Jade Bailey signing from Arsenal and Becky Spencer also signing from Birmingham City. Bethany England completed the list of transfers when she signed from newly promoted Doncaster Rovers Belles.
There were also a fair number of outgoings. A few of the younger players went out on loan. Bristol City notably signing the most on loan as they signed Jodie Brett, Millie Farrow and Rosella Ayane in order to build a squad aiming for promotion. This was also good for the players as they could get some decent game time and showcase their talent rather than possibly warming the bench at Chelsea.
With Chelsea having signed Becky Spencer and young Fran Kitching having signed a professional contract, Marie Hourihan, who sadly missed most of the 2015 season with a broken collarbone, left to join Manchester City.
Continuing where they left off
Chelsea kicked off with an away Doncaster double as they made two trips to the Keepmoat within a week. First was the FA Cup 5th Round tie in which Chelsea asserted their dominance in a 4-1 win and started their quest for to retain the FA Cup crown. The opening WSL match went much the same way with the same scoreline and Beth England, who had signed from the Belles, scored against her old club.
The FA Cup run went on for Chelsea when they thrashed WSL 2 side Aston Villa 6-0. Aston Villa frustrated the Blues for most of the first half and respectively went into half time 1-0 down. However, goals from Fran Kirby, Eni Aluko and a hat trick from Ji So-Yun put Chelsea safely through.
The FA Cup Semi Final was next and it was a repeat of last season's fixture at the same time too. Chelsea won that fixture 1-0 and this year's fixture was close again and has to be one of the matches of the season. Having lost the title to Chelsea last season , Manchester City wanted to get some revenge by putting Chelsea out of the competition. They eventually went ahead in the 72nd minute after Jane Ross turned a rebound home.
It looked like that was it for Chelsea but Ji stepped and scored a sublime free kick to put Chelsea right back in it. The game went to extra time and despite both teams coming close, penalties loomed. A certain player had other ideas though. Fran Kirby had missed last year's FA Cup triumph as she was cup-tied.
It was a few seconds from time, Kirby was played through. She kept her cool and slotted the winning goal past Karen Bardsley which sent the whole of Wheatsheaf Park, bar the Manchester City fans, crazy. It seemed only right that this happened after missing out last year.
The winning run kept going with Chelsea beating fellow FA Cup Finalists Arsenal 2-0 in what was deemed to almost be an FA Cup Final rehearsal. Chelsea also won away to Liverpool 2-1.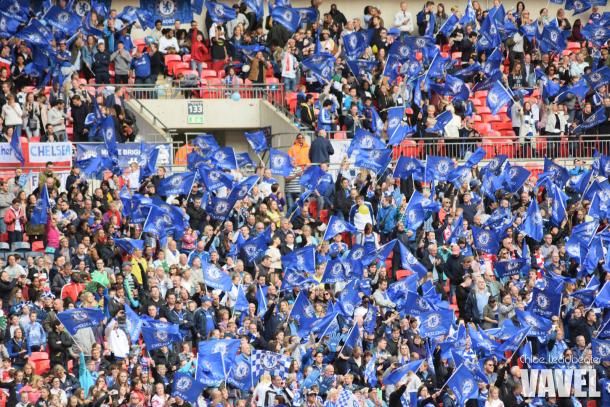 Most goals in a game this season but then a blip
Chelsea faced Liverpool at home this time after this fixture had to be postponed and rearranged due to a waterlogged pitch. The weather was the total opposite this time round as it was the hottest day of the year so far. This match was also one of the most attended matches this season and what a match it was. Katie Zelem sent the Chelsea faithful into shocked silence in the first minute with a stunning strike which Hedvig Lindahl couldn't have done much about.
This made Chelsea wake up and Carney levelled things up 8 minutes later. Fran Kirby put Chelsea ahead with one of the goals of the season. She exchanged passes with Aluko, was patient, used her skills to get past players and then scoring with a curling shot.
The goals didn't stop there though. Fran turned provider this time round for Drew Spence who slotted the ball home. Kirby was involved in all but one of Chelsea's goals on the day. Aluko put Chelsea 4-1 up going into the break. It looked like it was going to be fairly comfortable for them but Liverpool didn't go down without a fight
Goals from Caroline Weir and Emma Lundh put them right back in it with the scoreline reading 4-3. Fran Kirby and Drew Spence quickly put any hopes out with 2 goals in quick succession. The game ended in a 6-3 win for Chelsea and a game that had the most goals this season. It was a thrilling match to watch for fans and neutrals alike.
Chelsea then came back down to earth with a bump. They had the FA Cup final just a few days later whereas their opponents Arsenal had had a good break. Maybe the heat and intensity had taken its toll on the players but Arsenal outclassed Chelsea. A stunning strike from Danielle Carter put the Gunners ahead in the first half and whilst Chelsea did come close, it wasn't to be and they suffered their first heartbreak of the season.
Clearly this had effected them as they lost their unbeaten run in the league to title rivals Manchester City a few days later. They did regain some confidence however twice beating a Sunderland side that didn't seem to live up to the hype they had created last season.
The biggest shock in the history of the WSL and injury news
Near the start of June, Fran Kirby and Gilly Flaherty withdrew from the England squad due to leg injuries. The severity of the injuries wasn't known but Gilly Flaherty returned in the next match. Fran Kirby however did not. It later transpired that she had suffered a fractured kneecap which kept her out for many months. Kirby was such a crucial part in Chelsea's squad and was in some form with 5 goals in the league which put her as top goalscorer. This was a huge blow for Chelsea in their race to defend their WSL title.
With the FA Cup gone, Chelsea had another chance at silverware with the Continental Cup. The format for the competition had changed to a straight knockout. The Chelsea - London Bees match was the first match of a double header at The Hive with Reading - Arsenal happening afterwards. Chelsea beat the London Bees 13-0 and then 8-0 in the previous two seasons so it looked a sure bet that Chelsea would progress. Unfortunately it wasn't. London Bees may have been a league below but that day they really stepped up another level.
Chelsea lined up with seven first team players and then a few players that either hadn't had much game time or debuted this game. One of those was Fran Kitching who signed a pro contract before the season started.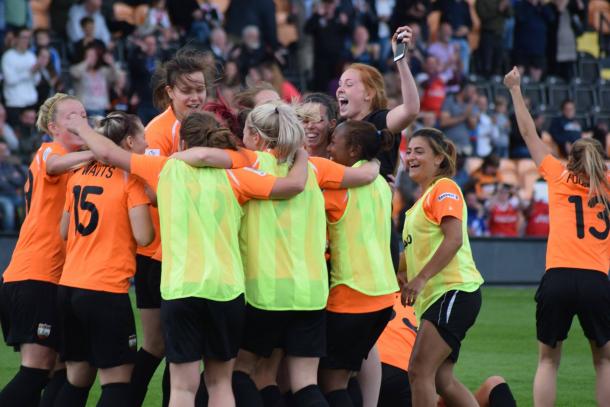 The Bees managed to do well to keep the Blues at bay with Beth England's strike the only difference at the half. The Bees grew more into the game as the second half went on and an unfortunate own goal by Flaherty levelled things up. Things went from bad to worse as Niamh Fahey was sent off after she dragged Jo Wilson down as she was through on goal. Wilson put the hosts ahead with 10 minutes to go and the upset looked to be on. Millie Bright scored in the last few moments to put the game into extra time. Beth England scored again in the first few minutes but Deanna Cooper put the Bees right back in it again.
It was to be penalties that decided who was to go through. Kitching saved first and Davison scored to put Chelsea ahead. Nikki Watts levelled it for the Bees and Karen Carney missed. Ashleigh Goddard put the Bees ahead and Ji So-Yun missed. The victory was in sight and the tension at The Hive palpable. Deanna Cooper put the Bees ahead even more but Gilly Flaherty kept Chelsea in it. It was all down to Merrick Will. Score and they were through. She calmly did so and the biggest shock in WSL history had happened. London Bees had beaten Chelsea.
Chelsea seemed to falter even more dropping crucial points to Birmingham and Arsenal. Manchester City looked to be pulling away and Chelsea needed to do something quick.
They responded with a 4-0 win over Doncaster who were looking at relegation. Chelsea then beat Birmingham 4-0. This result seemed odd as Birmingham had been quite solid in defence with 1 or 2 goals in most of their matches. They seemed to just crumble and it was a much needed win for Chelsea. The title race wasn't over just yet. they ground out a tough win versus Notts County and recorded a good 3-0 win against WSL 2 champions Reading.
Title decider
So it came down to this one game. Manchester City had the title within the grasp and Chelsea had the chance to visit the Academy Stadium and steal it from them. It wasn't to be however. Chelsea put in a good fight but Manchester City showed just why they deserved to be champions. City celebrated whilst Chelsea left heartbroken for a 3rd time this season.
The title may have been out of their reach but the Champions League was up next. Chelsea had been drawn against Wolfsburg yet again. Chelsea were thoroughly beaten 3-0 at Stamford Bridge but held their own in the away leg with a 1-1 draw. Chelsea left the Champions League with their heads held high and positives to be taken.
They needed just 2 points from their last two games to secure Champions League for a 3rd season in a row. Chelsea faced Reading at home. It also turned out to be Fran Kirby's return, 5 months after she last played. She had an action packed return but didn't score. However, Chelsea did become the first WSL team ever to secure Champions League football 3 seasons in a row with a 3-2 win.
This made the final game of the season a dead rubber but Chelsea didn't treat it as such. After a tumultuous season, they wanted to end on a high and they did. They faced a Notts County side which was down to its bare bones having been ravaged by injuries all season. Chelsea ended their season with a 3-1 win and some confidence restored.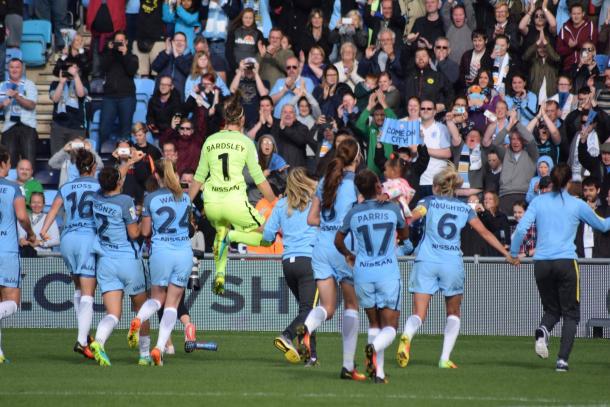 Next season
It's been a rollercoaster season but sometimes you need it so you can identify what gaps you have or what things you can improve on in order to go again next season. With the switchover to a winter season, Chelsea have some time in order to reshuffle. They have suffered heartbreak before back in 2014 and came back to win the league and FA Cup double the following year. It can be done again and they will want so badly to do so again.
Everyone was shocked at the signing of Karen Carney this season but going forward big signings shouldn't shock us as Chelsea are a team that can make these huge signings. With a couple of big players rumoured to be leaving their club, Emma Hayes might swoop for them. Chelsea seem to be fairly secure with their goalkeeping line up of Hedvig Lindahl, Becky Spencer and Fran Kitching. There is also speculation over Ji's future at the club.
For now, it seems she will stay for the Spring Series but whether she will stay after that, things are unclear. Defence is certainly an area that needs to be worked on as theBlues scored the most in the league but conceded a lot. Another striker may be needed. It was such a huge loss when they lost Kirby and having someone being able to fill in the role quite well could help. Hopefully she won't get injured next season because it is clear to see how world-class she is with a good run of games.
Winning the Spring Series will be in the minds of all the players with this being a one off and a chance to get a unique title that no one else will ever get.
Chelsea may have had their hearts broken this season but don't expect them to lick their wounds. They will come back roaring.