In the dying minutes of the 2015 summer transfer window, a deal was being struck to transfer David de Gea to Real Madrid, with their goalkeeper Keylor Navas coming in the opposite direction.
In a bizarre twist, a dodgy fax machine meant that the deal did not go through, and a protracted saga came to an incredible anti-climax.
In the aftermath, De Gea signed a new contract and it is thought that it includes no clauses allowing him to be transferred to Madrid. As such, United have enjoyed his brilliance and peace of mind as the rumour mill came to an abrupt halt. Until now.
Standard quotes, inevitable speculation
This week, De Gea gave an interview to Spanish media outlet AS and inevitably was questioned about his future. His quotes were standard, but have opened the door once again for speculation. He said:
"Nobody knows the future. The future is the future. I'm very happy at United, it's a great club. I'm enjoying my football in England."
Regarding the move to Real Madrid, he said "I will not talk about that. On that subject, I will not talk anymore. Now I must stay focused with my club."
He didn't give anything away, but he didn't make any denials, and as a result questions are once again being asked. In Jose Mourinho's press conference ahead of the game with Watford, the United boss spoke at length when asked about De Gea.
"I have nothing to say on De Gea because I am not going to speak about hypothetical things," said Mourinho. "The only thing that is real is that he is my player, I am happy with him, I know that he is happy with me."
"With Mr (Florentino) Pérez (Real Madrid owner) and his right arm José Ángel Sánchez, they are some of the people in football that I can say I did not work for them and then it is over. I can say that we are friends forever, big friends. Friends speak, friends are open friends are honest. So, if at the end of the season I want one of their players or they want one of our players, we will not do it through the press. We will be very direct. So they are one of the clubs that I am not worried about at all."
Perez also made comments but he suggested that someone was "messing about" and insisted Madrid were happy with Navas. So, he is not off to Madrid, because Madrid don't do underhanded tactics, do they?
It is hard to know what to make of it all. Taking every quote at face value, it appears it is merely a case that every journalist that gets a sit down with De Gea have to broach the Madrid angle, and that sets the wheels in motion.
Mourinho in control
Yet, Madrid would do anything to get a transfer over the line, asides from installing a functioning fax machine. However, the way Mourinho has handled transfers both incoming and outgoing suggests that United really are in control of this situation.
His summer signings have been brilliant, and look value. In ostracising Bastian Schweinsteiger , he appeared callous, yet it was simply business. He wanted him out, but when the player refused and buckled down to work, Mourinho accepted the situation and has since brought him back into the fold.
He decided that Morgan Schneiderlin was not for him and eventually moved him on, but not before United got a decent fee. With Memphis Depay, he again had reservations, and it made sense to sell at a small loss, but crucially with a buy back clause.
In January, he refused to get out the chequebook despite strong speculation around the Benfica defender Victor Lindelof. He is placing trust in the squad and has been very clear recently that he already has his summer targets and they will be low in volume, but you can expect them to be high in quality.
De Gea still crucial to United
He will not want anyone to leave that he wants to keep, and De Gea would most certainly fall into that category. It would be a crushing blow if United lost De Gea. It is simply not possible to replace him.
Any 'keeper that can be mentioned in the same sphere that De Gea operates at is unattainable. United do not have anyone in their own ranks that can step up.
Sergio Romero has been an excellent deputy. During the initial saga he was chosen ahead of De Gea. He was criticised heavily when United lost to Swansea City, as he was culpable for one of the goals. Prior to that he had kept clean sheets and made crucial saves. But he is not at De Gea's level.
Sam Johnstone is very highly rated, and is now enjoying a spell on loan with Aston Villa, but he will be 24 soon and has not really had any elite level experience. It is unthinkable that he could step up and unlikely he will ever own the No.1 jersey at Old Trafford.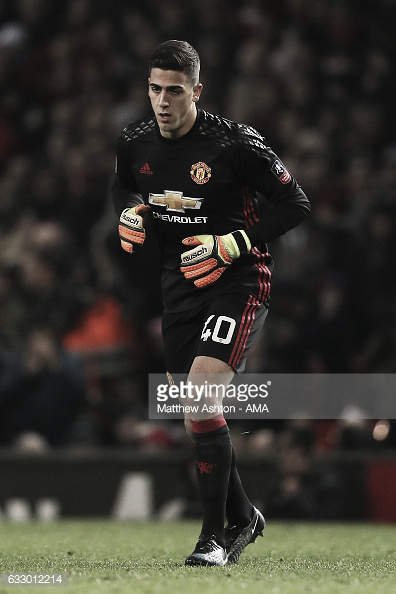 United do have a potential star in Joel Castro Pereira, the 20-year-old old Portuguese stopper who made his debut as a substitute in the FA Cup victory over Wigan. He was brought back from a loan in Portugal with Belenenses, where he was impressive, as cover due to Johnstone's loan. He may replace De Gea one day, but it won't be in the summer.
It would be madness if Mourinho sanctioned a move, and whilst it will probably not alter anything regarding De Gea, United's hand will be strengthened if they can achieve success in some form this year.
Qualification for the Champions League is imperative, and that would remove one reason why players would seek to move elsewhere, and on the flip side give United greater bargaining power for potential signings.
The summer is a long way off, but this week has shown that the De Gea situation may not yet have run it's full course.