Manchester United have one foot in the next round of the Europa League after a 3-0 win over AS Saint Etienne in the first leg of round of 32 at Old Trafford. Zlatan Ibrahimovic's hat-trick helped United to get the upper hand in the tie.
Jose Mourinho fielded a strong lineup on Thursday. United were not at their best as Saint Etienne got numerous chances to score. However, the home side's clinical nature in front of the goal helped them to get over the line despite a rusty performance. The following lessons were learnt from the game against St. Etienne.
Martial has turned a corner
Anthony Martial started the game against the French side after a promising performance against Watford last week. The French forward has been in and out of the starting eleven throughout this season. Mourinho has been critical about Martial publicly as the forward has not been able to emulate his debut season's heroics.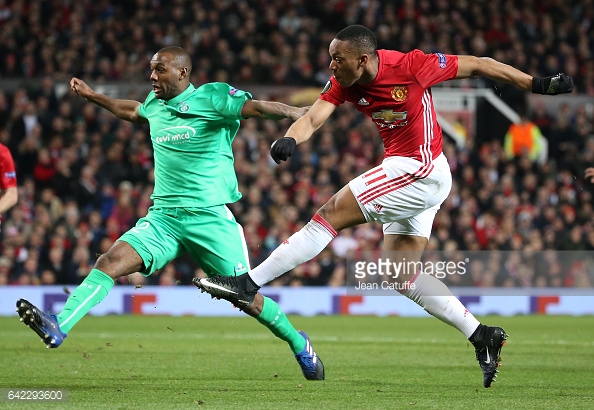 However, Mourinho admitted that Martial has been working hard in training and the former Monaco forward was yet again impressive against St. Etienne - even looking as they he could earn his place back in Mourinho's preferred eleven. Martial was dangerous going forward and also did well with his defensive duties. The French forward might get a rest against Blackburn Rovers on Sunday, but he has surely passed Mourinho's test.
Pogba dominant in a two-man midfield
Jose Mourinho has used different formations this season. He had settled for a midfield three of Michael Carrick, Ander Herrera and Paul Pogba for quiet some time but the Portuguese switched to a midfield two of Pogba and Herrera against Leicester City and used the same against Watford.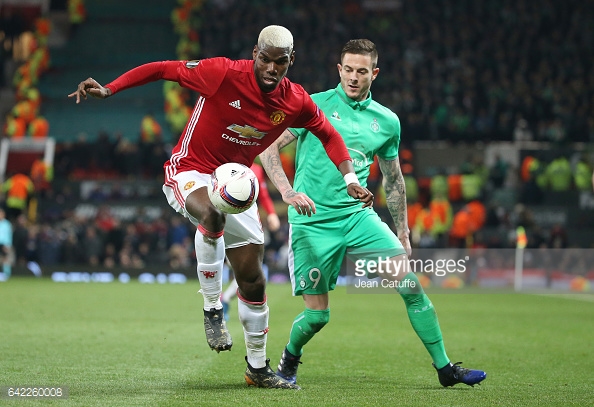 Pogba delivered good performances on the left of the midfield three, but struggled in the two man midfield at the start of the season. However the Frenchman has been doing well after the latest change in formation. Pogba was very good against St. Etienne with his distribution and also came close to scoring a couple of times.
Mourinho should use Rashford as an impact substitute
Marcus Rashford marked his 50th appearance for Manchester United in less than a year on Thursday, The teenager coming off the bench against St. Etienne. Rashford has not been able to emulate his explosive first season this year although this is quite normal for a 19-year-old. Rashford created United's second goal against Saint Etienne.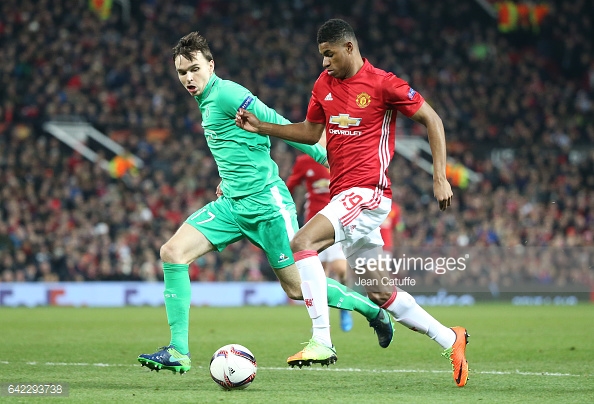 Mourinho should be wise with the handling of the young forward. Rashford has been at his most devastating this year as an impact substitute and this should be his role for the remainder of the season, particularly with Ibrahimovic in fine form. Martial has regained his form which can also allow Mourinho to use Rashford as substitute. The teenager is gaining a lot of experience this season while training with Ibrahimovic and he should be used as an impact substitute in key games till the end of the season to get the best out of him.
Herrera gets a much needed rest next week
On the day where Pogba was good, Manchester United's remaining midfielders struggled. Marouane Fellaini was substituted after a poor half as Mourinho switched to a midfield two of Herrera and Pogba. Herrera has been the most consistent performer for United this season, however he was one of the poorest players in a red shirt on Thursday.
The Spanish midfielder was sloppy and lost the ball in dangerous positions on a number of occasions. He has played a plethora of matches this season compared to his first and second season at Old Trafford which could have arguably had an effect on his displays.
The suspension he will receive for the away tie following another yellow card at Old Trafford is a blessing in disguise for Herrera as he gets a deserving break before EFL cup final against Southampton at Wembley. He has been a key component in United's midfield and a good rest next week can help him to get back to his best.
Mourinho's proactive management continues to reap rewards
Mourinho's proactive management helped United to recover from a rusty first half on Thursday. The Portuguese continues to show that he can affect the game from touchline, for example when he made a change in formation and introduced Jesse Lingard in place of Fellaini for the second half which brought more stability for United. The United boss has shown numerous time this season that he is not scared to make changes at half time if things are not going well.