The feeling on Merseyside is that Liverpool are much better equipped to deal with the loss of Philippe Coutinho than the stars the have preceded him in departing L4.
Since 2010, the Reds have seen Fernando Torres, Luis Suarez and Raheem Sterling all move on to new ventures, failing to replace them as individuals or even deal with their departures as a team.
This time, it's supposed to be different. This Jürgen Klopp side have much more quality across the squad than when Suarez left, and are in a much stronger on-field position than when Torres and Sterling went to Premier League rivals.
Liverpool don't have the financial clout of the Manchester City's and Real Madrid's of this world, but they're well at the front in the 'second tier' of spending power, especially with £142 million burning a hole in their pocket after Coutinho's sale to Barcelona.
But when do they grab that money, place it into the coffers of another club, and land a player in the process?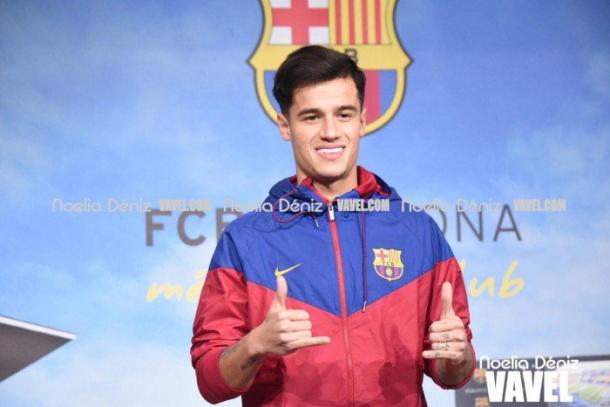 Reds could settle, for now
Whilst contingency plans have been made by those in power at Anfield over how they'd go about replacing Coutinho, it's always easier said than done - especially in January.
Of the biggest 20 transfer fees in football history, only three deals have been struck in the January, a footballing 'seller's market' if ever there was one.
In those three, sporadic, deals, Liverpool have been the selling party twice. The other time, the Reds' purchase of Virgil van Dijk.
Liverpool know better than anyone the perils of major activity in January, and can have no complaints should they have their fingers burnt in overpaying for a replacement or simply failing to find one at all.
To avoid that, they could simply keep the money in reserve with the summer in mind, though that would be the biggest risk Klopp has taken yet at Anfield.
Do or die for Reds
Should Klopp put the money aside for longer, Alex Oxlade-Chamberlain and Adam Lallana would likely take up Coutinho's mantle, at least in minutes played.
Even though Lallana is a welcome return from injury, he's never come close to putting up the goal or assist numbers that Coutinho has this season and at 29-years-old is unlikely ever to, let alone at the back end of a season in which he's barely featured.
Oxlade-Chamberlain has shown considerable promise since joining, but the qualities that have impressed fans most have been the energy and dynamism of a midfielder, not the goals and assists of the attacker Liverpool need to replace Coutinho with.
Should Klopp gamble on that pair, even if just for six months, it could prove to be detrimental.
Liverpool are battling for the top four, and remain in both the Champions League and FA Cup. They're well positioned to attract a Coutinho replacement.
Should they fall out of the top four come the end of the season and go into the summer trophy-less, that situation may well have changed.
So, chase someone in January that would have a slim chance of arriving, plus a huge fee, or risk sticking with what you've got and having summer options limited if there's no European football on offer by then.
Is there a middle ground for Klopp?
Someone, not 'The One'
There is always the option that Liverpool spend in January, just not on a Coutinho replacement.
'Stop-gap' is a term that's unbefitting of players that harbour the qualities that the likes of Riyad Mahrez and Lucas Moura possess, but a term that Liverpool should be considering when discussing how best to finish the season.
Mahrez and Moura, both on the wrong side of 25, don't fit the age profile that Liverpool would be looking at to replace Coutinho, but each have a skill-set that would allow them to fit nicely into Liverpool's attack, albeit on a short-term basis.
They're the type of signing that could come in for money separate to the 'Coutinho replacement fund', but help steer Liverpool further on their upwards trajectory until the perfect man becomes available.
The Reds could go another way, and invest on another centre-back to partner Virgil van Dijk. Maybe a goalkeeper, to finally replace the ever-unconvincing Simon Mignolet?
The general feeling is that you can off-set the Coutinho loss for six months by strengthening the side elsewhere, and then buying 'the one' in the summer.
But, doing nothing would place so much strain on Liverpool's current squad that it could spell disaster both in the short and long term.
'The one' can wait until the summer, but there has to be someone this month.