 Tottenham Hotspur beat Manchester United 2-0 at Wembley on Wednesday behind a Christian Eriksen strike and an own goal from United defender Phil Jones.
Spurs found themselves in front after just 11 seconds, and two goals up before the half-hour mark. Tottenham cruised through this game and could have won by far more than they did.
Abject display from United
Just as happened last season at Chelsea, in a high-profile encounter against quality opposition, Manchester United began this game fast asleep.
While replays showed that Harry Kane was offside when the game kicked off and the opening goal technically should not have stood - a poor refereeing mistake - that is no excuse whatsoever for conceding a goal just 11 seconds in.
Antonio Valencia and Ashley Young were both sleepwalking in United's penalty box, leaving Eriksen all alone to scoop up a rebound and fire the ball into the back of the net. He did so under no pressure, and with all the time in the world inside of 12 yards.
After the dreadful start, United attempted to get back into the game, and briefly looked promising.
Alexis Sanchez, making his Premier League debut, had dangerous flashes and Anthony Martial got in behind Spurs' defense on a handful of occasions.
Yet, United could not fashion a clear-cut chance, and before long Tottenham were dictating the play.
It was clear that United's tactics were completely wrong for the situation they found themselves in. With Sanchez, Martial, and Jesse Lingard lined up in a fluid attack behind Romelu Lukaku, the Reds had set themselves up to counter, as they did so well at Arsenal last month.
The only problem with those tactics is that they aren't easily adapted to playing from behind. And United trailed for all but 11 seconds. Things got no better for United's back line, with Phil Jones turning a Kieran Trippier cross into his own net 28 minutes in.
Trippier, after finding himself in acres of space on the right wing, whipped in a dangerous cross along the six-yard box. While the ball was good, Jones looked capable of dealing with it and was under little pressure. His mis-clearance easily beat David De Gea.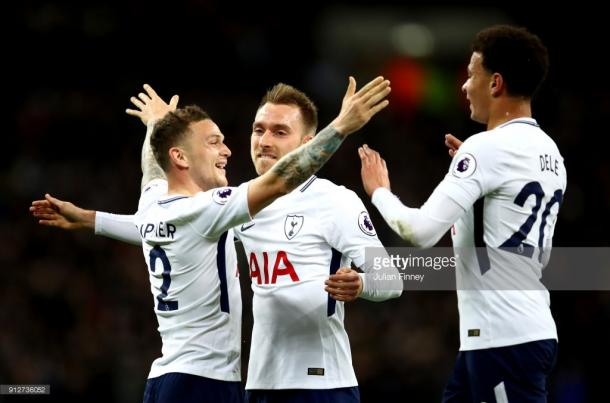 Two goals down, United looked even more lost, the two-man midfield of Paul Pogba and Nemanja Matic unable to bypass Spurs' high pressing.
Lukaku was left completely isolated, and at times it seemed the only attacking ideas the Reds had involved hitting hopeful balls into the space between Davinson Sanchez, Jan Vertonghen, and Hugo Lloris.
Jones and Chris Smalling, his partner in central defence, did not improve as the evening went along. The defence and midfield just could not link up.
A combination of losing markers and giving the ball away cheaply gifted Tottenham a hatful of chances. Only another sharp performance from David De Gea kept the scoreline from getting worse than it already was.
On the flip side, this was the best Tottenham have looked in a couple of weeks. They played poorly a week and a half ago drawing away to Southampton, and even worse in their 1-1 draw at Newport County in the FA Cup last Saturday.
Tonight, Spurs were a team transformed and deserved their second victory of the season over top-six opposition.
The fact that Tottenham entered the game in such patchy form only makes the performance, and result, that much more painful for United.
What next for Mourinho's men?
Jose Mourinho's team played easily their worst game since losing to Manchester City on 10 December. City beat West Bromwich Albion on Wednesday, stretching their lead at the top of the table back to 15 points.
With only 13 league matches left, it would take a truly seismic event for anyone but City to win the league. Long since eliminated from the League Cup, that leaves United with the FA Cup and UEFA Champions League to play for.
In the next three weeks, the Reds will play either Birmingham City or Huddersfield Town (replay pending) in the FA Cup 5th Round before traveling to Sevilla in the Champions League Round of 16.
With City all but crowned league champions, and in the final of the League Cup, Pep Guardiola is well on his way to at least a domestic double. However, the blue half of Manchester is now eyeing a treble or even a quadruple.
With the cups as United's only avenue to silverware this season, and City's potential for a historic run across every competition this year, the FA Cup and Champions League have taken on added significance for Mourinho.
Growing United's trophy cabinet and stopping City's march are almost equally important for the Portuguese.
Considering how difficult it became to watch United at the end of last season after Mourinho abandoned the league in favor of the Europa League, hopefully he will not take that option again this season to chase an FA Cup or Champions League title.
However, the stakes for the next six weeks have been raised. United cannot afford further performances like Wednesday's as they get closer to the season's pivotal moments.