'At the start of the season, we set out to win every competition we enter. We set out to win every game. Whilst it's not very likely, that is our ambition.
We are one of the biggest clubs in the world, and there is a responsibility to us to deliver trophies. Our fans expect it, we expect it.
Tonight we have exited the Champions League and we are all disappointed. We lost to a very good team in Sevilla. A team with a great record over recent seasons in knockout competitions.
Over the two games, we did not perform well. We can perform at a much higher level. When you do not perform well, this is the result.
We must try hard to put this behind us, starting with our FA Cup tie with Brighton at the weekend. We must ensure that we are in the Champions League next year, and we will try and improve. Thank you.'
That was the statement that Jose Mourinho should have delivered in the wake of the Champions League exit, or something along those lines.
Short. To the point. Not hiding, accepting the failures but not in any way being disrespectful. To anybody, least of all Manchester United.
That's exactly what he was on Tuesday when he tried to belittle United and suggested that the last 16 of the Champions League is about their level.
If he felt he needed to, he could remind people of his past glories, but he didn't have to point out United's past failings. Still, in the wake of a painful defeat, with emotions running high things can get said that don't sit well.
When he came prepared with a statement and delivered a 12-minute diatribe with more of the same on Friday, then this was not emotion, this was an agenda.
Mind games
After an awful performance, two in fact, and a pretty embarrassing way to go out of the Champions League he masked over the crux of the issue. The players' performances.
In amongst all of his self-promotion and his insults, he suggested that the performance wasn't all that bad.
"I don't think the performance was bad, I don't have regrets. I did my best, the players did their best. We tried, we lost and that is football."
Seriously? The fact that three days later he was still on the warpath, still angry, suggests that he didn't believe that for a second. If he did, then he is in a minority of one.
Mourinho's soundbites and now his speeches are done for effect. He tries to provoke a response.
This was an astonishing way to protect his players, provoke a response from his players or ask for more money from his board - if that's what he was trying to do. Whatever his reasons, he hardly alleviated the negative aura surrounding the club.
Cup Final spur
An FA Cup tie against Brighton and Hove Albion should have evoked memories from a distant past when football and life were much different.
United and Brighton contested the 1983 FA Cup final, and the first game was fantastic for a neutral ending 2-2 after extra time and provided drama until the finish.
The replay was fantastic for United fans, with United routing the Seagulls 4-0. "Captain Marvel", Bryan Robson, led the way with two goals.
If Mourinho wanted to get a response from his players then he could have done no worse than to show videos of those two games.
The first showed plucky, relegated Brighton, giving United the shock of their lives and almost breaking their hearts. The second showed how to do it right as class told.
Those games represent part of United's history. Glory.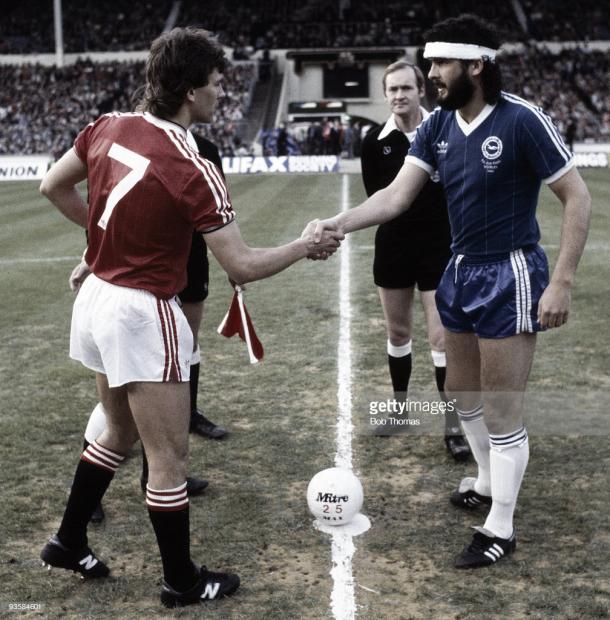 As it was, whatever tactics Mourinho used to motivate the current team didn't seem to work. United won 2-0, but whether it was that much better than Sevilla is questionable.
United lose, Mourinho is happy with the performance. United win, he is apoplectic.
This time, he launched into his players. He singled out Romelu Lukaku and Nemanja Matic for praise during his rant on Friday, and they provided the goals that defeated Brighton.
Matic was again exempt from criticism but he delivered a scathing assessment of the game and the players involvement.
'I didn't like the game, I think we deserved to win but we did not play the way I wanted them to play, I did not have the reaction from all of them. I had the reaction from some of them and because some of them were mentally strong enough and with the football quality to play was the reason why we won.
But a team of 11 when you don't have a minimum of six, seven players performing and wanting to play and wanting to have the responsibility to have the ball, the desire to really play - because one thing is to play and another is to be on the pitch - it's difficult to have a good performance."
Brutal, but this time probably honest and again possibly misguided.
Had he not been self-effacing, demeaning to United and protective of his players in the build-up then he would have been within his rights to call at as he saw it.
As it is, I doubt any of the players will be feeling happy today despite reaching the last four of the FA Cup.
Problems with individuals
Add to this the subplots surrounding Paul Pogba, Alexis Sanchez and Luke Shaw and it is fast becoming an intolerable situation.
With Pogba, it is now becoming a long-running saga. He is not playing well, there are question marks over his attitude and this is not something that reflects well on anybody.
Sanchez has been woeful since his move from Arsenal. Mourinho has accommodated him to the detriment of others, and leaving him out against Brighton was probably one of the things Mourinho has got right this week.
Shaw got a rare start ahead of Ashley Young. He didn't really impress, but he didn't do much wrong yet he was harshly removed at half-time. It will no doubt be another hammer blow to his fragile confidence.
Mourinho is meticulous in his preparation. He places a huge emphasis on attention to detail. His decisions to leave out Scott McTominay and play Marcus Rashford on the right against Sevilla were no doubt what he thought was right.
His team selection against Brighton and the removal of Shaw at half-time were also what he felt was best.
He didn't get the desired results, and he accused his players of lacking desire.
Maybe he needs to look at himself, and how he conducts himself. The persona he presents where he is on a different wavelength to anyone else, and that he is above criticism is becoming tiring.
The players are not performing, but that is his responsibility to change that and having digs at the world and his wife is unlikely to be the right way of going about it.
Mourinho's highlights are also in the past
His greatest triumphs, the ones he is so keen to remind us of, came in 2004 and 2010 when he beat the odds. Neither of those teams could be classed as the best in history, and neither contained any superstars of note.
The squad he has at his disposal now is an upgrade on both those sides. The Real Madrid side he managed for three seasons was also far superior, and he managed to win one cup, a domestic super cup and one league title. Not bad, but not what was expected.
At United, he has youth, experience and no shortage of talent at his disposal. He is probably feeling let down by the players right now, and understandably so.
Sometimes, tactics and mind games need to be put to one side though and it is time for him to use his man management skills to bring the best out of everyone.
He won two trophies in his first season with United, and the football has generally been a huge improvement on what had gone before. He has been backed financially and is likely to be backed further in the summer.
It shouldn't be all doom and gloom, and there is no reason to jettison Mourinho. There are a lot of problems of his own doing though, and unless he can resolve them then he won't be at United in the long term.
Maybe that would be for the best. He is accusing players of not showing desire, and as a result, saying that they cannot handle being at United.
It's a two-way street though and if he cannot get the best out of a group of talented players, including his own signings, then maybe he can't handle being at United either.