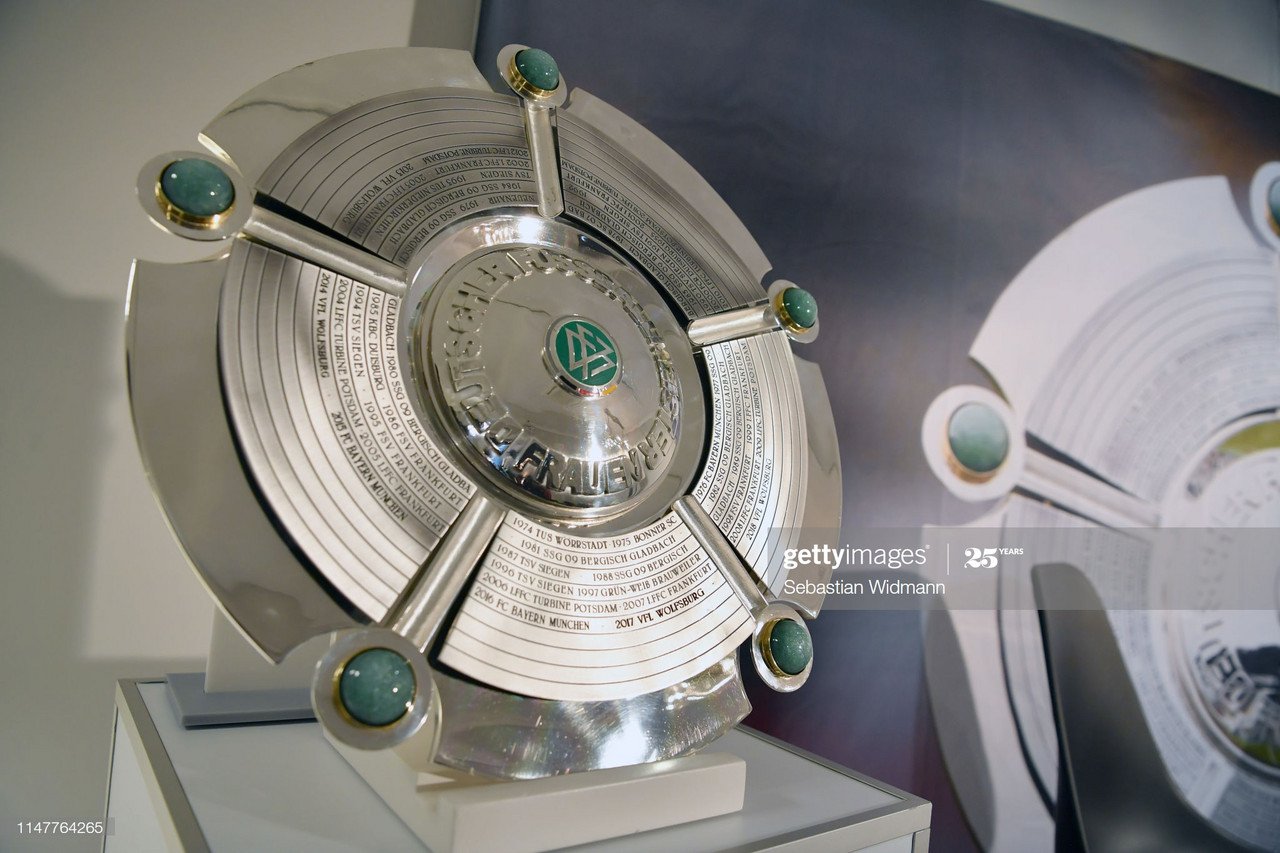 The Frauen Bundesliga will return when VfL Wolfsburg play FC Köln on Friday 29th May as part of matchday 17, the DFB (German Football Association) confirmed on Wednesday.
It will be the first major women's football league to resume in Europe after it was suspended back in March due to the COVID-19 pandemic.
The league has six matchdays left to play, as well as some replays of postponed matches from earlier in the season.
On the decision for the league to resume, DFB President Fritz Keller said:
"I am very happy that the clubs of the FLYERALARM Frauen Bundesliga have expressed their unity in favour of continuing the season.
"This is exactly what we need in the crisis. The return of the Women's Bundesliga is another important step towards a kind of normality in football as well as in society.
"The FLYERALARM Frauen Bundesliga is thus taking on a pioneering role in international women's football."
DFB Pokal
As well as the top-flight of domestic football, the Frauen DFB Pokal is also set to resume.
The quarter-finals are due to be played on the 2nd and 3rd of June:
Bayer Leverkusen - TSG Hoffenheim
FSV Güttersloh - VfL Wolfsburg
Arminia Bielefeld - SC Sand
1. FFC Turbine Potsdam - SGS Essen
The semi-finals will take place on the 10th and 11th of the month, with the final at 1.FC Köln's RheinEnergieStadion on the 4th of July.
Hygiene plan
The Frauen Bundesliga will follow a similar hygiene plan to what was developed by the DFB and DFL for the men's Bundesliga and 2. Bundesliga, with continuous testing for players - funded by a solidarity fund set up by the men's Champions League clubs.
The main difference between that for the DFL and the Frauen Bundesliga is the number of people allowed at the games.
A maximum of 128 people will be allowed in the stadium and the area surrounding it, with policing, stewards, ten journalists and TV production crews accounted for in that figure.
Only 83 people will be allowed in the inner area of the stadium, with a further 35 in the stands and 10 outside of the ground.
TV news
The matches will be broadcast in Germany by the Frauen Bundesliga's normal television partners.
This means that 1. FFC Frankfurt vs SC Sand on the first day of fixtures will be available to watch on Eurosport and Magenta Sport from inside of Germany.
It is not yet clear whether there will be any international broadcasting available to watch the league from abroad.
Fixtures
All times shown are in British Summer Time (BST)
Matchday 17
Friday 29th May
13:00 VfL Wolfsburg - 1.FC Köln
18:15 FFC Frankfurt - SC Sand
Saturday 30th May
12:00 Freiburg - Turbine Potsdam
12:00 Bayern Munich - Hoffenheim
13:00 Leverkusen - MSV Duisburg
Matchday 12 replay
Thursday 4th June
17:00 MSV Duisburg - Köln
Matchday 18
Friday 5th June
18:15 Hoffenheim - Leverkusen
Saturday 6th June
12:00 Wolfsburg - FFC Frankfurt
Sunday 7th June
13:00 Köln - Essen
13:00 Duisburg - Sand
13:00 Jena - Freiburg
13:00 Potsdam - Bayern Munich
Matchday 15 replay
Wednesday 10th June
Matchday 19
Friday 12th June
18:15 Frankfurt vs Duisburg
Saturday 13th June
Sunday 14th June
13:00 Bayern Munich - Jena
13:00 Freiburg - Köln
13:00 Leverkusen - Potsdam
13:00 Sand - Hoffenheim
Matchday 20
Wednesday 17th June
13:00 Wolfsburg - Freiburg
13:00 Köln - Bayern Munich
13:00 Potsdam - Sand
14:00 Jena - Leverkusen
15:00 Hoffenheim - Duisburg
17:00 Essen - Frankfurt
Matchday 21
Sunday 21st June (No times or dates confirmed)
Sand - Jena
Bayern Munich - Wolfsburg
Freiburg - Essen
Hoffenheim - Frankfurt
Leverkusen - Köln
Duisburg - Potsdam
Matchday 17 replay
Wednesday 24th June
Matchday 22
Sunday 28th June (No times or dates confirmed)
Wolfsburg - Leverkusen
Jena - Duisburg
Potsdam - Hoffenheim
Essen - Bayern Munich
Köln - Sand
Frankfurt - Freiburg