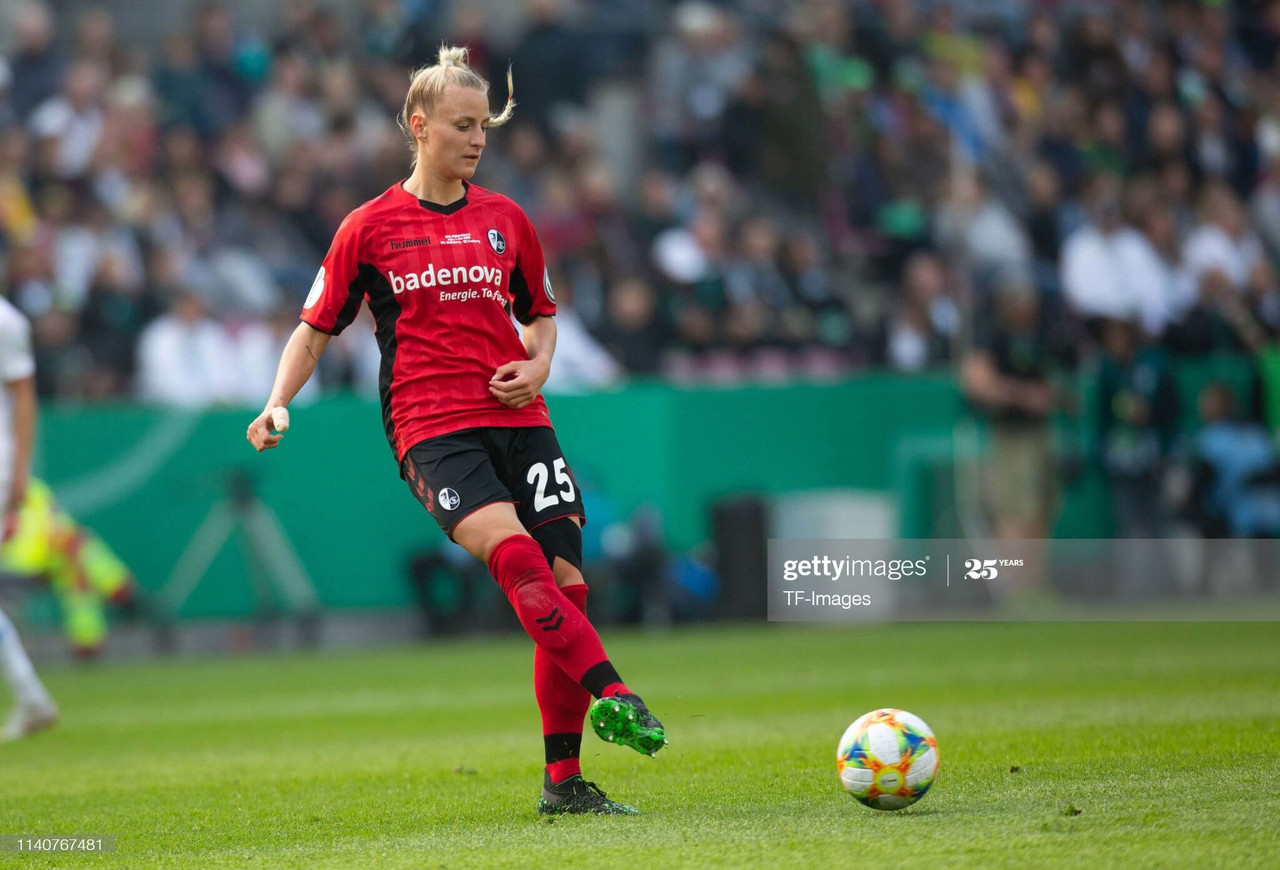 Eintracht Frankfurt have today announced the signing of 27-year-old defender Virginia Kirchberger.
She is the third signing for the Eagles in as many days, with Merle Frohms and Lara Prašnikar also having recently joined.
Kirchberger has signed a deal that will see her stay in Hessen until the end of the 2021/22 season, after having recently departed SC Freiburg.
'Gini' is the fourth Austrian in Eintracht's side, with Verena Aschauer, Barbara Dunst and Laura Feiersinger having been at 1.FFC Frankfurt last year.
'A real sense of optimism'
Speaking to eintracht.de when her transfer was announced, Kirchberger spoke of her excitement to start playing for the Hessisch side:
"There is a real sense of optimism in Frankfurt. Everyone at Eintracht looks ahead confidently, but extremely professionally. That is an attitude that I can identify with 100%.
"It is a challenge that comes at exactly the right time for me after two great years in Freiburg
"I am convinced that I can continue to develop in Frankfurt and I am happy to take on responsibility. I am completely convinced of the developmental potential of the team and would like to use all my ability for the success of Eintracht in the coming years."
Career so far
The 27-year-old brings with her a wealth of Frauen-Bundesliga experience, with nearly 200 appearances in the first and second tiers of German football.
She has experience with Bayern Munich, BV Cloppenberg, MSV Duisburg, 1.FC Köln, MSV Duisburg and SC Freiburg.
In the 2018/19 season, she was part of the Freiburg team which reached the final of the DFB Pokal, only to be defeated by VfL Wolfsburg in Köln.
She was also a member of the Austria squad which reached the 2017 European Championships, and she has featured over 50 times for her country.
Speaking to the club's website when the deal was announced, sporting director Siegfried Dietrich praised Kirchberger's experience: "In addition to her healthy, confident demeanour, her qualities as an attacking defender, Virginia also has national and international experience."