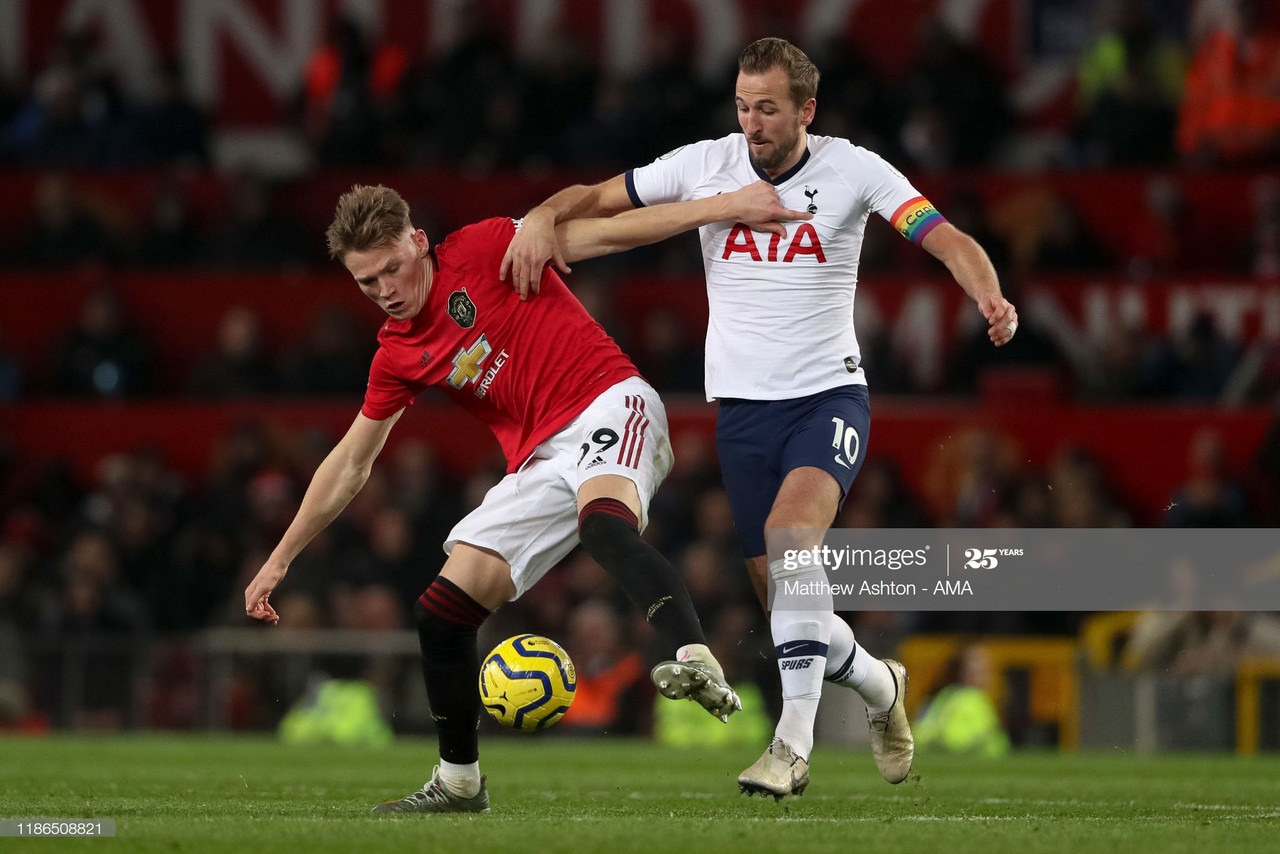 Manchester United travel away to Tottenham Hotspur on Friday, this game will be both teams first game back after the break, due to the coronavirus.
Going off form, Man United come into this game as favourites with Spurs struggling to find any consistent form before the Premier League was paused.
Ole Gunnar Solskjær's side seem to have turned a corner since they suffered a disappointing loss to Burnley back in January. Since then The Red Devils have gone 11 games unbeaten, keeping 9 clean sheets in the process, meaning Jose Mourinho's team will have to work very hard to break down United's defence.
Spurs, on the other hand, have struggled massively this season in the Premier League, they've conceded the joint most goals in the top 11 (40 goals conceded - only joint by Sean Dyche's Burnley). Although the team have been unlucky with injuries this season,with them losing key men for long periods of time, the North London side will be very disappointed with their campaign so far.
Both teams have key players returning, however, everyone will have to readjust to the intensity of the Premier League meaning the game could take some time to get going.
Paul Pogba has been back in training for some time now after recovering from ankle surgery, the midfielder hasn't started a game for United since September. His possible link-up with January signing Bruno Fernandes is keeping United fans in dream land of what there might be to come.
The man of the moment, with all his charity work and on-going, successful fight to help children, Red Devil, Marcus Rashford has also been back in training for a while after suffering from a back injury earlier this year. Odion Ighalo has also recently signed a loan deal and could start over the Englishman after impressing since his arrival. Not to forget about Anthony Martial who will most likely be the United bosses choice.
Spurs are set to have their talisman, Harry Kane, back and ready for Fridays game after being out since New Years Day because of a serious hamstring injury. The England captain is said to be fitter than ever and is raring to go, with nine games remaining he'll be hoping to help his side achieve a Champions League place.
Midfielder Moussa Sissoko and Welsh left-back Ben Davies are both back and available for Mourinho. However, English attacking-midfielder Dele Alli is suspended and will miss Friday's clash because of an offensive social media post about the coronavirus, made back in February.
Tottenham Hotspur - Lloris; Aurier, Alderweireld, Vertonghen, Davies; Dier, Fernandes, Ndombele; Bergwijn, Son; Kane
Manchester United - De Gea; Wan-Bissaka, Maguire, Lindelöf, Shaw; Matić, Pogba, Fernandes; James, Rashford; Martial
Tottenham Hotspur - Harry Kane
Spurs' all-time Premier League leading goalscorer is back fit and will be looking to inspire his team and with his finishing ability will be a massive threat to United. Kane despite his injury has managed to get 11 goals in 20 games so far in the league and remains their top scorer for the season so far.
Rumours have emerged this season that Kane potentially wanted to leave the club, this is because the England striker told Jamie Redknapp in an Instagram Live that: "You know me as a person, I want to win at everything I do so when you are getting close and you don't quite get there it is hard to take and then it starts to build up.
"Of course I want to win team trophies and I want to be doing it sooner rather than later but we will just have to see how it goes."
These words led the media to believe that Kane could end up transferring to United in the summer, however, these rumours were denied and deemed not to be true by Sky Sports reporter James Cooper.
The 26-year-old has shown over his career at Spurs that he knows where the goal is and will be looking to add to his already impressive tally (136 Premier League goals in 201 appearances).
Manchester United - Bruno Fernandes
Since joining The Red Devils, the Portuguese international has shown his class, playing five times in the league, scoring twice and assisting 3 goals, that's a goal contribution every game.
The 25-year-old has become a fan favourite at Old Trafford and has recently been said to be developing into a good leader at the club.
United fans remain optimistic and excited about the prospect of Fernandes and Pogba playing together, especially after the two have seemingly formed some sort of 'bromance'.
Before the signing of Fernandes in January, United seemed to be missing a main play-maker, Juan Mata is always reliable however, the new signing seems to offer something Mata didn't in the way that he plays more freely and creative, whereas Mata is such a clever player but is more basic in comparison to Bruno.
Both teams last met in early December 2019, where Mourinho had only been the Spurs manager for a couple of weeks, United were victorious on the day winning 2-1.
In their previous six league meetings, both teams are equal, with them winning three games each, with the aggregate score for those games being 8-5 to the London club. However, the last time United travelled away to Tottenham, The Red Devils managed a 1-0 win and will be looking to do the league double over their former manager.
Where to watch on TV and stream
Kickoff: 20:15 BST
For viewers in the UK, Friday's match is available to watch live on Sky Sports, you can also watch the game by purchasing a NowTV day-pass.
For those in the USA, the match will be available to live stream on NBC Sports via FuboTV.
What the managers have said
Ole Gunnar Solskjær told the Official Manchester United Website that: "Everyone knows that we will have to be at our best, have to be focused. We know it's a big game for everyone.
"We had Chelsea when we started the league this season so I'm confident that our players can go into the Tottenham game with that mentality of going there to play a very good game of football."
Jose Mourinho has spoken to the Official Spurs Website and has said: "We have to adapt to this new reality, which is what we tried to do today (Friday), to have a feeling of playing with an empty stadium. That's the way it is.
"We have to think that the points are there to fight for and with fans, without fans, the points are there, the points are on the pitch and ourselves and United have to fight for them."