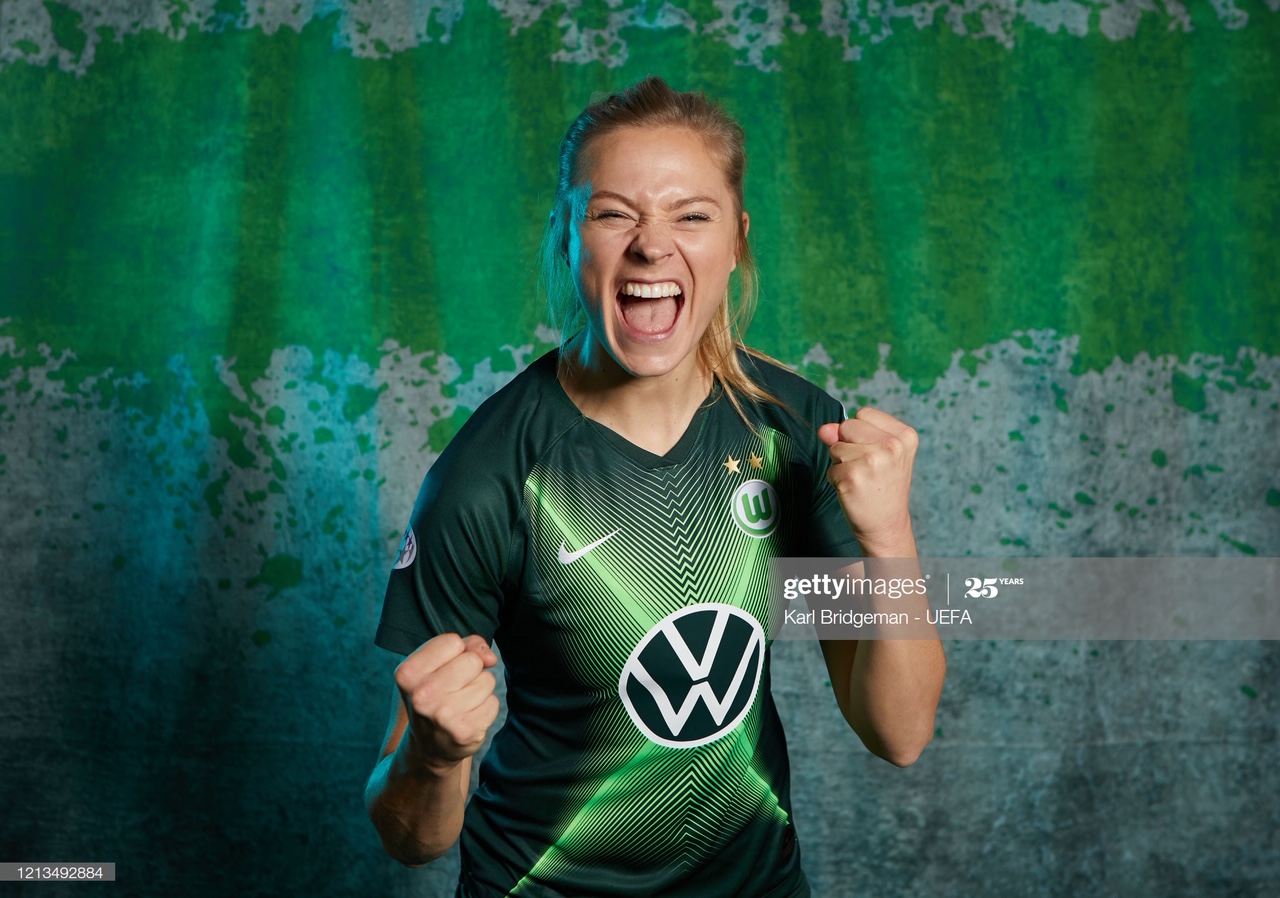 Fridolina Rolfö moved to Germany in January of 2017 after winning the Damallsvenskan with Linköpings FC. She joined FC Bayern München and her record with the Reds was impressive. Together with Bayern, she reached the semi-finals of the UEFA Champions league last season where they were beaten by FC Barcelona.
In her first year with Bayern, she saw VfL Wolfsburg win the league title with only two points ahead of Bayern. The following campaign, 2017/18, Rolfö played in the DFB Pokal final, where Bayern once again saw themselves losing a title to Wolfsburg. Rolfö's time in FC Bayern was characterized by several accomplishments, but finishing in second place didn't seem enough for Rolfö. When her contract with Bayern expired she signed a-two-year-contract with Wolfsburg. Now she has a chance to win not just the league title, but also the DFB-Pokal and the UEFA Champions League.
"It feels fantastic to have a chance to win the Frauen Bundesliga. To win the German league title has been a personal goal of mine since the day I moved here so it's something I would be truly proud and happy about if it happened." Rolfö says.
Round 20 Frauen Bundesliga
If Wolfsburg win their league game on Wednesday, the Frauen Bundesliga title race will be decided. Rolfö's Wolfsburg takes on SC Freiburg at home in AOK Stadion with kick-off at 13:00 BST. It's hard to see another outcome than a Wolfsburg title this season, the Wolves have been unstoppable this season. From the outside it has looked like a walk in the park, not even competitors FC Bayern seem to come close. However, Rolfö knows it will be a tough game:
"We have to continue to play like we have been in recent games. Our defence has been very strong. Freiburg have skilled players that we need to stop from scoring so it's important that we are 100 % focused. One player we really have to look out for in the Freiburg team is Klara Bühl. She is a very talented player."
If Wolfsburg can manage to go through this season unbeaten remains to be seen. In round 21 of the Frauen Bundesliga they will once again face FC Bayern and viewers can be sure of one thing; even though the league title already can have been secured by Wolfsburg, there are still things that motivate Rolfö and her team:
"It would be a big accomplishment if we can manage to go through this season unbeaten. It's an honour to play in a team like this, where I get challenged during every training session, and it makes me want to get better and better every single day. Since I joined Wolfsburg I've learned a lot about myself and I have had the chance to develop several things in my game."
Since the Frauen Bundesliga's return after the Coronavirus pandemic, Rolfö has been one of Wolfburg's best players to watch. Not only by scoring goals with strong headers but also with her precise, whipped crosses into the box, setting her teammates up for great opportunities to find the back of the net.
"First of all, I feel incredibly privileged to be able to play football right now because of how the world around us looks right now. I'm glad that I can enjoy all of this right now and I think that the Frauen Bundesliga is working very well considering the circumstances."
A chance to win the treble
Back in the 2012/13 season, VfL Wolfsburg managed to win Frauen Bundesliga, DFB-Pokal and UEFA Champions League. Every season since, the German giants have been at the top of every competition they've played. The DFB-Pokal final will be played on the 4th of July and this time Wolfburg's last obstacle to win the Pokal is SGS Essen.
Winning the UEFA Champions League is one of the most honourable titles a football player can pick up. Due to the coronavirus pandemic and the fact that Wolfsburg along with FC Bayern München will be the only teams in that competition where league games have been played, some might wonder if the German teams will have an advantage:
"It's certainly has been a different kind of year but it remains to be seen if there's an advantage for us to have played more games. In the end, it will have been a long season for us so no one can say what's best." Rolfö finishes.