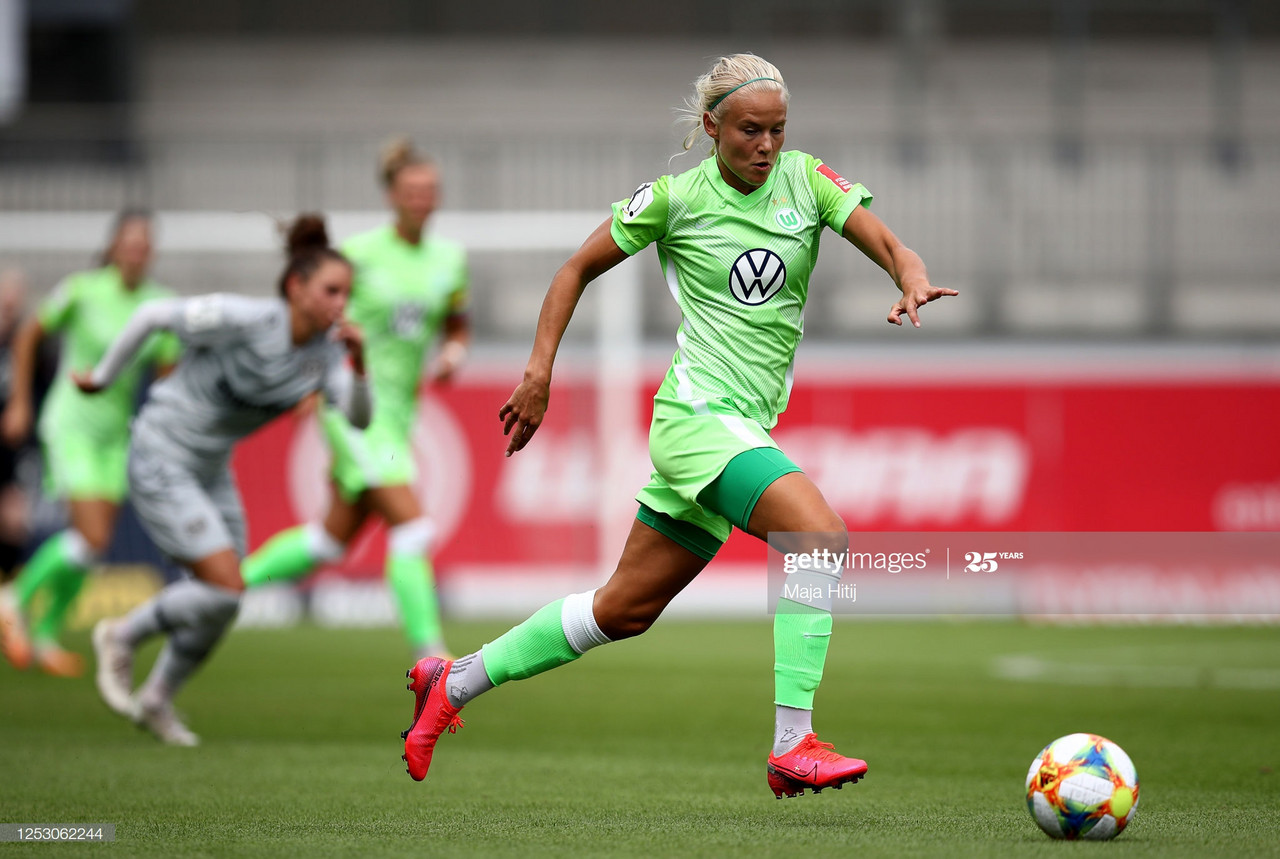 Denmark international Pernille Harder joined Vfl Wolfsburg in the middle of the season 2016/17 and has made 110 appearances for the club since. She hit the milestone 100 goals when finishing Wolfsburg's goal scoring in this campaign of the Frauen Bundesliga, with a header in the last round. Harder's statistics speak for themselves.
If you ever have watched a game of football you are aware of the fact that this sport requires twenty-two players with eleven members in each team, to play the game. And even though the field can be full of superstars and world-class players, there is still one that can stand out from the rest. That one player is Pernille Harder.
The 'no-look passes master'
With most of the professional leagues being cancelled around Europe this spring, we have not been spoiled with women's football. We have been missing out on a lot of goals that should have been scored, delicate assists we would have had the opportunity to witness and we have been missing out on several entertaining battles. With most of the football stars out of play and action, let's take a moment to appreciate a world-class player that's had the opportunity to bless us even though the coronavirus exists. Pernille Harder.
When Harder doesn't score, she makes perfect assists. Harder is the 'no-look passes master' and when she doesn't make assists, she creates that space her teammates need to do their job on the pitch. How does she do it? By having a whole bunch of the opponent's players around her that have their minds set and their full focus on trying to stop her. Wolfsburg's season has resulted in 93 goals and Harder has netted 27 of those in the Frauen Bundesliga. She opened the scoring after the Covid-19 hiatus and she ended it when she scored Wolfsburg's last goal in the league when the Greens beat Bayer 04 Leverkusen 5-0 in the last round. Add to that, she has been directly involved with more of the goals Wolfsburg have scored this season by contributing with eight delicate assists. It's no surprise that the 27 goals gave her the Frauen Bundesliga top scorer-title as well.
An artist and a fan favorite
Few players have that kind of world-class aura around them. But Harder is definitely one of them. Harder is a queen. An artist with a football at her feet, who creates her own work of art out on the pitch. She is the difference and she makes the difference. Even on a 'bad' day.
Wolfsburg's head coach Stephan Lerch spoke to Sportzbuzzer explaining that even if the Dane wasn't at 100 % she is too important to leave out from a starting formation. Her presence on the pitch always makes a difference. And if you have seen the Danish dynamite play, you would definitely agree. Give Harder the freedom she needs and she will lead the way. Pernille Harder is a magician out on the pitch and she certainly seems to be the best version of herself as a player when she gets the space behind the top strikers, playing the role as an attacking midfielder. A true joy to watch. You might think of her as a striker because of the number of goals she scores. For those of you who have been following her since her days in Linköpings FC where Martin Sjögren, her coach at that time, now the current coach for Norway's national team, gave Harder freedom around the midfield, you already might have noticed that her absolute best position probably is as an offensive midfielder. Looking closer, one might actually see that's also the position she seems most comfortable with, moving around like a gazelle just behind two top strikers, ready to make her moves. She's the playmaker and one of a kind. One of the best in her own generation. If not the best.
When playing in Sweden you could often observe when she ran up in front of the stands, celebrating with the fans when scoring a goal. I bet her Swedish fans miss those things. It was fantastic to see and to observe. It was genuine. Harder's want to win and her hunger for her own improvement are only two things out of many that make her a star. There is just something about Pernille Harder that makes her out of this world as a football player. And the world deserves to see Pernille Harder enter another top professional league. There is no doubt she will make an impression wherever she'll go. In a club that will be lucky enough to get her signature. She probably has a lot of them to choose between. I hope they know what they'll get and that they work hard(er) to get her. Harder's signature will for sure mean winning titles, a lot of goals and overall; magical football for the fans to watch.
Yes, Vfl Wolfsburg won the title. Again. And the contribution from the Dane is huge. I dare to say that she is the difference.