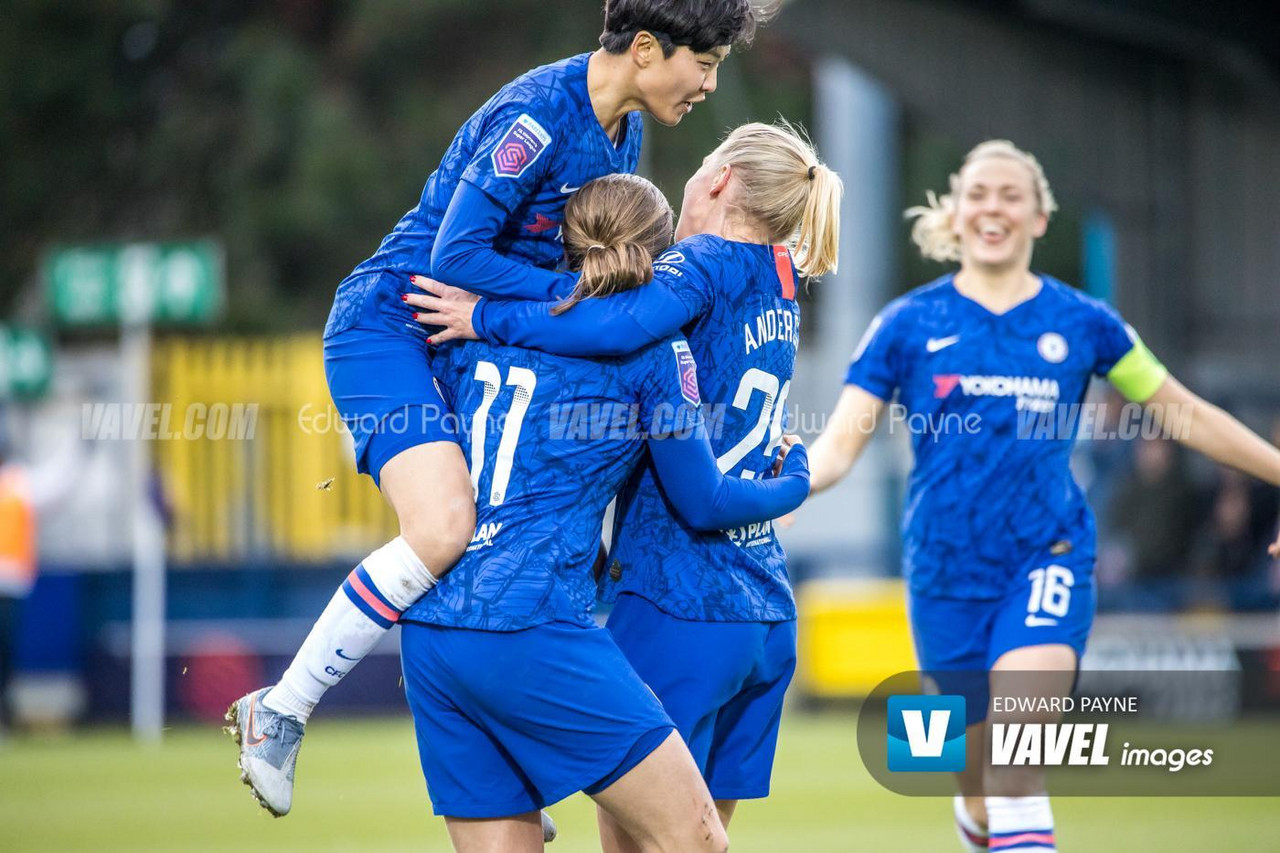 A mid-week fixture in the Women's Super League saw Chelsea travel to Walton Hall Park to face Everton. The London side came out strong and were able to exploit a nervous looking Everton.
Willie Kirk hoped his side would be able to replicate their previous victory against Birmingham City. Arranging his team with a back four, there was little his players could do to stop the well oiled partnership of Sam Kerr and Fran Kirby.
Despite having beaten Chelsea in the semi-final of last season's FA Cup, Everton have yet to chalk up a victory against the Blues in the WSL. The previous clash between these two teams saw Chelsea register a brazen 4-0 win after a 93rd minute goal from Pernille Harder.
A hand ball in the opening minute of the match saw a penalty awarded to the visitors. Melanie Leupolz stepped up to the spot and attempted to slot the ball into the bottom left corner. Everton's first choice keeper Sandy MacIver was unavailable due to injury, but replacement Tinja-Riikka Korpela made her first of many crucial saves to deny Leupolz an instant goal.
The first ten minutes saw Everton's confidence on the ball stall somewhat. Despite being awarded multiple free-kicks, Izzy Christiansen was unable to pick out her team-mates. Both Millie Bright and Magdalena Eriksson kept chances at bay, along with Ann-Katrin Berger with punching saves and calm collections.
Korpela was tested throughout the first half, the Everton defence left her isolated and having to make a number of integral saves to keep the inevitable Chelsea attack at bay. The convincing run came to an end thirteen minutes into the first half as Sam Kerr tipped the ball on for Fran Kirby whose powerful run bypasses the keeper for the game's first goal.
Chelsea began to turn up the heat as the match progressed, with Ji So-Yun cutting out a bad mistake to find Kerr who is able to connect with Kirby but sees her effort swoop wide of the post.
Bright was armed with a number of integral passes and blocks throughout. The low cross she unleashed towards Harder is however not well-timed enough as despite finding the back of the net, Harder's effort is ruled offside.
Simone Magill began to challenge Chelsea in more integral positions as the first half progressed. The connection between her and Claire Emslie is one to be watched in the coming games. Likewise that of Jill Scott and Hayley Raso, who were able to combine speed and poise but will need to work on picking one another out on the field. Scott was seen a number of times trying to launch counter-attacks, but was unable to find anyone to join her.
Neither teams made substitutions as the second half got under way. Willie Kirk edited the formation of his team and went from a back five to a four in an attempt at a more attacking half.
An early dash forwards from Kirby drew Korpela off her line for a dangerous one-on-one, but a well timed leg block maintained the score line.
The arrival of Valerie Gauvin in the 59th minute was a statement of intent from Kirk, an attempt at injecting fresh legs and attacking prowess into his ailing side. Gauvin's arrival does nothing to stop Chelsea though, who firmly play from Kerr through to Harder and is able to find the back of the net for a second goal.
Things begin to look up for Everton, if only briefly when Ingrid Moe Wold enters the fray for Nicoline Sorensen. Her impact is immediate down the far side, cutting in between both Eriksson and Niamh Charles but is left stranded by her teammates who do not arrive in the box in time.
Another key pass from Bright feeds the ball into midfield towards Kirby, but knowing she would be called offside leaves the ball for Leupolz to pick up. The result is a chaotic run into the box, but the ball is ultimately squared in the back of the net for a third and final goal for Chelsea.
Everton Women: Korpela (GK), Sevecke, George, Christiansen, Magill (Gauvin), Emslie, Sorensen (Wold), Raso (Lehmann), Graham, Scott, Finnigan.
Chelsea: Berger (GK), Bright, Leupolz, Ji, Kirby (Fleming), Eriksson, Kerr (Reiten), Charles, Cuthbert, Harder, Andersson (Carter).
Everton did not look confident or composed on the ball for much of the fixture. They were stuck having to move quickly rather than approaching the game with their tactics.
Jill Scott had some fantastic foot work on the edge of the Chelsea box and made strides through the midfield. But she looked a little lost when none of her team-mates were there to support her in what could have been match levelling moments.
Chelsea pushed forward with their powerhouse combination of Sam Kerr and Fran Kirby. The selflessness within the squad is persevering through the season and two of the goals were won as a result of that shared team awareness.
Despite conceding three goals, Everton's Tinja-Riikka Korpela had a convincing game. The Finnish national may have been a last minute replacement for regular starter Sandy MacIver, but her performance should indicate to manager Willie Kirk that she should be put between the posts on a more regular basis.