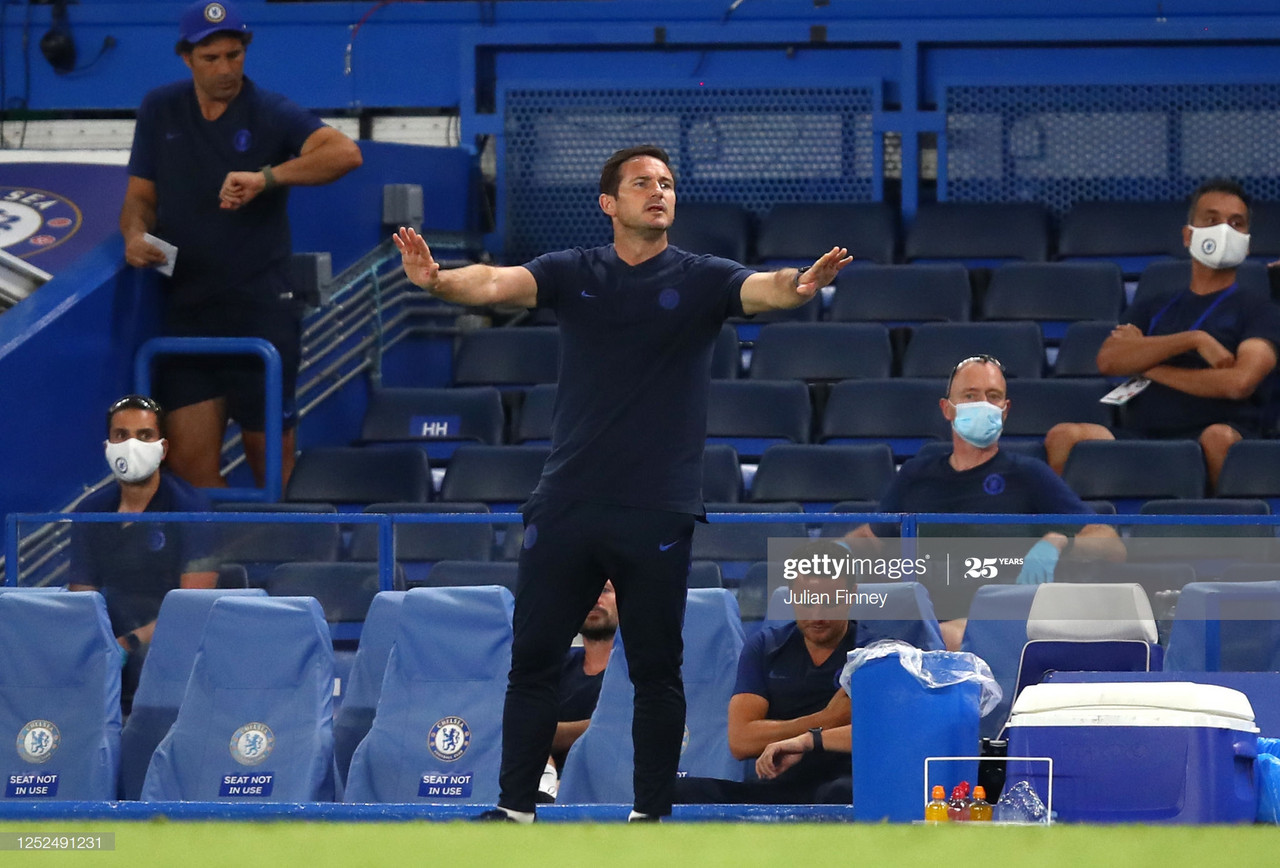 Frank Lampard has had praise come from far and wide following another impressive result for his side on Sunday afternoon.
Chelsea beat rivals Leicester City in their FA Cup quarter-final, one-nil, with his inspired triple substitution at half-time proving the difference, as England International Ross Barkley scored the only goal of the tie.
The 42-year-old is looking for further improvement tomorrow evening, with the main object of play being to collect three-points for his side, to aid their Champions League qualification prospects for next season, he is however though, pleased with his side's efforts.
Speaking to journalists via a zoom call, he said: "I'm happy to win games and with elements of the games we've played, particularly the first two. We have to keep working along the same lines.
"We have to focus on every part of our game, particularly the defensive and work ethic aspects."
Hitting the floor running
With a mini Pre-season, of sorts at least, to contend with to get players up to speed as quickly as possible, Lampard has been pleased with an 100% record since play resumed, with him looking to add another tick in the winning column tomorrow evening.
The former Blues and Hammers midfielder added: "It's been a mixture of coming to terms with new surroundings, and the very short pre-season we had.
"It's not normal. I know from being a player myself the first one or two games of pre-season you're normally feeling your way in.
"Sharpness is not always there, and sometimes it takes players a bit of time to get up to speed for those fine margins in the game, the extra five per cent that maybe makes games sharper in the attacking sense."
Two players who are in the squad for tomorrow's fixture at the London Stadium, but will have last minute fitness tests to check their capabilities to take any part in the contest, are Christian Pulisic and Andreas Christensen.
Lampard stated: "Christian felt a bit of tightness in his calf when he came off against Leicester.
"We're managing him. I haven't got an answer for him yet, it feels better than it did at the end of the game, so we'll see by tomorrow."
"Andreas Christensen likewise is in the squad," added Lampard. "But, we will have to see with another 24 hours because of the tight turnaround."
Back to basics
The change of playstyle, particularly that of N'Golo Kante, who has moved from the left side of a midfield three, back to his more familiar position at the pivot, has seen many pundits liken his performance to that of former Blues midfielder, Claude Makelele.
Speaking on this subject, Lampard said: "It is a different position to what I'm asking from Kante to what Makelele played. With eras and the players around you that changes.
"With N'Golo I have a way I want us to work in midfield to have some fluidity to us, which allows him to bring his best attributes to the game. They are not always to sit in front of the back four."
Adding more explanation to those best attributes to which he was referring, like so many others, Lampard has been most impressed by Kante's work rate and ability to function in the different areas of midfield.
He said: "'He has such capacity for high intensity running and to leave areas, you want him to go and do that, which sometimes leaves him higher up the pitch and the other midfielders have to react.
"He's done it well. We can improve as a unit the more everybody works on it together. N'Golo's attributes and his absolute quality mean he can play in any position you want him to."
His Manager also looked to highlight how important the French World-cup winner was to his side.
"He is an incredible player and is huge for this club, and he will be going forward for a long time. I'm happy with him.
"It's not just about N'Golo, it's about the other players in the squad.
"We have a lot of competition in midfield, and at the moment N'Golo is doing a really good job for us there."
With this time of year usually focused on players getting the required rest and recuperation, as well as them making their first strides back on the turf in arduous bleep-tests, it was probably only natural for transfer news and rumours to arise.
Familiar Faces
Lampard was asked of one regarding former Chelsea Academy player Declan Rice, who is being linked with a move back to Stamford Bridge, following an impressive season at West Ham.
He said: "Declan Rice is a good player, I've known him for a long time, he was in Chelsea's Academy, but there's no talk.
"I will keep saying that about every player until these games and this season are finished. There's nothing to say."