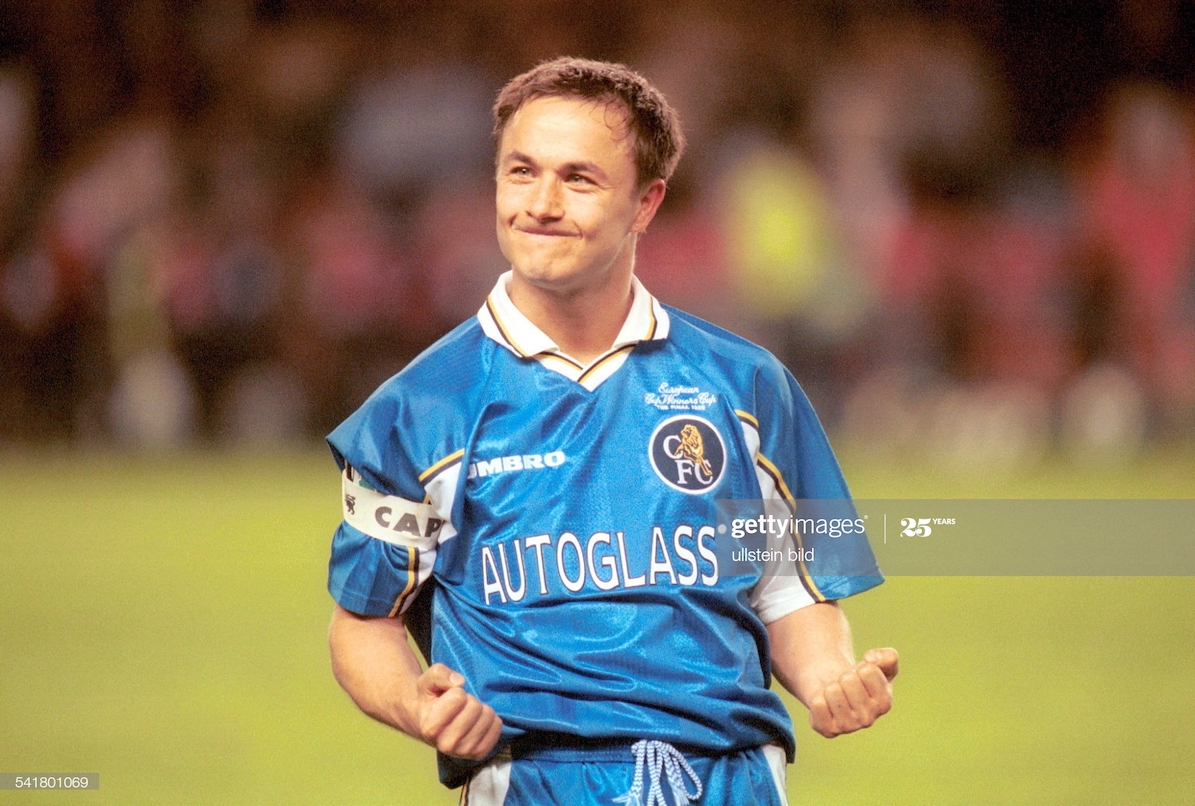 'Oh Dennis Wise, scored a...'. Now, the rest of the song, that can regularly be heard in The Shed or Matthew Harding Stand, cannot be repeated for obvious reasons. But, it goes to show, that even 21 years after scoring against AC Milan to secure top-spot in the Champions League group stage, Chelsea fans still have a lot of admiration for the fiery midfielder.
Signed from Wimbledon, by ex-Chelsea manager Bobby Campbell in 1990 for a then-club record fee of £1.6 million, Wise scored 13 goals in 44 games as Chelsea ended a disappointing season in 11th place.
Surprisingly, Wise was originally signed as a wide man, but was soon converted into a central midfielder. Despite being only 5ft 6" tall, Wise was known for his tough tackling, combative nature and win at all cost attitude.
During his 11 years at Stamford Bridge, he won two FA Cups, a League Cup, the FA Charity Shield, UEFA Cup Winners' Cup and a UEFA Super Cup, and goes down as The Blues' second most successful captain, behind John Terry.
"Wisey got me up round the throat"
Although Terry's Chelsea career speaks for itself, the former Blue believes Wise taking him under his wing at just 19 years old was a pivotal moment in his career. "I remember I was in the first team and got a Champions League bonus and I went out and stupidly bought a car with the bonus I was on," Terry told the Footballers' Guide to Football podcast.
"I was 19 at the time. I come in with my car and Wisey got me up round the throat in the corridor in front of everyone: "Who do you think you are? Go and take the car back".
"So he made me go and take the car back, which I lost money on, took me around and helped me find a house, buy a house, so it was the best bit of advice.
"I was embarrassed at the time but it was the best bit of advice that I could have had.
"I am really grateful for all those little bits along the way, guiding the younger players, and he always not only had his eye on the first team but had an interest in the younger boys."
Wise made an impressive 445 appearances for the club, but if his lack of discipline was not such an issue, he could have easily gone onto surpass the 500 game barrier.
Incredibly, Wise missed 15 games in the 1998-99 season due to suspension. And, according to Manchester United's most successful manager, Sir Alex Ferguson, Wise could 'could start a row in an empty house.'
Wise left the club in June 2001 as new manager Claudio Ranieri looked to lower the average age of the squad. But, did he lay the groundwork for Chelsea's 'Captain, Leader, Legend' to thrive?