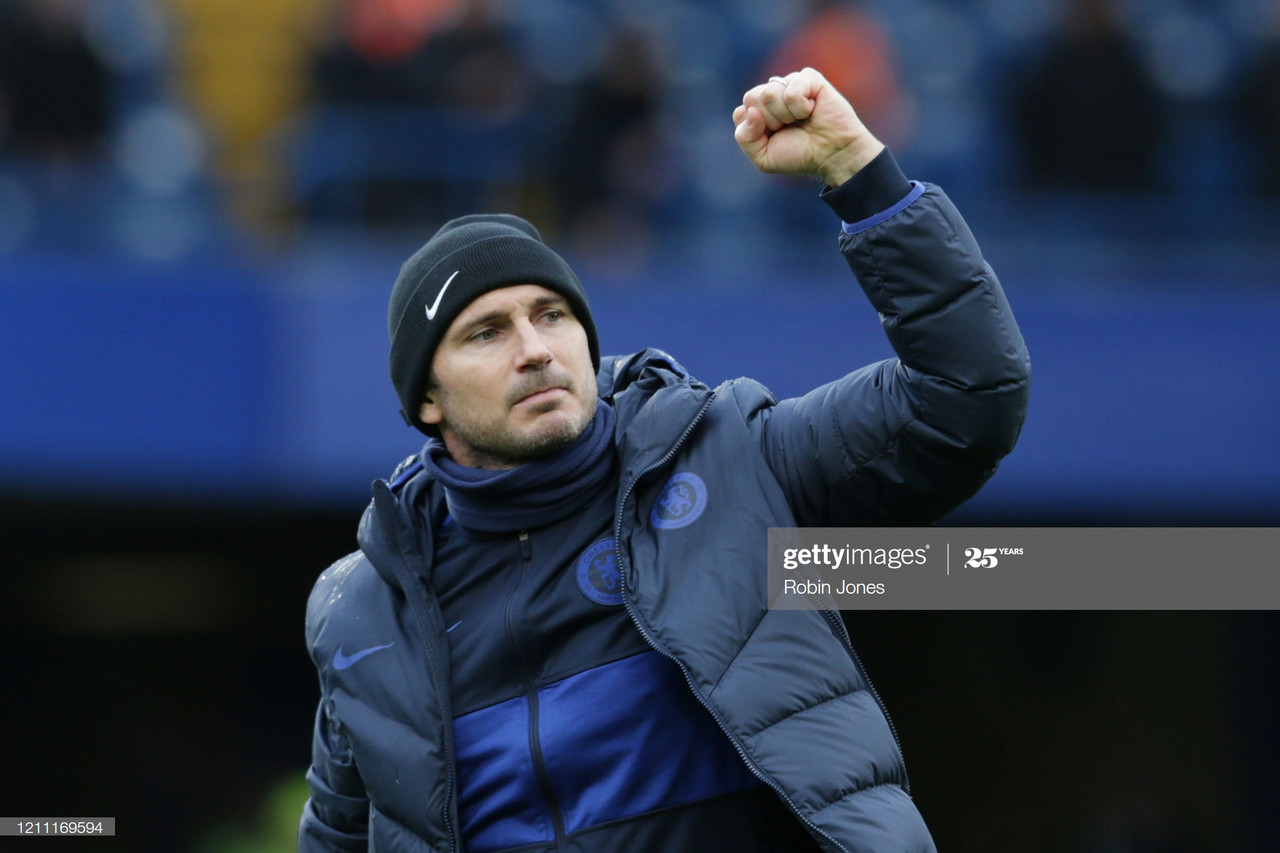 nlylsea: a hub for world class players, a cabinet filled with trophies, but a breeding ground for managers? Not a statement you often associate with the Stamford Bridge philosophy, yet plenty of their former products have breached the gap between playing and management, with a varying degree of success and failure across the board.
Mark Hughes oversaw numerous Premier League clubs across 14 years in the topflight, Gus Poyet took charge of Tottenham Hotspurs and Sunderland, Gianfranco Zola became assistant to Maurizio Sarri in 2018/19, Dennis Wise began as a player-manager at Millwall HOWEVER none can match the heights of Roberto di Mateo, infamous engineer of the 2012 Champions League and FA Cup double, all whilst 'filling in' as interim boss.
Now, the construction line has thrown another model into the mix, a shinier version that is fresh from production. Almost two years to the day he embarked on the next cycle of his career, Frank Lampard divulges into the depths of his managerial mind.
Not always top of Lampard's list
Just over 12 months had passed since Chelsea's all-time top scorer announced his retirement from professional football before he was back in the picture in a kit unfamiliar to anyone who'd followed the England midfielders' journey from his West Ham youth to his resting home in New York.
Lampard would be draped in Derby County colours, taking charge of the Rams in 2018 and steering them to the Championship Playoff final at his first attempt, narrowly missing out to current Premier League beneficiaries, Aston Villa.
Nevertheless, the fairy-tale continued for Frank as Chelsea flung open their doors to offer him the job he currently resides in, replacing Sarri last summer, despite the Italian ending his short reign with a Europa League triumph over Arsenal in Baku.
His rise from ex-pro to leading one of the countries most revered clubs has been meteoric, a transition he could barely begin to imagine now and certainly not a topic of conversation during his hay day on the pitch.
'I wouldn't say players spoke about it much,' he admitted in the Chelsea magazine upon the topic of eventually turning down the managerial avenue. 'I think players tend to be very much in the moment and I probably was like that to a degree as well.''
I wouldn't have sat there and spoken too much with other players about it, and some of my former team-mates who have gone into management have surprised me. I've read that some others are surprised I've done it, because of how I was as a player.
One of those jolted by Lampard's leap into management was Wise himself, a midfielder and captain in his own right during his time with the Blues, telling Sky News his concern that is was too soon to appoint him head coach, two weeks before the news was eventually revealed. Hopefully he is 'wiser' now to Chelsea's decision...
Part of the leading pack
As time ticked on and his career began its conclusion, Lampard looked more intently into the possibility of continuing from the side-lines, taking inspiration from the characters he was fortunate enough to work whilst winning every silverware imaginable with the Blues.
'I wasn't always hugely vocal in the dressing room as vice-captain, I wasn't expected to be, because of the attributes John [Terry] had and the slightly different ones I had.'
Few led better by example than Terry, captaining Chelsea 580 times to countless trophies, combining with Lampard on 581 occasions to form the spine of such a successful domestic side, not to mention the three major tournaments they featured together for with England.
Terry was not the only name on this illustrious list of serial winning team mates: Petr Cech was the formidable figure in goal, earning the armband in 33 matches; 157 goals and Didier Drogba was the driving force from the front; Ashley Cole lifted every trophy available during his eight years in West London.
Rubbing shoulders with such champions of the modern game clearly rubbed off upon Lampard's attitude towards his own group of players, aware a backbone is needed when facing uncomfortable scenarios.
' I know that a manager is going to upset 10-15 of his players every week and make decisions that people are going to be unhappy about and scrutinise.'
Operations have mainly been straightforward in terms of these type of conversations, the biggest bump in the road arriving in the shape of Olivier Giroud. The French World Cup winner was understandably disappointed to be consistently left out of the starting line-up and talks of contracts and transfers began to surface. Yet, Giroud started the last five games before lockdown, scoring twice, easing the strain and seemingly for now smoothing out the relationship with his manager.
'I think you just have to accept that as part of it, and I try not to make that the focal point. I try to see the bigger picture and think, if I can be honest and up front with the players – which is not always easy – then the players will respect you in the end, even if they are upset when they're walking down that corridor.
'That's how I felt as a player and I certainly respected the managers who were up front with me, even if they were giving me bad news sometimes.'
Clearly it was not only his fellow on field companions who would become an influencing factor. Enter Jose Mourinho, the 'Special One' that's special relationship has always lived with Lampard and perhaps the manager who enjoyed the Englishman during his prime.
Through the pairs first period together between 2004 and 2007, Chelsea won two league titles, a couple of League Cups and the FA Cup, whilst Lampard would finish runner up in the Ballon d'Or, be named the FWA Footballer of the Year and claimed the Premier League Player of the Season.
Reflection on Franks ride
This totally justified gloss upon his playing career and now his managerial stint is all well and good, but how has he actually coped since swapping his boots for a shirt and tie?
At Derby, he took charge of 57 matches for Derby, including that run to the playoffs and decent journeys in both cup competitions, concluding with a very respectable win ratio of 42.1%
Lampard had a taste for defeating Premier League opposition, knocking out Manchester United in the League Cup and Southampton in the FA Cup, losing to Brighton & Hove Albion and, ironically, Chelsea respectively.
This made the leap into the top division slightly more manageable, but no less testing as he found in out during his first competitive fixture with the Blues, a 4-0 loss away loss to United on the leagues eye catching opener.
41 games have flown by since that trip to Old Trafford, accumulating 21 wins, eight draws and 13 losses, setting another decent win ratio of 50%.
A slow start in August would be followed by a free-scoring September, netting five against Wolverhampton Wanderers then seven against League Two Grimsby Town.
Away to Lille in the Champions League group stage, Chelsea would come away from France with three precious points, spring boarding the Blues to four straight victories and two defeats in the subsequent ten fixtures.
His most memorable ties to date were the manic 4-4 draw at home to Ajax and the two success over Spurs, managed suitably by Mourinho, the prodigy becoming the master.
Before the lockdown interruption, Lampard had led the Blues to a fourth-place spot in the league, a potential fifth round FA Cup tie and the second leg of the Champions League round of 16 against Bayern Munich to come.
The promotion and trust in youth has earned majority of plaudits, providing a platform for the likes of Tammy Abraham, Mason Mount, Fikayo Tomori and Billy Gilmour to shine against their far senior peers, the English trio all earning England call ups since Lampard's legacy began.
An emotion of feel-good has returned to the Bridge, after the fans fell out of love with Sarri's brand of football, providing constant entertainment, whether that be in swashbuckling victories or avoidable defeats, Lampard has certainly got us on the edge of our seat.