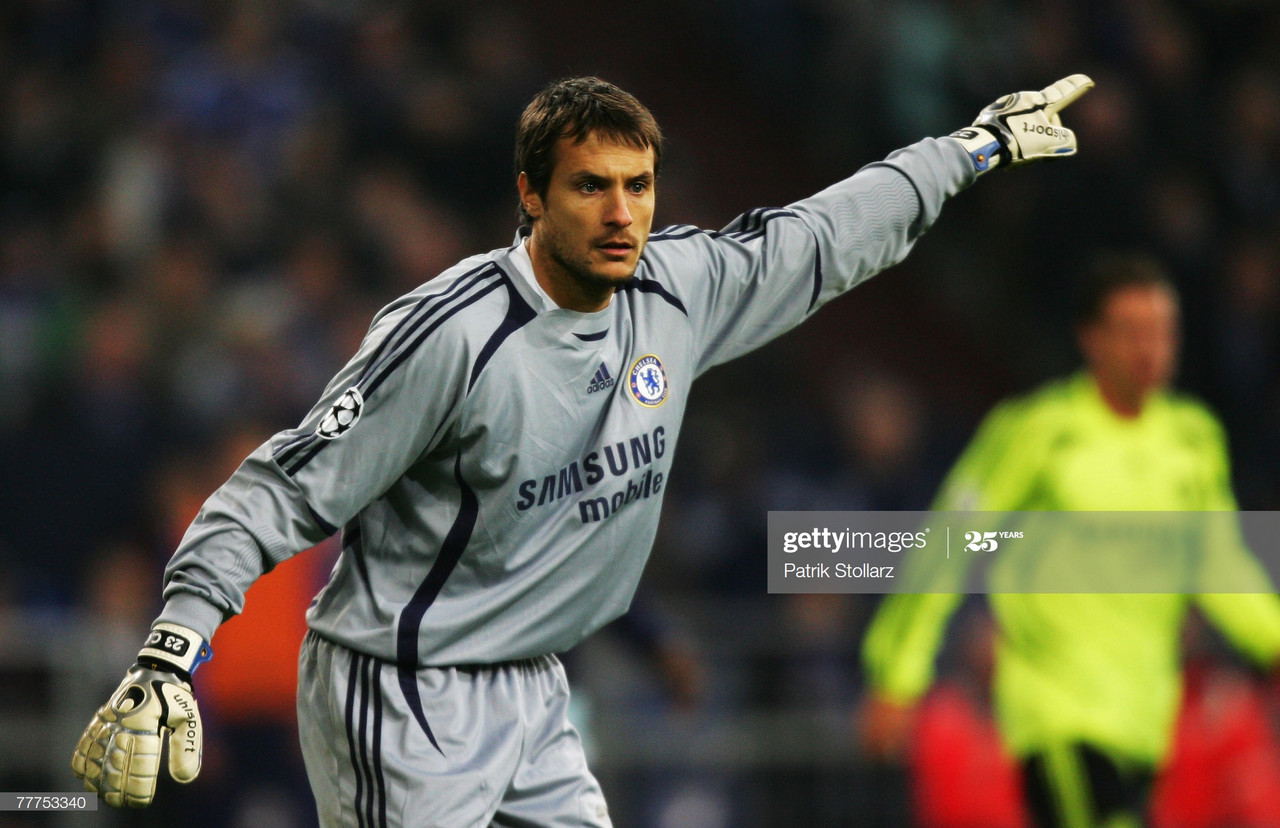 On 6th August 1999, a 25-year-old Italian goalkeeper from the depths and shadows of the unknown, called Carlo Cudicini joined Chelsea on loan from a second division side in Italy.
A transfer that would change the course of history. A rough diamond from Milan had been uncovered.
A year later, Cudicini made his move to South West London permanent with a £216k deal and quickly cemented himself as the new Blues number-one goalkeeper. His freakishly incredible agility, flashing reflexes and impressive penalty record set him apart from the rest.
The Italian, son of AC Milan great Fabio Cudicini, went on to make 216 appearances for Chelsea winning the Premier League and League Cup twice each as well as the FA Cup.
From nothing to something
Cudicini grew up in Milan and began his career climbing the ranks of the Rossoneri youth academy.
He struggled with an early on-set of injuries delaying his development and made just three appearances for the Italian side. After a loan spell at Como, we went on to play for Prato, Lazio and Castel Di Sangro before his initial loan spell at Chelsea.
"I had come to Chelsea from a second division team in Italy and after the first year, when I only played a few games, everything changed," Cudicini told the Official Chelsea Wesbite.
"Suddenly, I was the first choice. I'd been lucky enough to grow up at AC Milan, which gave me an opportunity to train and play with great players. Then, I was in the same situation at Chelsea, playing behind great defenders like Marcel Desailly and Frank Leboeuf. So, I was very excited.
"It's difficult to predict a career; everything started off really well for me and then I had bad injuries. Then, when they were finally behind me, my career took off again and Gianluca Vialli and Chelsea gave me the chance to join a great team.
"The first year enabled me to see what was going on, but then when Claudio Ranieri arrived, I had a chance to perform and I deserved the spot I earned. Suddenly, everything turned around."
Bursting onto the scene
The Italian's first full season in English football with Chelsea turned the heads of many. Cudicini's phenomenal saves earned him Chelsea Player of the Season in 2000/01 season.
Cudicini declared his love for Blues fans devoting his award to them.
"It was an unbelievable moment for me. Don't forget, I'd been playing second division football just a few years before! The supporters were fantastic with me from day one and this award was the result of a great connection I always had with them.
"That day was emotional for me because you know how much your team-mates appreciate you, but to find out the supporters feel that way too is unbelievable. This award will always link me with the Chelsea supporters. I will always have a place in my heart for them.
"From being recognised by your own supporters to the whole of the division was another great award. It's special for me, because it's a personal one, and it was another step for me in my career.
"I remember being given that award on the day we qualified for the Champions League, which made it even more special."
Coping with Champions League pressures
Having established his place between the sticks at Stamford Bridge, Chelsea and Cudicini earned Champions League qualification in 2003 under Claudio ranieri's reign.
The two-time Blues Premier League winner described the pressures that came hand-in-hand that season how influential Ranieri was.
"There was a lot of pressure that season, but it was a great job by the manager and the team. Ranieri had the courage to put young players like John Terry into the team, and also myself because even though I wasn't young like John, I was inexperienced and unknown in England.
"He mixed up the team with experienced players and talented youngsters. We delivered a great season, which was finished off with a wonderful win over Liverpool on the final day to get into the Champions League."