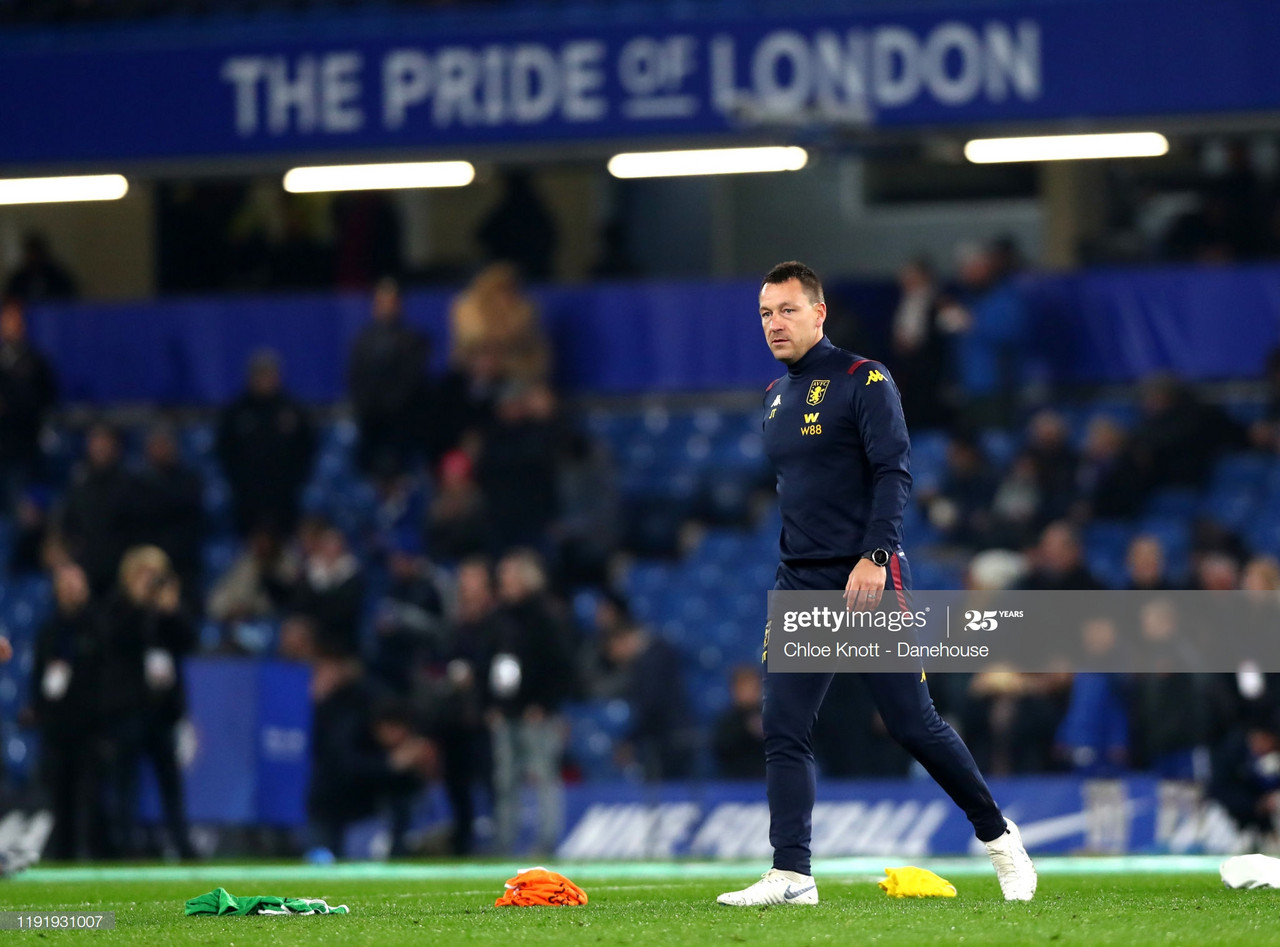 With just five days until Chelsea resume the final stretch of their Premier League season, we take a look at five players who have played for Chelsea and their first opponents upon return, Aston Villa.
John Terry
It would take a long time to reel off John Terry's achievements at Chelsea, but in short, he made 717 appearances in his time at the club from 1998-2017, winning five Premier Leagues, five FA Cups, three League Cups and a Champions League. Holding the club's captaincy from the 2004-05 season up until his departure from Chelsea, he was given a hero's farewell in his final game for the club, being substituted in the 26th minute against Sunderland as Chelsea were set to lift the 16-17 Premier League title following that game.
In July 2017, Terry signed a one-year contract with Villa, joining them on a free transfer. He was appointed as the captain for the 2017–18 season and made his debut for the club in August 2017 in a 1–1 home draw with Hull City in the Championship. Terry scored his only goal for Aston Villa in a 2–1 victory over Fulham in the Championship in October 2017.
In May 2018, Terry left Aston Villa after the club failed to gain promotion to the Premier League as they lost 1–0 against Fulham in the Championship play-off final.
In October 2018, the Chelsea stalwart became assistant coach of Villa, joining Dean Smith who was appointed the club's manager, where the pair still ply their trade today.
Scott Sinclair
After signing for Bristol Rovers aged nine, Chelsea snapped Scott Sinclair up in 2005 from the club for an initial rumoured fee of £200,000.
After a one month loan spell at Plymouth Argyle in January 2007, Sinclair arrived back at Chelsea and made his debut for the club in the 2007 League Cup semi final against Wycombe Wanderers.
Sinclair scored his first goal for the Blues in a 4–0 victory over Hull City in the following season's League Cup third round.
Although he signed a new four-year deal with Chelsea in August 2007, it never really worked out for Sinclair in London and after loans to Queens Park Rangers, Charlton Athletic, Crystal Palace, Birmingham City and Wigan Athletic, the winger departed on a permanent deal to Swansea City in 2010.
His time at Aston Villa didn't come until 2015, when he joined the club on loan in January of that year. After the club secured their Premier League safety that season, Sinclair signed for the club on a permanent basis in May 2015 for an undisclosed fee.
He went on to make 36 appearances for Villa, scoring nine goals, before leaving for Celtic in 2016.
Carlton Cole
Carlton Cole began his career at Chelsea, coming through the club's youth system and making his debut for the club in April 2002, coming on as a substitute for Jimmy Floyd-Hasselbaink against Everton.
He scored his first goal for the club in the opening match of the 2002-03 season in a victory against Charlton. Unfortunately, after being limited to more first team opportunities, Cole was loaned out to Wolverhampton Wanderers in November 2002.
His loan spell was cut short in January 2003, with Chelsea needing cover upfront. Cole scored six goals for Chelsea that season and his performances earned him a new six-year contract that summer.
After a loan spell to Charlton in August 2003, Cole then joined Villa on loan in July 2004. He scored three goals in 30 league and cup appearances for Villa, before returning to Chelsea in the summer of 2005.
With the presence of Hernan Crespo and Didier Drogba at the club, Cole saw his game time limited yet again as he made just 12 league and cup appearances for Chelsea that season and he left permanently for West Ham United in July 2006.
Ryan Bertrand
Signing from Gillingham in July 2005, it took a long time for Ryan Bertrand to make his Chelsea debut. Loan spells to Bournemouth, Oldham Athletic, Norwich City, Reading and Nottingham Forest gave him the experience he needed to finally make his debut for Chelsea in April 2011, replacing Ashley Cole in a 3-1 win against Birmingham City.
Bertrand made his European debut in the 2012 Champions League Final against Bayern Munich on May 19, becoming the first player in the Champions League era to make his debut in the final. He was substituted after 70 minutes as Chelsea went on to edge out Bayern 4–3 on penalties.
After making just 41 appearances between the 2012-13 season and the first five months of the 2013-14 season, Bertrand was loaned to Aston Villa in January for the remainder of the 13/14 campaign, making 16 league appearances during his short stint at Villa Park.
Bertrand left Chelsea permanently for Southampton in February 2015.
Joe Cole
Joe Cole signed for Chelsea in August 2003 from West Ham. Then Chelsea manager Claudio Ranieri saw Cole as the perfect replacement for Gianfranco Zola, who the club had released earlier that year.
Despite suffering two major injuries at Chelsea, Cole was a brilliant player for Chelsea, making over 180 league appearances for the Blues and helping the side to three Premier League titles, two FA Cups and a League Cup, scoring 39 goals in all competitions during his time at Stamford Bridge.
Cole arrived at Villa in 2014, signing a two year contract at the club. His debut for the club came on August 27 that year, starting and being replaced by Andreas Weimann in the 62nd minute as they lost 1-0 to Leyton Orient in the second round of the League Cup.
He made a total of 12 appearances for Villa, before moving on to Coventry City in 2016.